Merce Cunningham and the YouTube generation
Posted at 4:32 PM on July 29, 2009 by Jeff Horwich (1 Comments)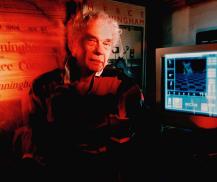 I'm not into modern dance. Dance in general is one of those areas of human life that I just don't really get (yet -- I'm working on it).
So why should us non-dance people care about choreographer Merce Cunningham (who died this week at age 90)? Despite the obituaries I'd read, I still wanted to know.
I asked for a listener who'd be willing to make the case to me. Linda Shapiro responded, somehow connecting it all to postmodernism and YouTube and making a lot of sense.
It's not every interview where I really, seriously learn something. This is one of those.
(Photo credit: Edward Santalone/Associated Press)
---
Comments (1)
Great excavation and explanation of Merce's contributions not only to dance and art but also to other parts of our lives. He recognized the inherent unpredictability of relationships - music to dance, dancer to group, environment to event, perception to interpretation - but he and his collaborators didn't just show up and throw things together. The work was intentional, and while Merce and the dancers rehearsed rigorously for the performance events, his collaborators were equally intentional in their preparation including decisions to improvise.
Thanks for pointing out that Merce's notions about how we pay attention to things was radical in terms of performance, but makes sense to us in our daily lives: sampling, browsing, multiple perspectives, simultaneous experiences, just basically making sense of it all moment- to-moment and long term without a preset story line.
---