Listener Palin Poems, rollin' in
Posted at 9:25 AM on July 8, 2009 by Jeff Horwich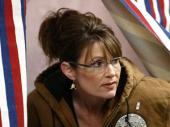 Fertile poetic ground, apparently. Got a good number of submissions to sort through before we put the next podcast together. (Submit your NewsPoems here.)
Here's a great one I found in my email this morning from Chris Kemp and his wife Laurie.
Tremendous effort, though it's probably too long for us to include in the show. Enjoy! (Photo: Johnny Wagner/Getty)
The Face on the Political Floor
(With apologies to Hugh Antoine D'Arcy)
T'was a balmy summer evening
And a goodly crowd was there,
That well nigh filled the lakeside
In Alaskan woods somewhere.
As wild geese and turkeys
Squawked and clucked upon the shore,
A Governor crept slowly in
And beckoned the press corps.
"Where did she come from?" someone said,
"The wind has blown her in."
"What does she want?" another cried,
"And why the sheepish grin?"
Twas the weekend of the fourth,
Most our newsy weren't at work,
A clever plot to hid the fact,
Her duties she would shirk.
All focused on the Governor
A focus she embraced.
In fact, she smiled as though she thought
She had found the proper place.
"Come boys, I know there's kindly hearts
Among so good a crowd;
To be in such good company
Would make a deacon proud."
"Give me a mic, that's what I want.
I like to talk you know,
When I was running for VP,
McCain would say lie low."
She gave a speech so rambling
With sentences n'er finished
The people who were watching
Thought her faculties diminished.
"That I was ever a graduate,
Not one of you would think,
Five schools it took to get me through.
Can you get me a drink?"
"You've treated me abysmally,
And I'd like to tell you now,
That I'm fed up, I'm sick and tired,
I'm resigning here and now."
"As I told you once, I am a mom
With kids and grandkid too,
And it kinda makes me wonder,
Oh, . . . I have a Russian view."
"My hometown is Wasilla, I was Mayor there ya know,
As Oil and Gas commissioner, it just got kinda slow.
But soon I'll run for President, because there's the job for me.
I'll stay almost my whole term through, because the travel's free."
"Now I must leave as governor, cause I can't trust myself
As lame duck in my office, not to waste Alaska's wealth.
But trust me as a candidate to lead the GOP
With guns and prayers and SUVs we'll keep this country free."
"Keep feds out of our bedrooms," (now here's the funny part)
"Except for gays and lesbians we're keeping them apart.
We'll bring back family values, you know you're just like me
And we know you're a socialist, if you do not agree."
"You know it's true, for a month or two, my smiles were freely given,
And when your cameras were on me, why I was just in heaven.
But up here in Alaska boys, I've hardly seen you're faces.
So I've decided now it's time for me to find new places."
"I hope you will not miss me and do not collapse from shocks,
If down the road you find me with a prime time show on Fox.
For now I'll fish for salmon and raise my kids ya know
So please don't you all miss me in those other states below."
"You'll see me here, you'll see me there, but I won't say a word.
I promise I won't disappear, why that would be absurd
The GOP all want me, I don't do it for myself.
So on the trail you'll find me long about 2012."