Posted at 4:32 PM on July 29, 2009 by Jeff Horwich (1 Comments)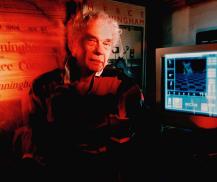 I'm not into modern dance. Dance in general is one of those areas of human life that I just don't really get (yet -- I'm working on it).
So why should us non-dance people care about choreographer Merce Cunningham (who died this week at age 90)? Despite the obituaries I'd read, I still wanted to know.
I asked for a listener who'd be willing to make the case to me. Linda Shapiro responded, somehow connecting it all to postmodernism and YouTube and making a lot of sense.
It's not every interview where I really, seriously learn something. This is one of those.
(Photo credit: Edward Santalone/Associated Press)