Posted at 10:35 AM on May 14, 2008 by Jeff Horwich

An ITL listener put us in touch with a former college classmate who is teaching in China -- specifically Beibei, which is near Chengdu and about 250 km from the epicenter of the 7.9-scale earthquake.
Rescuers search the rubble of the collapsed Juyuan middle school where six children died in Dujiangyan, in southwest China Sichuan province. (AFP/Getty Images)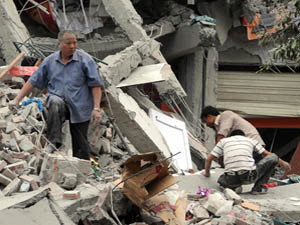 I fired off a quick email asking
Keegan O'Hara
to get some details of his experience with the quake. (Any emphasis added is mine.)
I was on the top floor of a dormitory building (6th floor) when the quake began. To tell you the truth I did not notice it right away...Then I realized the building was shaking, and some students said "earthquake" rather calmly to me and my friend who is another teacher at the University, they even told us in English which was helpful. Then we preceded to exit the building, it was very calm and orderly scene, I did not hear any screaming or an uncommon amount of yelling...

I personally did not feel scared at any point, although many of my Chinese friends were very concerned about the threat of aftershocks. As a result many students were encouraged, if not directed, by the teachers or administration to not sleep in the dormitories on Monday night. This meant that all of the athletic fields and open areas on campus were filled with students on Monday night. It was a very interesting sight to say the least...

Although I am nearly sure there are no sort of rescue efforts going on in Beibei, due to extremely minor amount of damage, the rescue efforts have been extremely impressive. The response by the central government was almost instantanious, much different than the events currently taking place in Burma/Myanmar in Southeast Asia, or dare I say...New Orleans during Hurricane Katrina. The troops from the Peoples Liberation Army were unable enter many of the affected areas by vehicle or aircraft due to bad condititions, so they went by foot to begin rescue efforts as soon as possible. Even Chinese Premier Wen Jiabao travelled to the area within hours of the earthquake and he is helping with the rescue efforts.

Now, I am in Beibei, everyone has been glued to the state news channel, but I think life is more or less back to normal (in Beibei).
Thanks to Keegan for the details, and listener Matt Steele for the contact.
Posted at 3:07 PM on May 14, 2008 by Sanden Totten (1 Comments)

Well, okay. It's not the cleanest city in the world. According to Forbes.com Calgary is the cleanest city in the world. But Minneapolis is number 5 (right after Honolulu, Helsinki and Ottawa).
(MPR Illustration/Preston Wright)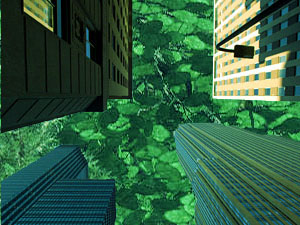 What does it take to be in the top 25 cleanest cities of the world?
According to the Mercer Human Resources consulting firm (the folks behind this report), clean air, good waste disposal and a solid public transportation system are all crucial.
But hey, we live in or around Minneapolis. Does this ranking surprise you?
I have to admit, I didn't expect to be in the top 10. At least once a summer we have an air-quality alert. Our public transportation system leaves much to be desired and we've recently found dangerous chemicals in our water and lawns. But I guess it says something about the world's general state of cleanliness that even the cleanest of the clean still have a ways to go.
And it could be worse, much worse. Check out the list of the 25 dirtiest cities in the world. The good news here is that according to pollution experts quoted in the article, it would take relatively little money to clean up 90% of the pollution in these cities. But getting the governments to actually do it is another matter . . .