Dolphin Double-Speak
Posted at 2:25 PM on March 4, 2008 by Jeff Horwich (6 Comments)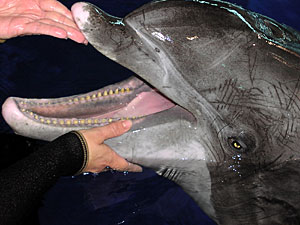 Ok, what's up with the coy headlines on this dolphin thing?
Associated Press: Minnesota Zoo cancels dolphin shows while animals get acquainted
OK, that sounds boring. But what the heck does it exactly mean?
Well, it means a new female dolphin was introduced at the zoo, and the older male dolphin is suddenly thinking only with his dorsal fin. If ya know what I mean...(nudge nudge!)
The details are there, delicately presented in the stories. But here's how the Pioneer Press plays it in their lead paragraph:
"The Minnesota Zoo has canceled its popular daily dolphin shows — possibly until Memorial Day — so two new dolphins can learn the routines and become better acquainted with their pool companions."
What is it with the "get acquainted" language? Who's writing this, Queen Elizabeth? The AP leaves it even more vague, waiting for a few paragraphs in to state demurely that "a courtship has already begun."
It's weird that the instinct is to tip-toe around the language most normal human beings would use to talk about a story like this.
Evidently it's news that the zoo has a horny dolphin. So if you're willing to make that call, why not just say so?
---
Comments (6)
I appreciate your "call 'em as you see 'em" attitude, but I'm guessing because zoos are generally considered childrens' fare that some folks may find blatant sexual references uncomfortable. But, of course, you're right that "getting acquainted" and "getting it on" tell completely different stories and the Pioneer Press could have written a more accurate piece.
---
Jeff,
You may appreciate the candor of the Duluth zoo. A friend of mine works at the Duluth News Tribune and she told me about the 18+ Valentine Event that explored down & dirty animal attraction.
http://www.lszoo.org/valentinesday.htm
---
I've heard about those events! I think the MN Zoo might do something similar. I could not think of a stranger Valentines option, but they get major points for creativity.
Who goes, you think? Couples looking to rekindle the spark? I can't imagine....
---
It certainly would be an awkward first date. At least I know that I won't be bored up in Duluth with critter copulation to look forward to.
I bet you and the Smarts could write a great song about it.
---
You could sing about a date that goes from mini-golf putting to animal rutting...maybe something about getting in the mood watching how critters create their brood?
Don't worry, I won't quit the day job (which I'm obviously avoiding at the moment).
be well,
---
Not bad! Sounds like an Isaac Hayes tune.
---