Posted at 2:25 PM on March 4, 2008 by Jeff Horwich (6 Comments)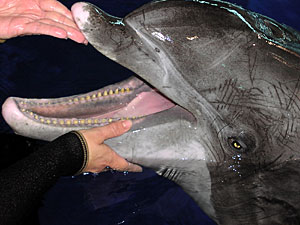 Ok, what's up with the coy headlines on this dolphin thing?
Associated Press: Minnesota Zoo cancels dolphin shows while animals get acquainted
OK, that sounds boring. But what the heck does it exactly mean?
Well, it means a new female dolphin was introduced at the zoo, and the older male dolphin is suddenly thinking only with his dorsal fin. If ya know what I mean...(nudge nudge!)
The details are there, delicately presented in the stories. But here's how the Pioneer Press plays it in their lead paragraph:
"The Minnesota Zoo has canceled its popular daily dolphin shows — possibly until Memorial Day — so two new dolphins can learn the routines and become better acquainted with their pool companions."
What is it with the "get acquainted" language? Who's writing this, Queen Elizabeth? The AP leaves it even more vague, waiting for a few paragraphs in to state demurely that "a courtship has already begun."
It's weird that the instinct is to tip-toe around the language most normal human beings would use to talk about a story like this.
Evidently it's news that the zoo has a horny dolphin. So if you're willing to make that call, why not just say so?