Tuesday, September 27, 2016
This week's free agent picks
Posted at 10:43 AM on February 3, 2007 by Bob Collins (1 Comments)
The weekly waiver draft has been completed and the results have been posted on the transactions page for both the Gold and Maroon leagues.
The most controversial pick, I think, went to the first-place Bemidji Beavers, who bid so long to Sen. Tom Bakk in favor of picking up Rep. Larry Haws. Bakk had a good week and is hovering just out of the top ten in the power rankings department as more senators are challenging now that things have picked up. Mike didn't reveal his strategy here.
Sen. Bakk's reaction?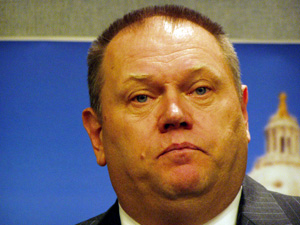 I don't think he's happy.
Rule 3.21ers let Rep. Holberg go in favor of Dean Urdahl. "I'm thinking that Holberg is too conservative and subborn to get a lot done this year," according to manager Bill Lindeke.
Kathy Sheran got plucked from the free agent pool by AFSCME in the Maroon League. House Call also had Sheran on the draft list. "Smoking ban!" was the reason given by House Call.
In the Gold League, Brod Appeal dropped Sen. Satveer Chaudhary, who's going to be very busy as a committee chair with all the hunting/natural resources/arts sales tax bills making their first stop there. Rep. Tom Anzelc was picked instead. "Sen. Chaudhary has fewer prospects on the horizon than Tom Anzelc," figured manager Glen Carpenter.
Rep. Brad Finstad was released by the Downtowners in the Maroon League in favor of Sen. Joe Gimse. "Joe Gimse has more potential legislation in the works than Brad Finstad does at present," Trevor Gould, the manager said. That's a tough call. Finstad was out for two weeks upon the birth of a child.
I got at least one more claim this week in which a manager tried to drop all of the Republicans on his team in favor of picking up two DFLers. Again, you can't do that. You have to have each party represented on your team by at least two legislators.
And a reminder there is no free agent draft next week.
Changes: I made a mistake on last week's spreadsheet and the work of a couple of legislators was not properly credited to their teams. This affected Minnetonka in the Gold League and Good Bye Mady's in the Maroon. Corrected standings have now been published.

Comments (1)
---
May I plead temporary insanity? A team goes from 11th place to first place in less than two weeks and the manager puts three of his starters on waivers!! There is a method to my madness...I think...well, time will tell. Rep. Haws is sponsoring a number of bills regarding veterans that I believe have an excellent chance of being passed by the House and ultimately signed by the Governor. Also due to the committee structure in the House versus the Senate, Haws' bills should garner more committee points. Sen. Bakk is obviously a top-tier player in the league and will probably end up near the top in the final power rankings. I think we would all agree that this will be his last stint on the waiver list and unfortunately I probably will not have a shot at picking him back up again. After seeing the picture of the fine Senator at the top of the post, I have decided to hide out in a fishhouse on a remote Northern lake for the foreseeable future.
Posted by mike simpkins | February 3, 2007 1:05 PM