Saturday, September 24, 2016
Pointsapalooza
Posted at 12:20 PM on January 25, 2007 by Bob Collins
Over 60 new House bills have been filed and their points awarded. Among the highlights: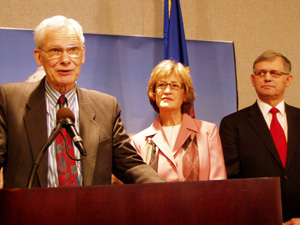 * The state smoking ban effort now includes the House. HF 305 is the Freedom to Breathe Act. The Senate version of the bill (SF 238) had its points awarded yesterday. (See? You can actually get rootin' tootin' news a day ahead of time on the MFL!). Points to: Huntley; Severson; Ruud; Norton; Peterson, N.; Brynaert; Greiling; Erhardt; Fritz; Hausman; Tingelstad; Davnie; Gottwalt; Slocum; Paymar; Murphy, E.; Morrow; Tschumper; Loeffler. (Photo above: Rep. Tom Huntley, DFL-Duluth, Sen. Kathy Sheran, DFL-Mankato and Sen. Steve Dille, R-Dassel at a news conference announcing the introduction of a statewide smoking ban bill. MPR Photo/Tim Pugmire)
* HF 306 provides for youth mental health screening and suicide prevention. I think this came up in the last session and the House said no. It might have more legs this session. Points to: Greiling; Anzelc; Abeler; Mariani; Tingelstad. But there's no Senate companion.
* HF 317 is probably one of those bills that if it didn't pass when the Republicans ran the show, it probably isn't going to pass now. It repeals the provider tax on doctors etc., for MinnesotaCare. Points to: Delaforest, but I wouldn't get my hopes up for any BH (bills heard) points.
* HF 324 may ring a bell in your home. It bars public school employees from using public funds and resources to advocate to pass, elect or defeat a political candidate, ballot question or pending legislation. Points to: Holberg; Buesgens; Zellers; Garofalo; Gottwalt; Dean; Demmer; Gunther; Cornish; Erickson; McNamara; Westrom. Prognosis: Not dead on arrival, but blue in the face.
* HF 326 authorizes Gold Star Family special license plates authorized for family members of military personnel who have died in active military service, and plate fee and registration tax exempted for certain survivors. Points to: Westrom; Smith; Ward; McNamara; Dettmer. Prognosis: Would you vote against Gold Star families? Neither will anybody else. The only question is how many hearings it gets before it becomes law.
* HF 343 - Exempts remote-controlled animal noise callers from the general prohibition on using radios to take game animals. Points to: Cornish. Prognosis: I have no idea, but it seems to me pretty soon there'll be more "sport" involved by just going to the meat counter in the grocery store.
*HF 351 isn't available online for some reason but it's a "three strikes and you're out" bill sending people to prison for life after committing three or more violent felonies. Points to: Kohls, Zellers, Paulsen, Buesgens, Smith, Cornish, Brod, Holberg and Gottwalt. Prognosis. Strike three, but a likely homerun during the 2008 election season if it can come up for a vote. It won't.
Senate Floor Session Palooza - So far, points to Metzen, Pogemiller, Hann, Cohen, Berglin, Limmer, Skoe, G. Olson, Wergin and Ortman (I think). Most of the debate was over SF 25 which mandates inflation be used in budgets and forecasts in the state. Republicans don't like it. It passed 43-21. But I'd already given it FP (floor passage) points earlier this week when it passed the Senate meeting as the committee of the whole. Same for HF 8 (conformity with federal tax laws), which should be the first points because of the governor's signature.