With two days to go until the partial government shutdown, there's some progress but still no deal. As it has for months the holdup comes down to how to pay for the services lawmakers believe Minnesotans are demanding. MPR's Michael Khoo has the latest:
Republican House Speaker Steve Sviggum says the latest offer from his side provides historic increases for K-12 schools. He says it also meets most of the DFL-controlled Senate's concerns about preserving state-subsidized health care for low-income workers -- and actually re-instates protections lost in previous years of budget-balancing.

"We've put everything we can on the table, absolutely everything," he said. "I don't know an issue that has been raised by Democrats since the beginning of the session that we have not offered or taken care of. I don't know of an issue that exists."

Sviggum says he's shocked that Democrats haven't rushed to embrace the most recent GOP offer, funded in large part by a proposed 75-cents per pack cigarette tax first offered by Gov. Tim Pawlenty more than a month ago.

DFL Senate Majority Leader Dean Johnson says he's encouraged by the spending for education and health care. And he says Democrats are willing to compromise by abandoning a proposed income tax hike for 42,000 of the state's highest-income households. In return, Johnson says he doesn't want to hear further mention of a Republican plan to install slot machines for a so-called "racino" at the Canterbury Park Racetrack in Shakopee.

"I would simply declare that the fourth tier of income tax is off the table and racino is off the table," he said. "Let's get over it. It's not part of these discussions any more."

The racino plan is a key component of the Republican offer, expected to raise $218 million over the next two years for a string of programs, including public transit, state aid payments for city services and a clean water initiative.
So if the racino is really out they have to take out $218 million of the spending goodies or find another $218 in other revenue, right? Can they figure that out in two days? After taking six weeks of overtime to get this far?
Highway rest stops are supposed to start closing today. Some of the nearly 16,000 state workers who will be laid off in the event of a shutdown met with reporters yesterday to lament their situation. MPR's Tom Scheck had that story:
Highway Helper Kevin Tucker said he won't be able to work on July 1. He says he's living paycheck to paycheck and any loss in pay will cause him financial problems. He says he and other state employees have not received a raise in three years, while out-of-pocket costs continue to climb.

"Everything is going up around us. I go to the gas station, it used to cost $25 to fill up, now it costs $45. All of these things is costing net profit and now you put us out of the streets for two weeks? It's just not fair," Tucker said.

Furloughed employees will have the chance to use vacation and comp time for the two weeks between July 1 and July 15.

Deepa de Alwis, who's an agriculture chemical adviser, was scheduled to take vacation this week. It would have been her first family vacation in more than four years. But she says the uncertainty of a shutdown forced her to keep working. De Alwis says her family is also cutting back on expenses in case the shutdown continues well into July.

"I made arrangements to cut down my costs so because of that I can make it, but it will be difficult. Pretty soon my health insurance will run out if it goes too long and that will be a major blow to me," she said.
The Star Tribune has put together an estimate of how much a shutdown would cost in dollars--$4.68 million each day:
A little more than half of the daily tab would be employee compensation and benefits to the 15,700 workers who were deemed unessential and who would not be working. About $1.8 million would be lost revenue from license charges and other fees not processed, including $60,000 a day in lost revenues from state parks. For the parks, much of that loss never would be recouped.

State officials estimate it would take more than six months of an extended shutdown before the state would realize any savings, and even then, the loss of state services would not be worth it.
So much for the 'shut it down and save some dough' crowd...which hasn't really been heard anyway.
Another big question no one has been asking is, what do all those reporters do when negotiators are meeting behind closed doors? MPR's Laura McCallum sent me this exclusive photo from outside the governor's residence yesterday.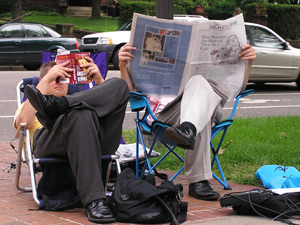 They're calling it Camp Impasse. That's Brian Bakst from the AP on the left getting some of his summer reading done. The fellow behind the newspaper is a little harder to identify. We think he works for an obscure Minneapolis radio station, and I have to say he's been a little cranky over the past few weeks.
Maybe these comfy chairs will help everyone's disposition, but a deal to end the session would help more. And of course, keeping reporters happy is always the first priority.

But there they are: working hard for the people!