Posted at 2:51 PM on August 9, 2005 by Bob Collins

I imagine over the next few days, lots of people who were on a first name basis will have lots to say about Gene Mauch, who died Monday.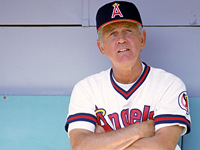 I didn't know Gene Mauch on a first-name basis; I had occasion to talk to him exactly one time, for about 5 minutes and the subject was Butch Wynegar.
It was 1976, and I was a student at Emerson College, in the early years of what was sure to be a stellar rise to the sports broadcasting top, and I had a field pass for Fenway Park. My friend, Wayne Larrivee (who actually would go on to a stellar sportscasting career), and I headed to the game, each to practice our craft.
Armed with a tape recorder, we headed for the field. Hey, it's tough for a 21 year old kid to approach a Major League player or manager and ask for a few minutes; it certainly can't be a secret that the inquisitor is probably some kid at the bottom rung heading for the top, but still on the bottom rung.
Lots of players -- and a few managers -- anxious for entertainment consider these folks "targets." It reminded me of scenes in prison movies when the new prisoners were ushered into the cellblock.
After mustering up all my courage and steeling myself to be the evening's "fresh meat," I approach Mauch and asked him if he had a moment. He did. Several of them.
It was an entirely forgettable interview about an entirely forgettable player with a man who I'll always remember as the first Major League player or manager interview I survived without throwing up on myself.
Here's Roy Smalley's take on Mauch. (Listen)
Photo credit: Rick Stewart/Getty Images