Posted at 9:01 AM on June 30, 2005 by Ben Tesch (1 Comments)

Voting for the 2005 All-Star Game, being held in Detroit, ends tonight at midnight ET. Go do your civic duty and vote (up to 25 times!) at MLB.com.
Posted at 9:09 AM on June 30, 2005 by Bob Collins (1 Comments)

First this disclaimer: I'm a jerk. I'm not particularly well liked in my place of employment, I'm the last person you'd want to show up at your party, and there's usually a groan or two when I show up at a meeting. If it weren't for the fact I'm fairly good at what I do, I'd have been working the third shift at JiffyLube long ago.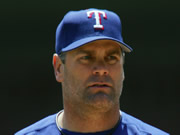 Photo: Ronald Martinez/Getty Images
So I can relate to Kenny Rogers of the Texas Rangers, who last night punched out a couple of cameramen on the field at the ballpark at Arlington because he was in a bad mood; sending one of them to the hospital.
That said, man, what a jerk, eh?
In one case, he actually had to walk a fair distance to get to one cameraman, while telling them to get the cameras out of his face. Apparently, Rogers considers anybody filming him from closer than the Oklahoma border to be "in his face."
''I'll break every . . . one of them," Rogers said before he was escorted to the clubhouse by catcher Rod Barajas. The Rangers sent Rogers home an hour later.
Rogers, you'll recall, is a former Minnesota Twin and is, in fact, having a pretty good season once you look past the fact he's freakin' nuts.
And the situation betrays the "one big happy family" image that baseball likes to project. The fact is: like anywhere else, there's a lot of jerks in baseball. Which is why it says something about your typical baseball player that they can spend virtually half their lives in and around jerks.
You? Me? My colleagues? They only have to put up with it for a few hours a day. Baseball players? They not only have to put up with it for a few hours a day, they often have to travel with it. And they don't even, mostly, get the luxury of telling someone what a jerk their teammate is.
What would I do if I were Fox Sports? I'd scour my vast empire for the biggest, meanest cameraman I employ, and he'd be on the field tonight when Rogers came out to earn his $3.3 million, and invite his opinion.
And I'd have a new reality show on the air by tonight, Jerks in the Dugout in which a panel of abused cameramen and reporters would reveal the extent of the jerkitude of several players. And that's the irony, isn't it? The very group that works the hardest at hushing up the reality of life on a baseball team is the group most often at the end of a fist.
It'd be a heck of a show. I'd watch it.
But then again, I'm a jerk.
Posted at 11:37 AM on June 30, 2005 by David Zingler (1 Comments)

Yesterday marked the 100th anniversary of Archibald "Moonlight" Graham's one inning major league stint. Graham, of course, was made famous by his depiction in movie Field of Dreams (which in my book is highly overrated). Although the former Chisholm, MN resident appeared in just a single inning and never batted, former Astros hurler Larry Yount did him one better.
Yount was called out of the bullpen to start 9th inning of the Astros/Braves game on September 15, 1971. Set to make his major league debut, he was announced as the Astros new pitcher and took the mound for warm up tosses. Suddenly however, the right-hander felt pain in his throwing elbow and could not continue. He was removed without throwing a pitch.
Although he remained in pro baseball until 1976, compiling a 33-58 in eight minor league seasons, Yount never received another call up to the big leagues. His little brother Robin meanwhile, made his big league debut with Milwaukee in 1974. He, of course, managed to stick around for 20 years and pound out 3,142 hits.
************************
Just for the record, I met Bob a couple of months ago, and he wasn't that big of a jerk.