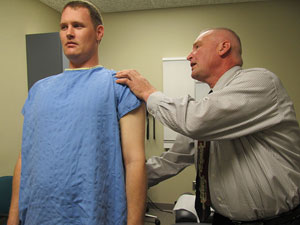 Data obtained by MPR News from the Department of Veterans Affairs show a dramatic increase in chronic back, neck, hip, knee and shoulder injuries over the past decade. Some of these injuries are caused in combat or by the dangerous jobs soldiers do overseas. But some injuries are caused by the very equipment meant to protect soldiers from harm.
Featured Blogs
News Cut:
4:03 p.m.
The city of 170,000 has never gone more than a little more than five years without being struck by a tornado.
Ground Level:
3:05 p.m.
Minnesota cities will get an $80 million increase next year in Local Government Aid from the state under a provision in the tax bill that seems to be near legislative approval. The increase would bring the LGA total to $507.6 million for the year 2014. That&#8217;s nearly a 20 percent increase over this year and <a href="http://blogs.mprnews.org/ground-level/2013/05/legislature-poised-to-give-lga-an-80-million-boost/"><span>Read more</span> &#8594;</a>
Statewide:
05/16
The Grand Forks Sheriff's Department's use of small unmanned aircraft is attracting journalists from around the world.
Frac Sand
Best Buy
Mayo Clinic
Twin Cities
Greater Minnesota
Law & Justice
Social Issues
Your Voice
Connect with program hosts and public radio listeners like yourself in one of our MPR-moderated discussion groups at Gather.
Connect Now!