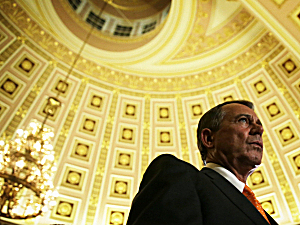 Some moments feel like turning points. Speaker John Boehner's rhetorical takedown of his party's Tea Party faction seems like one such moment. For two days running, Boehner, R-Ohio, has made clear that he's heard just about enough from conservative advocacy groups such as the Heritage Foundation, Americans for Prosperity and Freedomworks.
PoliGraph examines statements made by Minnesota politicians and checks them for accuracy.
6:51 a.m.
Good morning! Please send any tips, comments and suggestions to bneely@mpr.org and remember to follow us on Twitter at @mprpolitics and @brettneely. If you enjoy reading the Daily Digest and find it useful, please share it with others who might enjoy it, too. In Minnesota The main reason for establishing health insurance exchanges such as MNsure is to…
Policast
An unlucky week for MNsure; the US House passes a budget deal; a year after Newtown schools increase security.