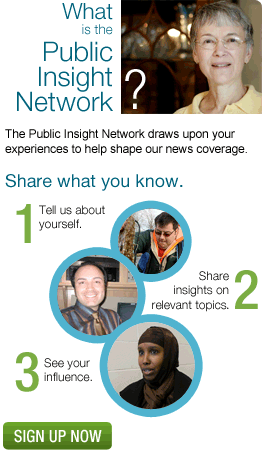 Questions?
Learn more about the Public Insight Network
Current PIN participants,
please update your information here
.
LEARN MORE
Featured Project
A church divided, together
We explore the effect of the Aug. 21, 2009 vote allowing gay pastors to serve as clergy in the Evangelical Lutheran Church in America through the stories of Lutherans in the Public Insight Network.
Perspectives on the news from people in the know.
More Commentary
»
Thank you!
Interactives
Budget Hero™
Can you create a sustainable government?
Consumer Consequences
What if everyone consumed as you do?
Error 1044 : Access denied for user 'the_current_user'@'172.29.10.65' to database 'schedule'