---
THE WRECK OF THE GREAT NORTHERN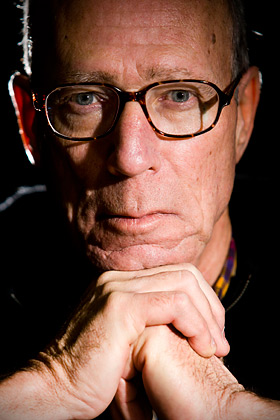 Photo: Alex Kolyer
Where the Great Northern plunged in
The river boiled with light, and we all stood
In the tall grass staring at a tangle
Of track, and four orange coaches
And one Pullman lying under the current,
Turning the current clear.  We stood staring
As though it had been there all along
And was suddenly thrust up out of the weeds
That night as a blessing, as a long sleek hallway
Dropping off into fields we'd never seen,
Into the pastures of some great god
Who sent back our steers too heavy to move,
All bloated and with green seaweed strung down
Their horns.  And we all looked down
Into the lit cars at businessmen
And wives, already back to breathing water,
And saw in the cold clear tanks of the Pullman
A small child the size of my son, a porter's
White jacket, a nylon floating gracefully
As an eel.
                   What the train and the river
Were saying, no one could understand.
We just stood there, breathing what was left
Of the night.  How still the cars were,
How sleek, shimmering through the undertow.
And I saw the trees around us blossomed out,
The wind had come back and was blowing
Through the tall empty grass, through the high
Grain fields, the wind was rattling
The dry husks of corn.