The Job Pain Index
The Job Pain Index (red line) provides a gauge of how hard it is to find a job.
A higher index number means it's more difficult to find a job because job seekers are facing less demand, or more competition, or both. For comparison, the blue line shows how total nonfarm employment has changed in Minnesota. The raw index and employment numbers are both adjusted to smooth the lines.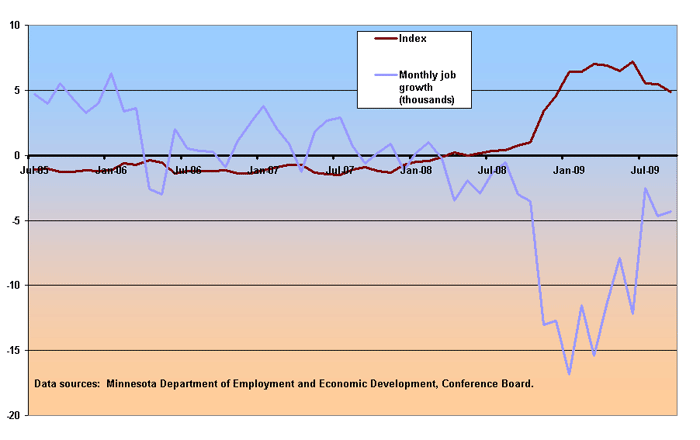 The Job Pain Index incorporates measures of supply and demand for workers, and total employment, the point at which supply and demand reach equilibrium.
The index components include:
The monthly number of initial claims for unemployment insurance for permanent layoffs (a measure of demand for labor)
The Conference Board Help-Wanted OnLine Data Series™ for Minnesota (another measure of demand)
The total number of unemployed in Minnesota (a measure of supply)
The monthly change in total nonfarm employment (seasonally adjusted) in Minnesota (the point at which supply and demand meet)
In order to smooth the lines, both the index and employment readings are adjusted using 3-month moving average that gives the greatest weight to the most recent month's data.