MPR News/Humphrey Institute Poll: Voters disapprove of Pawlenty's cross-country politicking
Minnesota Public Radio
September 1, 2010
Minnesota voters are unhappy with the political activities of Gov. Tim Pawlenty according to a new MPR News-Humphrey Institute Poll.
The poll — conducted by Minnesota Public Radio News and the Humphrey Institute at the University of Minnesota — surveyed voters' preferences in the governor's race and approval ratings of politicians. See the full poll report and methodology, or read MPR News reporter Mark Zdechlik's report on this portion of poll.
Voters disapprove of Pawlenty's travels
Just over half of the 750 likely Minnesota voters surveyed said they opposed the governor's frequent trips out-of-state to campaign and raise money for fellow conservatives. A large segment of Republicans — 37 percent — said they disapproved of the governor's travels, while a sizeable majority of Independents and (predictably) Democrats, at 69 percent each, disapproved of Pawlenty's politicking.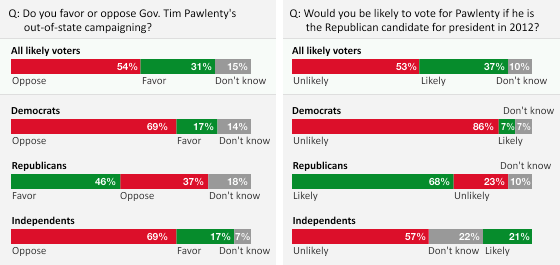 Pawlenty for president?
With Pawlenty's sagging approval and a backlash against his political activities, a majority of voters surveyed, 53 percent, said they are unlikely to support him if he were to win the GOP nomination for president in 2012.
The poll also compared Pawlenty the two most prominent, presumed front-runners for the Republicans in 2012 — former Massachusetts Gov. Mitt Romney and former Alaska Gov. Sarah Palin. Romney fared better than Pawlenty with likely Minnesota voters, 45 percent to 32 percent, while Pawlenty easily beat Palin in the hypothetical match up, 59 percent to 24 percent.
Frustration with the Legislature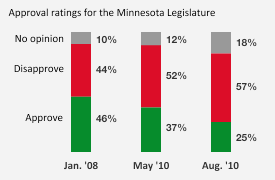 Voters' sour mood is also haunting the DFL-controlled Legislature. In this survey, only a quarter of likely voters said they approve of the Legislature's job performance. The body's approval has been under steady decline since 2008, according to our series of polls.
While 37 percent of voters now say that Republicans did a better job of handling the state's budget, compared to 27 percent who credit Democrats), the race for legislative seats is a toss-up. With about 40 percent of voters saying they pick a Republican in November and 40 percent picking a Democrat, DFLers are in the most perilous position among likely voters in the past several years. The poll suggests they will face a stiff challenge to maintaining their majorities.
Policy notes
• Among likely voters, 56 percent said they prefer a smaller state government and fewer services, compared to 31 percent who prefer a larger government and more services.
• Twenty-eight percent of voters said the way out of the state's budget crisis is to cut spending on transportation, health care and city services. Forty-five percent agreed with the position that income taxes should be raised on families earning more than $150,000. Twenty-two percent of voters agreed that expanding the sales tax to include clothing would be a good start.
• A slight majority of voters — 51 percent to 40 percent — oppose same-sex marriage, but a stronger majority of 64 percent said they favor allowing same-sex couples to enter into legal agreements with each other that would give them many of the same rights as married couples.
• More than half of voters, 57 percent, said they supported the Arizona law that directs police to ask for proof of legal residency.
• Nearly half of voters said they favored revising the 14th Amendment, which guarantees citizenship to children born in the U.S.
• More likely voters said they were likely to accept business contributions to political campaigns, while a majority also said it would be inappropriate for unions to contribute.
About the survey and methodology
This survey is a collaboration between Minnesota Public Radio News and the Center for the Study of Politics and Governance at the University of Minnesota's Humphrey Institute of Public Affairs. The survey was analyzed by the center. The research team was Lawrence R. Jacobs, the center's director, and Joanne M. Miller, an associate professor with the Department of Political Science. Charles Gregory provided research assistance.
The survey of 750 likely Minnesota voters was conducted August 25-29, 2010. The margin of sampling error is +/-5.3 percentage points. For smaller subgroups, the margin of sampling error is larger.
The distribution of party identification and demographics among likely voters in the full sample is as follows:

The poll is based on a landline, random-digit dial survey. From a randomly selected sample of active Minnesota telephone exchanges, random digits were added to form a complete telephone number, thus permitting access to both listed and unlisted numbers. Within each household, one adult was selected to be the respondent for the survey.
The survey data has also been weighted to accommodate for factors such as the number of telephone lines, cell phone usage, gender, age, race and ethnicity to approximate the demographic characteristics of the state's population according to the Census.