MPR News-Humphrey Institute Poll: Dayton, Emmer deadlocked
Minnesota Public Radio
August 31, 2010
Republican Tom Emmer and Democrat Mark Dayton are running even in the 2010 race for governor according to a new MPR News-Humphrey Institute Poll.
The poll — conducted by Minnesota Public Radio News and the Humphrey Institute at the University of Minnesota — surveryed voters' preferences in the governor's race and approval ratings of politicians. See the full poll report and methodology, or read MPR News reporter Mark Zdechlik's report on this portion of poll.
2010 governor's race

Among likely voters, Mark Dayton and Tom Emmer are even at 34 percent support each. Independence Party candidate Tom Horner received 13 percent support.
A fifth of likely voters are undecided. Defections of both Democrats and Republicans from their party's candidates and splits among key voting groups also contribute to the tight race.
Explanations for deadlock
Partisan defections: One-third of partisans are defecting from the Democratic and Republican candidates for governor, draining usually reliable bases of support for each.

Horner is drawing a bit more DFLers and Republicans, but he is not yet attracting the kind of support he anticipated from Republicans, his former party.
Dueling backlashes: Both Dayton and Emmer are seeing the effects of voter backlashes as both President Obama and Gov. Tim Pawlenty appear to be hurting their party's chances. Of likely voters in Minnesota, 64 percent say the U.S. is on the wrong track, while 53 percent say the state is on the wrong track. Likely voters who disapprove of each executive's performance are decidely breaking for the opposing party.
Nearly 40 percent of likely voters said an endorsement by Pawlenty for Emmer would weaken their support for Emmer. A quarter said they would be more likely to support Emmer. Similarly, 44 percent of likely voters said an Obama endorsement for Dayton would mean they would be less likely to support Dayton. Thirty percent said it would increase their likelihood of support.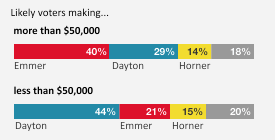 Divided Minnesota: The race for governor is exposing large divides within the state, particularly with respect to incomes. Likely voters making more than $50,000 per year are decidedly breaking for Emmer. Likely voters making less than $50,000 see a similar swing to Dayton.
A similar class divide appears among educational groups. Likely voters with at least college degree favored Emmer over Dayton, while likely voters with less than a college degree favored Dayton by a similar margin.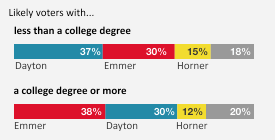 While Democrats in Minnesota often rely on the lopsided support of women to win elections, a significant gender gap has not materialized in the 2010 gubernatorial race. Women favor Dayon and men favor Emmer by similar margins as in the education gap.
About the survey and methodology
This survey is a collaboration between Minnesota Public Radio News and the Center for the Study of Politics and Governance at the University of Minnesota's Humphrey Institute of Public Affairs. The survey was analyzed by the center. The research team was Lawrence R. Jacobs, the center's director, and Joanne M. Miller, an associate professor with the Department of Political Science. Charles Gregory provided research assistance.
The survey of 750 likely Minnesota voters was conducted August 25-29, 2010. The margin of sampling error is +/-5.3 percentage points. For smaller subgroups, the margin of sampling error is larger.
The distribution of party identification and demographics among likely voters in the full sample is as follows:

The poll is based on a landline, random-digit dial survey. From a randomly selected sample of active Minnesota telephone exchanges, random digits were added to form a complete telephone number, thus permitting access to both listed and unlisted numbers. Within each household, one adult was selected to be the respondent for the survey.
The survey data has also been weighted to accomodate for factors such as the number of telephone lines, cell phone usage, gender, age, race and ethnicity to approximate the demographic characteristics of the state's population according to the Census.