MPR/Humphrey Institute Poll: The governor's race
Minnesota Public Radio
May 19, 2010
Below are results of a poll conducted by Minnesota Public Radio News and the Humphrey Institute at the University of Minnesota on voters' preferences in the governor's race and approval ratings of politicians. You can read the full report here and read reporter Mark Zdechlik's analysis of this portion of poll here.
DFL Primary
Among likely voters, Mark Dayton leads Margaret Anderson Kelliher and Matt Entenza in the contest for the Aug. 10 primary to choose the DFL Party's nominee.

Although Kelliher has tied her campaign in part to her gender, Dayton holds a similar lead over her among women (36 percent to 28 percent).
2010 Governor's Race
Dayton also enjoys a slight edge over the presumptive Republican gubernatorial candidate, Tom Emmer, among Minnesota adults.

When matched up with the two other contenders for the DFL Party's nomination -- Kelliher and Entenza -- Emmer is slightly ahead.

Approval of job performance
U.S. Sen. Amy Klobuchar is the most popular politician in Minnesota. Her approval rating of 64 percent tops those for President Barack Obama, U.S. Sen. Al Franken, and Gov. Tim Pawlenty. Approval for Congress is just 23 percent.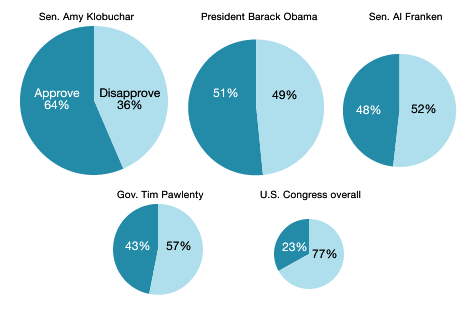 About the survey
This survey is a collaboration between Minnesota Public Radio News and the Center for the Study of Politics and Governance at the University of Minnesota's Humphrey Institute of Public Affairs. The survey was analyzed by the center. The research team was Lawrence R. Jacobs (center director) and Joanne M. Miller (associate professor, Department of Political Science). Geoff Sheagley provided research assistance.
The survey of 701 Minnesota adults was conducted May 13-May 16, 2010, following the three major parties' endorsing conventions. The margin of error is +/-5.8 percentage points. For smaller subgroups, the margin of sampling error is larger.
The distribution of party identification among adults in the full sample is as follows: