Wednesday, November 29, 2023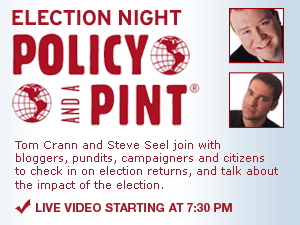 Election Night Policy and a Pint
Tuesday, Nov. 7, 2006
7–11 pm
The UBS Forum

Minnesota Public Radio hosted an "alternative" election night event in The UBS Forum and online modeled after The Current's successful Policy and a Pint series. The event brought together 80+ bloggers, news junkies, and interested citizens to talk about politics and election results in an informal and non-partisan atmosphere. The event was jointly sponsored by 89.3 The Current, MPR News and the Citizens League.
Steve Seel and Tom Crann anchored a live video stream from The UBS Forum. The archived version will be available soon. High-profile political bloggers from the region were also there to update their blogs and provide commentary.
Steve and Tom also talked politics with local political analysts and commentators. Monitors throughout The Forum broadcasted the latest results from MPR and other sources while DJs provided entertainment and continuity during breaks in the action.
Guests commentators and analysts:


Abdirahman (Abdi) Aynte lives in Minneapolis, MN where he writes and edits the bilingual blog, Hiiraan Online (www.hiiraan.com). He also blogs at tcdailyplanet.net


Tim Bedore is a stand-up comedian, making nightclub and corporate appearances, as well as broadcasting humorous commentaries on public radio.


David Brauer, the media commentator for All Things Considered and a freelance writer. He's the former editor of Skyway News.


Barry Casselman is a freelance writer who has analyzed national politics since 1972. He writes for the Washington Times and Preludium News Service.


Lorena Duarte was born in El Salvador and immigrated as a child to Minnesota with her family. She holds a degree in Hispanic Studies/ Romance Languages and Literature from Harvard University and nowlives in Minneapolis where she was most recently the Editor of La Prensa de Minnesota, a bilingual Latino newspaper. She is also a poet and spoken word artist and she contributed to and co-edited "¿Under What Bandera? Anti-War Ofrendas from Minnesota y Califas" and performs her work regularly throughout the Twin Cities. She is also active in several organizations that focus on the issues of community and social justice.


Claire (Ginger) Gorman produces and reports for the leading drive-time talk radio program in Canberra, the Australian capital. In 2004 she won an ABC Local Radio Award, her second, for a seven-part series titled "Death and Dying: Breaking the Taboo." She views the WPI fellowship as an opportunity to stand back from the frenzy of daily radio and take in new perspectives.


Duchess Harris, Associate Professor of American Studies at Macalester College. Harris is an interdisciplinary scholar trained in American Studies. Her general area of interest is Twentieth Century African American political history. Within that broad subject, she is specifically interested in the organizations of the Civil Rights Movement, the contributions of women of color to feminist theory post-1970, autobiography, and critical legal studies. She received her B.A. in American History and Afro-American Studies with an English minor from the University of Pennsylvania in 1991 and her Ph.D. in American Studies with a minor at the Center for Advanced Feminist Studies from the University of Minnesota in 1997. Harris was a recipient of the Woodrow Wilson Career Enhancement Fellowship during the 2001-2002 academic year. She joined the faculty in 1998.


Kathryn Pearson, Political Science professor at the University of Minnesota. Pearson specializes in American politics, national institutions, political parties, elections, and women and politics, with particular expertise in the U.S. Congress. Pearson's current research focuses on party discipline in the House of Representatives.


Britt Robson covers politics and the Timberwolves for City Pages.


Jan Stuchlik, As foreign desk editor at Ekonom, the largest business weekly in the Czech Republic, Stuchlik covers a broad range of international events. He has a master's degree in international politics and diplomacy and says his mission as a journalist is "to contribute to cultivated and erudite newsgathering about the outer world."


Bill Wareham, is the MPR news director.


Program rundown:

7:00—Music with DJ Bill DeVille
7:35—Barry Casselman on the national political scene and what we know about returns from the rest of the country so far.
7:45—Adbi Aynte, Claire "Ginger" Gorman and Jan Stuklik discuss how they see the U.S. election process.
7:55—Political Trivia quiz
8:05—Kathryn Pearson talks about how a turnover in power might actually play out.
8:15—Audience check-in
8:20—Video segment #1
8:23—Live election update on The Current
8:25—Bill Wareham stops by with the results of exit polling
8:35—Blogger check-in
8:40—David Brauer on media coverage
8:50—Live election update on The Current
8:52—Tim Bedore
8:59—Audience check-in
9:04—Video segment #2
9:07—Lorena Duarte on how young people are engaged in the political process.
9:15—Political party quiz
9:23—Live Current election update
9:25—Bill Wareham on latest info from exit polling
9:35—Blogger update
9:40—Britt Robson and David Brauer on latest results
9:50—Live election update on The Current
9:53—Duchess Harris on Keith Ellison
10:03—Video segment #3
10:05—Audience check-in
10:12—Sean Kershaw wrap up
10:30—Sign-off, music with DJ Steve Nelson
Video
Photos
More from MPR
Bloggers attending the event
Resources