Tuesday, November 28, 2023

SNAPSHOT
The 8th District encompasses about 18 Minnesota counties -- mostly rural and farmland. It includes Duluth, Cloquet, Chisolm, Hibbing, Grand Rapids, International Falls, and Brainerd.

The nation's largest deposits of iron here were discovered there in the 1800s -- thus the nickname "Iron Range" that is bestowed upon much of the region.

This has been a DFL district for generations, but there are signs of change according to The Almanac of American Politics. "In 2000, cultural issues like gun control and environmental restrictions moved opinion toward the Republicans." John Kerry won the district, however, on a 53%-to-46% vote in 2004. But he was forced to devote time and resources to the district that traditionally has been a solid blue.
District Information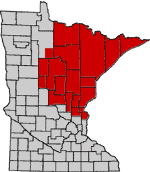 Median age: 43
School age:19%
Age 65+: 16%
Percent below poverty: 10.4%
Per capita income: $18,597
Median housing value: $90,003
Percent unemployed: 3%
Percent minority: 5%
Percent college graduate: 11%
Percent less than high school diploma: 10%

The Money Race
| | |
| --- | --- |
| Candidate | Funds |
| James Oberstar | $1,198,362 |
| Rod Grams | $335,143 |