[an error occurred while processing this directive]


Not Found
The requested URL /collections/politics/include_collection_navigation.shtml was not found on this server.
SNAPSHOT
Minnesota's 3rd Congressional District is one of the most affluent in the state, encompassing the suburbs of Hennepin County to the north, west, and south of Minneapolis. With blue-collar Brooklyn Park to the north, middle-income Bloomington to the south, and high-income Plymouth and Wayzata to the West, it features a mixed characteristic. Politically, it voted for George Bush in 2004, but with only 51 percent of the votes cast. It may lean Republican, but it tends to lean moderate Republican. Rep. Jim Ramstad hasn't had a serious threat to his seat in years. In 2006, he turned aside a challenge from DFLer Wendy Wilde by a 65-to-35 percent margin.
District Information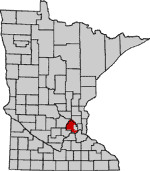 Population: 614,935
Median age: 39
School age:20%
Age 65+: 10 %
Percent below poverty: 3.5%
Per capita income: $32,613
Median housing value: $161,241
Percent unemployed: 2%
Percent minority:12%
Percent college graduate: 25%
Percent less than high school diploma:4%

The Money Race
| | |
| --- | --- |
| Candidate | Funds |
| Jim Ramstad | $872,705 |
| Wendy Wilde | $50,973 |
Not Found
The requested URL /standard/include/mpr005/global_module_shortcuts.shtml was not found on this server.