Tuesday, November 28, 2023

SNAPSHOT
The 1st District recently has shown signs of change. Many of the DFL's inroads in the legislative campaign of 2004 came in the 1st. The election of Tim Walz to replace incumbent Gil Gutknecht confirmed it on Election Day 2006.

In recent elections Gutknecht had shown little sign of withering support. In 2004, he easily outdistanced DFLer Leigh Pomeroy by a 60-to-36-percent margin. In fact, Pomeroy was a candidate only because he was unable to find a willing DFLer to take on Gutknecht after the original choice -- Joe Mayer -- dropped out.

Thanks in large part to the Mayo Clinic in Rochester, about 33.1 percent of residents in the 1st District make a living as doctors, lawyers, managers and other professionals and 24.2 percent work in 9-to-5 office jobs as salespeople, administrative assistants or secretaries, for example. Another 17.8 percent are employed in transportation and production, jobs courted by powerful unions.
Candidates
Gil Gutknecht (

R

)
Tim Walz (

D

)
District Information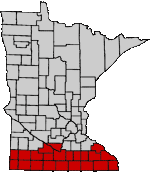 Median age: 41
School age: 19%
Age 65+: 15%
Percent below poverty: 8%
Per capita income: $19,889
Median housing value: $93,981
Percent unemployed: 2%
Percent minority: 7%
Percent college graduate: 13%
Percent less than high school diploma: 10%

The Money Race
| | |
| --- | --- |
| Candidate | Funds |
| Gil Gutknecht | $1,124,303 |
| Tim Walz | $759,040 |