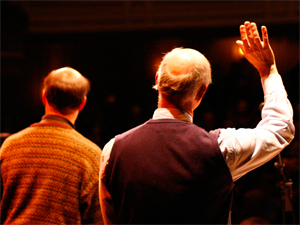 Final Morning Show Broadcast
Fitzgerald Theater, St. Paul, MN
December 11, 2008
More from the Morning Show:
Tuesday, December 2, 2008
Features and Guests
One would think that folksingers in Boston are lining up to get gigs and trying to out-do each other in a fiercely competitive scene. But Meg Hutchinson says it's more of a family atmosphere. She's one of Red House Records' newest singer-songwriters and says the Boston scene, where she lives now, is supportive and thriving.
Program Archive
December 2008
S
M
T
W
T
F
S
1
2
3
4
5
6
7
8
9
10
11
12
13
14
15
16
17
18
19
20
21
22
23
24
25
26
27
28
29
30
31
Services