Minnesota Public Radio's Broadcast Journalist Series commissions journalists and correspondents for a 24-hour residency four times a year, 2 in the fall and 2 in the spring. While here they share insights on their craft as well as on people and events. Hosted by MPR's Tom Weber, all events take place at the University of St. Thomas O'Shaughnessy Education Center with a breakfast the following morning at the Minneapolis Club. Free tickets to the evening events will be avail on Tuesday, August 15th through eTix.
April Ryan
September 25, 2017 | 7:00 p.m.
St Thomas O'Shaughnessy Education Center
Tickets
White House Correspondent April Ryan has a unique vantage point as the only black female reporter covering urban issues from the White House – a position she has held since the Clinton era. On behalf of the American Urban Radio Networks, and through her "Fabric of America" news blog, she delivers her readership and listeners (millions of African Americans and close to 300 radio affiliates) a "unique urban and minority perspective in news." Her position as a White House Correspondent has afforded her unusual insight into the racial sensitivities, issues, and attendant political struggles of our nation's last presidents. She also can be seen almost daily on CNN as a political analyst. April is the author of the award winning book, The Presidency in Black and White, and her second book, At Mama's Knee: Mothers and Race in Black and White(December 2016). A paperback version of The Presidency in Black and White – with updates about President Trump – is her latest book.
Joshua Johnson
October 23, 2017 | 7:00 p.m.
St Thomas O'Shaughnessy Education Center
Tickets
Joshua Johnson hosts 1A, one of the most important daily conversations in America. The program is a production of WAMU in Washington, DC and distributed by NPR.
Launched at a tumultuous time for news and inspired by the 1st Amendment, Joshua Johnson and 1A brings new insight and inquiry to the most pressing issues of our time. "My professional passions have always centered on creativity, exploration and service," Joshua notes. "This moment in history demands these attributes of us. It's a chance to tell stories more creatively, to explore ideas beyond our own, and to refocus on serving others."
Joshua was born and raised in West Palm Beach, FL. He began his public radio career helping launch a unique regional news partnership between Miami's NPR station, WLRN, and The Miami Herald. Then he served for over five years as morning news host for KQED in San Francisco. Before joining WAMU, he co-created and hosted the provocative nationwide public radio series, Truth Be Told, which explored race in America. Joshua also taught podcasting at the UC Berkeley Graduate School of Journalism. He is an active member of the National Association of Black Journalists.
Tickets
Tickets are FREE but must be reserved. Get yours at etix.com and watch mpr.org/bjs for details and announcements.
Event Parking
St. Thomas invites guests attending this event to park in the Anderson Parking Facility. The Anderson Parking Facility is a two-block walk to the O'Shaughnessy Educational Center. Please enter the Anderson Parking Facility at the southwest corner of Cretin and Grand avenues. For specific driving and parking directions to campus, refer to the available map on this page. The cost for hourly parking in the ramp is $1.50/hr before 4:00 pm and $1.00/hr after 4:00 pm. To avoid being ticketed, guests should not park in campus surface lots that require permits including the one adjacent to OEC Auditorium, or on streets around campus, which require city permits.
Host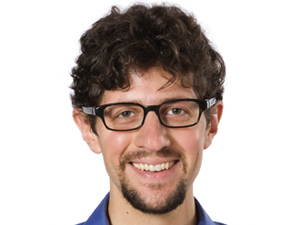 Tom Weber is host of MPR News with Tom Weber, which is heard weekdays at 11 a.m. The show focuses on all things Minnesota, from the latest headlines to the long-standing issues that define the state, to the quirky people who make this an interesting place to live. Tom joined MPR News in January 2008, serving as a general assignment reporter and as an award-winning education reporter before joining the newly created weekday news talk show The Daily Circuit as a co-host in 2012. He became host of MPR News with Tom Weber in late 2014. Weber also hosts several MPR news live events, including the Broadcast Journalist Series at the University of St. Thomas. Before moving to Minnesota, the Chicago native was a morning news anchor and reporter for KWMU St. Louis Public Radio for more than five years. He is the author of the travel book 100 Things to do in the Twin Cities Before You Die.