For over 20 years, Minnesota Public Radio's Broadcast Journalist Series commissions journalists and correspondents for a 24-hour residency four times a year, 2 in the fall and 2 in the spring this season. While here they share insights on their craft as well as on people and events. Hosted by MPR's Tom Weber, all events take place at the University of St. Thomas O'Shaughnessy Education Center with a breakfast the following morning at the Minneapolis Club.
This season, learn firsthand from some of the world's finest female journalists and correspondents. MPR News' Tom Weber will host these talented women for conversations about their careers, their craft and their take on world events.
Caren Bohan
April 11, 2016 | 7:00 p.m.
St Thomas O'Shaughnessy Education Center
Tickets
Caren Bohan is Deputy U.S. Elections Editor at Reuters. Her roles at Reuters have included serving as an editor overseeing the White House, Congress and Domestic Policy Team, covering the White House and politics beat for nine years and also working as an economics correspondent. Caren has also worked at National Journal as managing editor for Domestic Policy, overseeing coverage of healthcare, economics, energy and tech. As a White House reporter, she traveled the globe covering the Bush and Obama administrations. She criss-crossed much of the country in 2008 as the reporter at Reuters covering Barack Obama's presidential campaign. She has interviewed Obama three times and President Bush once. Caren is a past president of the White House Correspondents' Association and is currently a member of the board of the Washington Press Club Foundation, an organization dedicated to mentoring young journalists and promoting diversity in newsrooms. Caren lives in Washington D.C. with her husband, Jeffry Bartash, and their two children, Niko and Caleigh.
Ann Friedman
May 2, 2016 | 7:00 p.m.
St Thomas O'Shaughnessy Education Center
Tickets
Ann has a weekly column at NYmag.com and also contributes regularly to The Los Angeles Times, The Gentlewoman, The New Republic, The New York Times Book Review, ELLE, The Guardian, and Los Angeles magazine. Friedman co-hosts a podcast, Call Your Girlfriend, with her good friend Aminatou Sow. Every Friday she sends out an email newsletter full of digital treats. She also makes hand-drawn pie charts and lives in Los Angeles. Ann grew up in eastern Iowa, studied journalism at the University of Missouri-Columbia, and has since moved back and forth between the coasts. (She prefers the west.) Before she became a freelance writer, she was the executive editor of GOOD magazine. After she was fired along with her colleagues in 2012, they created a crowd-funded magazine called Tomorrow.
Tickets
Tickets are FREE but must be reserved. Get yours at etix.com and watch mpr.org/bjs for details and announcements.
Event Parking
St. Thomas invites guests attending this event to park in the Anderson Parking Facility. The Anderson Parking Facility is a two-block walk to the O'Shaughnessy Educational Center. Please enter the Anderson Parking Facility at the southwest corner of Cretin and Grand avenues. For specific driving and parking directions to campus, refer to the available map on this page. The cost for hourly parking in the ramp is $1.50/hr before 4:00 pm and $1.00/hr after 4:00 pm. To avoid being ticketed, guests should not park in campus surface lots that require permits including the one adjacent to OEC Auditorium, or on streets around campus, which require city permits.
Host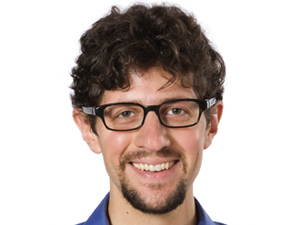 Tom Weber is host of MPR News with Tom Weber, which is heard weekdays at 11 a.m. The show focuses on all things Minnesota, from the latest headlines to the long-standing issues that define the state, to the quirky people who make this an interesting place to live. Tom joined MPR News in January 2008, serving as a general assignment reporter and as an award-winning education reporter before joining the newly created weekday news talk show The Daily Circuit as a co-host in 2012. He became host of MPR News with Tom Weber in late 2014. Weber also hosts several MPR news live events, including the Broadcast Journalist Series at the University of St. Thomas. Before moving to Minnesota, the Chicago native was a morning news anchor and reporter for KWMU St. Louis Public Radio for more than five years. He is the author of the travel book 100 Things to do in the Twin Cities Before You Die.