What does Macy's closing mean for downtown St. Paul?
10:06 AM, January 3, 2013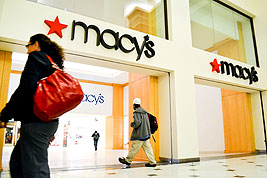 On the radio
Dave Brennan: Co-director of the Institute for Retailing Excellence at the University of St. Thomas
The Macy's department store in downtown St. Paul will be closing its doors this spring. We'll speak with a retail analyst about Macy's decision, and what it means for the city.
comments powered by
The Daily Circuit from January 3, 2013