Is airline program to avoid security line worth it?
10:06 AM, October 12, 2012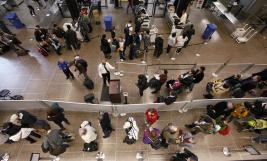 On the radio
Christine Negroni: Author of the aviation blog Flying Lessons, contributor to The New York Times Practical Traveler column
Long lines, Ziploc bags, removing your shoes -- going through airport security is certainly an unpleasant experience. Want to avoid all that? A lot of you now can.
One of the programs airline travelers can sign up for to expedite their security process at the airport receives 25,000 to 30,000 applications a month. What are the pros and cons to signing up for one of the options?
comments powered by
‹ Earlier

The Daily Circuit from October 12, 2012