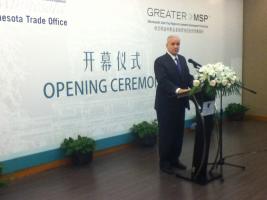 On the radio
Adam Minter: American journalist living in Shanghai. His articles appear regularly in The Atlantic, Bloomberg and other publications.
Resources and Links
Minnesota Gov. Mark Dayton continues his travels in China Wednesday, where he's leading a delegation of 50 state business leaders and other officials.
Earlier Wednesday, he cut the ribbon on a new trade office in Shanghai.
Writer and native Minnesotan Adam Minter was there covering Dayton's trip for Minnpost and joined The Daily Circuit Wednesday to discuss the governor's trip.
comments powered by
The Daily Circuit from June 13, 2012