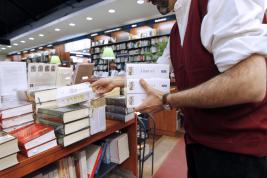 The Daily Circuit features a weeklong discussion about faith: What people believe, why they believe it and how it shapes their politics.
On the radio
Paul Brandeis Raushenbush: Senior religion editor for the Huffington Post, former associate dean of religious life at Princeton University. An ordained American Baptist minister
Marcia Z. Nelson: Religion editor at Publishers Weekly. Her latest book is "The Gospel According to Oprah."
Resources and Links
Related Stories
Just 50 years ago, it would have been difficult to find many religious books at the bookstore. Today, religious books fill entire sections in bookstores around the world. What does the popularity of religious books say about our culture?
Marcia Z. Nelson, religion editor at Publishers Weekly, will join The Daily Circuit Wednesday to talk about religious books.
"One of my former colleagues Phyllis Tickle, at the height of the publishing boom, said that 'religious books are portable pastors,'" Nelson said. "I think that's true and that's one of the reasons they're so popular."
Paul Brandeis Raushenbush, senior religion editor for The Huffington Post, will also join the discussion.
comments powered by
‹ Earlier

The Daily Circuit from May 9, 2012