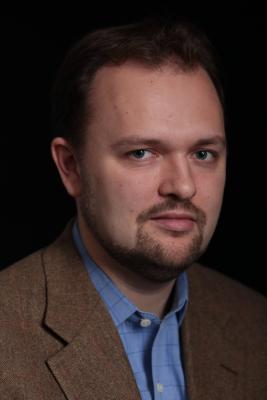 On the radio
Ross Douthat: New York Times op-ed columnist. His new book is "Bad Religion."
Resources and Links
New York Times columnist Ross Douthat is in town this week. He's joined The Daily Circuit to talk about the 2012 presidential campaign and why America's current crisis is mainly a religious crisis.
"Today's America does not lack for causes where a similar spirit could be brought to bear for religious activists with the desire to imitate the achievements of the past," Douthat wrote in The New York Times. "But with the disappearance of a Christian center and the decline of institutional religion more generally, we lack the capacity to translate those desires into something other than what we've seen in this, the most theologically diverse of recent presidential elections -- division, demonization and polarization without end."
VIDEO: Douthat with Bill Maher
comments powered by
The Daily Circuit from April 24, 2012
Transcript
Kerri Miller (host): Here's the puzzle that the New York Times columnist and author Ross Douthat explores in his new book, how is it that organized religion has weakened so dramatically, even as many many Americans say that they are committed to a faith. And here's something else I'm interested in: Why doesn't our political conversation often reflect the tenets that guide people in their faith? And I want to know what Ross thinks of something Eric Metaxas said when he was here last week. So we'll talk about all of that and more today with Ross Douthat, he's a conservative thinker who writes an editorial column for the New York Times, his new book is titled Bad Religion, and he joins me in the studio. Provocative title, welcome, good to have you.


Ross Douthat (guest): It is, thank you so much for having me.


Miller: So this is the puzzling disconnect, this idea of diminishing strength of organized religion, church attendance down and all the other factors of that, and yet this powerful connection that Americans say they have to religions. So how do you account for that? Did you get an answer for that?
Douthat: Well that's, it's a big story of American life, or at least of American religious life over the past 50 years, is that on the one hand, institutional expressions of Christianity have gotten weaker than ever before, mainline protestant denominations have declined steeply, my own Catholic church has been plagued by scandal and declining mass attendance and so on, and even the churches that have thrived, which often been the evangelical, pentecostal churches and so on, their growth hasn't made up for this large institutional decline. And yet, if you dig into the polling data and look at questions like, for instance if you ask Americans have you had a direct religious experience, a direct encounter with God, in some polls more Americans say yes now than did 50 years ago, when institutional religion was weaker, and even if you look at - there's this growing population that describes themselves as having no religious affiliation, the so-called nones, nones not nuns, but if you then ask them about their beliefs, they often have a belief in God, metaphysical beliefs of various kinds and so on. So I think this is the big story of religion in America, and it sometimes gets lost when we focus on Christians versus atheists, religious right versus the secular left; really more and more Americans are getting their faith from, for instance, in the book I talk a lot about what I call the God within, the ideas that you get from say a book like Elizabeth Gilbert's Eat Pray Love, or a lot of the spiritual authorities who appear on the Oprah Winfrey show or something, the idea that the only important spiritual encounter is the one you have with the God within yourself. Or again, the appeal of something like the prosperity gospel, a figure like Joel Osteen, who many listeners have probably heard of, where the message is, again, it's influenced by traditional Christianity but it focusses more on material needs, and God as a being who provides you with what you need to pay that mortgage or get that big car or that house on the corner and so on. So why this has happened, I think the lesson of the last 40 years is that I'm a skeptic of the idea that it's possible to have a truly secular society; I think even in Europe, which is more secular than we are, if you dig into public opinion polls on religious belief you still find a lot of sort of spiritual interest, you might say. So I think that's sort of the story, even in the absence of institutional faith, it's hard to get away from the religious impulse.


Miller: I guess I don't sense that you're making a judgement about that, but I would ask you if -


Douthat: Well no, the title of the book is Bad Religion, so in some sense I am...


Miller: Ok, well let me frame the question, before - Is it a sign of a deteriorating culture or society if people still believe that they have a connection with something greater than themselves, however they think of that, and that they then observe all of the - or they try to live their lives through all of the tenets of what we would think of as an organized religion, but that they don't, on Sunday attend a specific church or say that they adhere to a specific religion?


Douthat: I think what gets lost in the current religious climate is the role that institutional churches played in testing people's private impulses against some broader moral and theological tradition. So clearly the subtitle of my book is How We Became a Nation of Heretics, but clearly in some sense Americans -


Miller: I assumed that was just for the title of the book and you don't really believe that.


Douthat: No, I mean America has always been a nation of heretics. This is sort of the nature of the American experiment.


Miller: Maybe we'd better define heretic.


Douthat: So the definition of heretic is someone whose religious faith is so deeply influenced by Christianity that it doesn't make sense to say, you know they're post Christian, it's not a new religion altogether, they're not converting to Islam, they're not becoming Buddhist or Jewish or what have you, but at the same time they depart in some core way, some crucial way from the original consensus of Christianity. So the example I gave earlier about the prosperity gospel, I think it's a very clear example where you have a form of faith that thinks of itself as Christian, talks about Jesus Christ and so on, but rejects implicitly or explicitly the traditional Christian suspicion of wealth, and the traditional Christian emphasis on the virtues of poverty and so that's pretty clearly there in the New Testament. So that's - the danger of that is not that heresy is necessarily a bad thing, it's very important to have challenges to more traditional religion, challenges to orthodoxies and so on, but if heresy is all you have, which I think is the story of religion in America today, increasingly heresy without any orthodoxy, you end up - the danger is for instance that the religious impulse just becomes an excuse for doing whatever you wanted to do anyway, and saying God, whether it's getting that mortgage that you can't really afford, and you say well I prayed and God told me to get that mortgage, or in your personal life, say abandoning your obligations to your spouse and children, and saying well the God within told me to do that. And that's the place where a more institutionally and historically rooted faith can serve as a curb on that - what I think is a very natural human tendency.


Miller: So if you asked Americans if they feel as if their faith is alive in their everyday life, do you think most Americans would want to say yes, but would you say you observe that that is not necessarily true? I guess I'm asking, do you think Americans have become pretty adept at compartmentalizing their faith?
Douthat: I think Americans have become adept at compartmentalizing the parts of traditional Christianity that don't necessarily comport with their own -


Miller: But what's unusual about that Ross, hasn't that been going on for -


Douthat: Of course, that's always been going on, but again the virtue of the traditional Christian churches has been - and again, they clearly obviously haven't always lived up to it and so on, but the Jesus of the New Testament, for instance, I think if you read the New Testament and read it honestly, you will find, everyone will find something challenging in that story. So if you're a political conservative, like I am, you'll be challenged by what Jesus has to say about wealth, right? American conservatism is a very pro-capitalist intellectual tradition and so on, and yet everything that Jesus says about wealth and power and money and so on is very skeptical of often exactly the kind of the figures the American Republican party tends to valorize.


Miller: Ok, but hasn't this been going on, I mean is there something unique happening now, or I guess my challenge to you is can't we look back in many different eras and find the exact same thing?


Douthat: You can, but - so I start the book with the post-war era, the 1940s and 1950s. So this was a period when institutional religion was stronger than it is today, when church attendance was growing, church construction was booming, and it was also a period when there was a kind of intellectual renaissance in Christianity, you had literary figures like Flannery O'Connor and Thomas Merton, you had theologians like Reinhold Niebuhr, and let's take the example of politics, right? That was a moment when a lot of institutional Christian churches played in the civil rights movement a kind of non-partisan prophetic role. And this was clearly true of the black church, but it was also true of the mainline protestants and catholics who supported them and it was even true to some extent among southern evangelicals. Even a figure like Billy Graham, who was coming on the national stage at that point, he wasn't a hero of the civil rights movement but he did speak out at times in favor of desegregation and so on. And so the strength of institutional christianity at that moment meant that it wasn't as easy for the faith to be simply captured by partisanship, to become simply an expression of your identity as a liberal, or your identity as a conservative. And the success of the civil rights movement, at least in the 50s and early 60s, things changed later on, but at that moment it was a bipartisan success. You had Republicans as well as Democrats voting for the civil rights - more Republicans than Democrats voted for the Civil Rights Act of 1964 I believe. And that I think - if you contrast that with today, where religious faith is much more likely to serve partisan interests, that's where I think that institutional strength can make a difference in sort of posing that challenge to people, challenging their preconceptions. And again, I completely agree with you, this phenomenon has always been with us, but I think it's more with us than ever before because of that institutional decline.


Miller: To the phones to William, in Eden Prairie. Hi William, I appreciate you waiting.


William (caller): Hi there, I was actually about this same issue the other day with my neighbor who was a pastor in Canada, and we were - we came to this conclusion that back in the day there used to be more of a sense of community among people, and nowadays that's kind of diminishing, and people are more moving toward financial security and independence, they don't really need churches and those institutions as much as they did back in the day. He brought up something about everybody would go to the castle if they needed protection, or people would go to the church if they needed protection, nowadays that's not as much - that's not as needed and I was wondering what your caller thought of that.


Douthat: Sure. I think that that is true to some extent, and in the book I talk about the factors that have led to the breakdown of institutional churches and one of the factors I cite is just America's ever growing wealth, and the fact that exactly as you say, a richer society feels like a more self-sufficient society and so on, and also just in general the New Testament suspicion of wealth and so on doesn't play as well in a wealthier society as it does in for instance a society that had just gone through the great depression. The cautionary note I would offer is that if you - this phenomenon has a different impact on different social classes. So for instance, if you are comfortably upper middle class it's easy to feel like yes, I don't need communal organizations, I don't need these social institutions and so on. But then if you look at for instance the state of the American working class today, where you have declining rates of church attendance, also high rates of family breakdown, declining workforce participation, and tied to that, stagnating wages and economic difficulties, I think you can see that there are still real advantages to having strong communal ties and so on and that American life suffers in many ways because we are a more individualistic and atomized society.


Miller: To the phones to Jen in St Paul. Hi Jen, thank you for waiting.


Jen (caller): Hello. This is a fascinating conversation, thank you. I wanted to ask your guest about the prayer of Jabez. Back in the 90s and early 2000s I was a fundamentalist Christian, and I've always felt that poverty was a real blessing in my life, but when that book came out it took a small snippet of the old testament and expounded on it, it was just a man who had prayed to god for power and wealth and he just received it, it's a very small snippet, but the book became a bestseller and it made popular the idea that God wants us to be wealthy, he wants us to have a lot of power and influence, and we should pray for this and dedicate ourselves and our minds to that. And I saw it really changed the attitudes of my friends in my congregation when it came to the ideas of charity and reaching out to poor countries, especially when we started going to war. So I was just wondering what your guest thought about that.


Douthat: That is a very good question and in fact I write a bit about the prayer of Jabez in the chapter of my book on prosperity theology, because I think the caller is absolutely right that it's an example of in a way how some of these ideas that, certainly in the 1980s were associated with these ridiculous preachers who were always getting into scandals with prostitutes and so on -


Miller: The Swaggerts -


Douthat: RIght, the Swaggerts, and the Bakers, and so on, how these ideas have actually in subtle ways entered the Christian mainstream, and a book like the prayer of Jabez is a great example, the caller described it very well, it takes a snippet of the old testament in which Jabez asks God to - I think the line is enlarge his territory, and it spins this narrative where sometimes enlarging your territory means something to do with your emotional life, your personal life and so on, but it obviously also has a financial component as well. So if you're a stockbroker it means increasing your investment portfolios and so on. And I think what is dangerous about that for religion - I think that the caller is right about how a pure focus on worldly power and influence can lose that part of the Christian message that is about the little things, and that poverty as well as riches can be a gift from God and so on, but traditionally Christianity has understood that there is - you want to hold two ideas in tension at the same time, you want to both be able to say, look, material wealth is a blessing from God, and if you are blessed in that way you should be thankful for it and so on, but the absence of material wealth is not a punishment, right, it's not proof that God has turned his favor from you, and the mere presence of wealth alone doesn't prove that you're virtuous. So holding those ideas in tension I think is part of, it's crucial to Christianity's message, and it's easy to get lost if you're just saying pray to God to enlarge your territory.


Miller: Aren't you, are you often struck by the space between the kind of messaging you will hear on Sunday morning in church, and what people who are very willing to talk very openly about their faith in the political realm, some of the views that they hold, that do not sound like they match very well with what you would hear from Sunday morning, like views on poverty, like views perhaps on immigration? Does this strike you as just, well that's how the political rhetoric of our age sounds, or does that sound dissonant to you?
Douthat: Well, I guess I would - I think there is a valuable distinction that conservatives make and I think they're right to make between the new testament admonition towards private charity and personal charity, and debates about what government should be doing. So I think it is completely legitimate for Christians - I mean, I'm a political conservative myself, I think it's legitimate for Christians to be political conservatives, and to say, look it's not - the government can't love you the way an individual can love you, and Jesus in the new testament doesn't say remember middle class entitlements and keep them holy, and so on, right, there has to be room for private initiative as well as public initiative. That being said, I think that where you're absolutely right is that one of the distinguishing factors of our era I think is that because you have these religious impulses, and you don't have - you have weakened religious institutions, people channel their religious impulses more into partisan politics. So your identification with the Democratic, or I think more often the Republican Party becomes a substitute for what would have previously been your identification with the Methodist church or the Presbyterian church.


Miller: And what is the result of that?
Douthat: The result of that I think has less to do with specific policies and more to with a general dangerous attitude toward political debates, where it's all or nothing, manichean situation where you can't possibly compromise with the other side because politics is, it's either apocalyptic or messianic, I guess is the way I frame it in the book. You're either obsessed with building the kingdom of heaven on earth, or you're worried that the other side is about to destroy the country. And that I think explains a lot about the sort of polarization that we have in our politics today.


Miller: To the phones to Brian in Minneapolis, hi Brian.


Brian (caller): Hi. My biggest concern about religion in politics at this point is how much it is used to, by political pundits right left and center, to demonize those who are not like themselves. The attitudes about Islam, when it is primarily a small sect creating the biggest amount of problems, ends up demonizing the entire religion. Anybody who is not like yourself based on your religion or your direct politics then becomes the evil other, and it's one of those self- perpetuating cycles that to me just continues to be scarier and scarier as they go, as time goes on.


Miller: That's something Karen Armstrong talks a lot about, the superiority in knowing the way.


Douthat: Right, and I think again what the caller just said dovetails with the point I was making before, that you have this odd dynamic where the party in power, whether it's Republican or Democratic, tends to be sort of messianic. So when the Republicans were in power in the Bush era, if you listen to for instance President Bush's foreign policy rhetoric, there was this incredible emphasis on transformative crusades that would bring freedom to the Middle East and so on, and meanwhile the Democratic party being out of power was sort of - that was the moment of Michael Moore and Fahrenheit 9/11 and so on, and you had all this paranoia about how Bush was setting up a fascist regime and so on. Then flash forward four to six years, and suddenly the utopianism is on the Democratic side, and it's hope and change and celebrities singing about Obama in YouTube videos and so on, and meanwhile the right, because they're losing power, sinks into its own version of Michael Moore style paranoia, instead of Michael Moore it's Glenn Beck. But I think that that cycle is very real and very destructive. I think the place where I might sometimes disagree with Karen Armstrong, for instance, the writer that you just cited, is I think a more serious and more - sometimes more traditional faith can actually be a better guard against those kind of temptations, because you are being forced to take the totality of the Christian message seriously, and not just fit it into a partisan box.


Miller: But who does that? There are very few people - I just heard this interesting discussion yesterday, with two nuns, who were talking about this edict that came down from the hierarchy of the Catholic church, and one of them was saying a message like that: It's either basically we don't buy into the cafeteria Catholic thing, it's either all or nothing. But that isn't really the real world, is it?


Douthat: Well I don't know, I think that it's useful to - let's put it this way, I think it is useful to hold up ideals even if of course you're never going to live up to them completely. And look, in my own life I'm sure that there are endless moments when my political conservatism influences me to ignore some aspect of my religious faith that I shouldn't be ignoring.


Miller: What about your Catholicism?
Douthat: Right, my - but in my own - I think it's important to - I guess I'd - it's important to have a God who demands something of you that you might not necessarily want to do. And having that demand means not just taking a cafeteria approach to religion, it means even when there's a teaching that you don't agree with and aren't even living up to in your personal life, at least having respect for that teaching and sort of, not just assuming that because you aren't living up to it it can't possibly be true. I think that's the big tendency in American life is that if something doesn't seem to fit with our current lifestyle, we assume, it must be just wrong, and not merely to idealistic. And I think it's useful to make a distinction and say no, it's important to have ideals that we can't necessarily live up to, whether they're ideals about sex, ideals about attitudes towards money, or whatever topic you want to choose.


Miller: You reminded me just then of a profile that Mother Jones did of you -


Douthat: Oh dear.


Miller: Do you remember that?


Douthat: I do, yes.


Miller: It was from 2010. I bet you remember this line describing you. Devoutly Catholic, anti-porn, pro-abstinence, pro-life prodigy of punditry. All fair? All true?

Douthat: The alliteration is very nice. It's all true, but it isn't necessarily the primary way I would always identify myself. But yes, I'm anti-porn, I suppose, and what were the others, pro-life, yes?


Miller: Wait wait, why did you say anti- porn, I suppose?
Douthat: Oh, just because I'm being, I'm trying to be a little bit diffident rather than trying to be earnest and over the top and so on. Again, to go back to what we were saying before, I graduated from college in 2002, and that meant that I came of age in an era when internet pornography was completely ubiquitous, and nobody I knew lived a life untouched by it, no young person but certainly no young man in America lives a life that is uninfluenced in one way or another by internet pornography. And that means when Christians, in particular, and social conservatives in general talk about pornography, it's not enough - you can't just say pornography's wrong and that's the end of the conversation; you have to recognize that it's part of the lived reality of American life and that you are talking to people for whom - you made that comment that that isn't very realistic, earlier, right? When I talk about these issues, I try and always be cognizant of the fact that people listening to me will often say, that isn't very realistic, is it, and so that affects how you talk about it, and so you have to both hold up an ideal, and also say, well, here's how to think about that ideal even if you aren't always living up to it.


Miller: Pro-abstinence?
Douthat: Well that's a similar thing, right? Where I think that there's never been a society, and there never will be a society, where everybody lives up perfectly to the Christian teaching on marriage, which is abstinence before marriage and monogamy afterward, and it's important to - if you go back in time to the 1940s or 50s, most Americans were having sex before marriage then. I think the goal for Christians and so on should be a sexual culture that is oriented around marriage, even if - but that also recognizes that people in their 20s are probably not all going to be perfectly chaste until they get married. But if it is again, being willing to say there is an ideal way of doing things and we should try to live up to it, and then we should be forgiving and realistic when people fall short. It's that sort of - holding those two ideas in your head at the same time.


Miller: Shall we go back to the politics?
Douthat: Sure.


Miller: Alright. I'm interested in what you thought of this piece that Kevin Baker wrote for the Times in late March, about the Republican Party. The title was The Outsourced Party, and he argued that Republicans have allowed talk show hosts and religious leaders and other groups to seize control of their messages, and he asks this question: Who speaks for the Republican Party? The answer is that everyone does, and therefore no-one does. Do you think that's true?
Douthat: Well, yes, but I also think that it's overstated. I think that if you look at both political parties, we're a country of 300 million people, and the idea that you would have a political party that didn't have a lot of competing sources of authority is a little unrealistic; we're not going to go back to smoke-filled rooms where you have five guys who get together and decide what the Republican Party is for, right? The reason that talk show hosts have influence in the Republican Party is because a lot of people listen to talk show hosts. Hopefully to shows like this one as well.


Miller: But including the politicians, right?
Douthat: Including the politicians. But the talk show hosts represent a constituency, the religious conservatives represent a real constituency, and the challenge for Republican politicians, and this is a challenge for Democratic politicians as well, is finding a way to serve their constituencies, you cannot be a successful politician if you ignore what the grass roots is telling you, but also being willing to compromise and find middle ground. And it's definitely a balancing act, but I think it's silly to say if it weren't for Rush Limbaugh, the country would be in infinitely better shape or something. I have many problems with Rush Limbaugh, but you're going to have multiple centers of gravity in a political party in a country as diverse as ours.


Miller: What are some of your problems with Limbaugh?
Douthat: I think that in general, and this hopefully grows in part out of my own Christian faith, I think on the one hand Limbaugh is probably a much more absolutist personality and a more partisan personality than I am, and more just focussed on whatever the best thing is for Republicans to say or for conservatives to say that day. And then I think that I am somewhat to Limbaugh's left, on certain economic issues. So I think that the way I like to frame it is I think the Republican Party is absolutely right about the big question of the size of government, I would prefer it to keep the government the size it is now, rather than to have it on the trajectory it's currently on, and I'd even like a smaller government than the one we have. But within that framework, I'm pretty comfortable with a government that does a certain amount to help the poor and encourage upward mobility and so on, and the places where I want to see government cut, are primarily in areas that benefit the middle class and even the affluent. And so I'm very conservative on size of government issues, but I'm not particularly anti-redistribution of wealth in the abstract, I think that is - at least some form of redistribution is a valuable thing for the government to do. But in general I think there are a lot of Republican politicians who look at things through the frame that I've just described, I don't think that the party is purely dominated by, by what you might call the Limbaugh sensibility.


Miller: To the phones to Kevin, in Virginia, hi Kevin, thank you for waiting.


Kevin: Good morning. I am a church planting pastor in northern Minnesota, what that means is that we're starting a new church with evangelical denomination. I've been a Republican all my life and I'm now a national Republican delegate as of last Saturday.

Douthat: Congratulations.


Kevin: Thank you I think. One of the things that's difficult about our situation is that we're planting a church in a community that's one of the least church communities in the state, lowest demographics that attend any kind of church, and we're seeing really encouraging growth because people want something that's not just said to them out of tradition or ritual or out of some striving for a standard, but something that's real, that takes the bible and applies it to every situation in life and gives real answers, not real answers that you want to hear, but real answers that God wants you to hear. And so we've seen a lot of growth and a lot of reaching into areas of public housing, into, reaching a lot of blue collar traditional Democrats even though we would probably be more of the model in terms of how we think of a typical right-wing church. But we really challenge on the political spectrum people to rethink everything through a biblical lens and not through the lens of what political leaders are feeding. Because political leaders are arguably the most skilled people in the world at misinterpreting scripture.


Miller: Kevin, how many people do you have in the new congregation?
Kevin: We're running about 60 on Sundays. We were running about 20 last fall, so it's been a real explosive period of growth as word is getting out that we're different, it's not just about showing up, looking your Sunday best, I preach in jeans and a t shirt a lot of times, because it isn't about what you wear or getting you to follow more rules, it's about trying to really interact with God in a real way.


Douthat: Right, and make religion relevant to everyday life, which is... I think that that's - obviously I wish you the best, and I think that that's an incredibly important challenge, and I think often one of the strengths of American religion historically has been that ability and that willingness to reinvent itself at times to meet people where they are, and really speak to what's happening now in their lives. I think the challenge now that a lot of churches like the one you're founding and start-up churches like that face, in the long run, is how you sustain that level of commitment and enthusiasm and so on. And that is where my - and again, I'm a Catholic so I bring my own biases to this but that is where I think some of the case for institutional faith comes in, that you want a faith that can both inspire people in the moment, but also be something you can pass down to the next generation and sustain over a period of generations and centuries and so on. So that balancing act is the challenge for churches in America today.


Miller: I told you when you came in that Eric Metaxas had been in last week, and you told me that you know him from your childhood.


Douthat: From my childhood, yes, so he is a famous evangelical author, author of a great biography of Dietrich Bonhoeffer, and I knew him before I was Catholic - my family spent a lot of time in charismatic and evangelical circles, so I knew him as a 12 year old I think, when he must have been in his 20s, when my parents were working actually on a similar sort to the previous caller, a sort of start- up church at Yale University, and then I didn't see him for 20 years, and then suddenly his biography came out and we emailed with each other and so on. So it's just a small world.


Miller: So here's - I asked him last week, because we have a week of conversations planned about faith and public life in May, so I asked him give me a homework assignment. What is it that the media often does not talk about in that realm that we should? And listen to what he said about it.


Eric Metaxas (on tape): Look, I live in New York City with my wife and daughter, and in a place like New York you don't - you tend to hear a lot of negative stuff, stories of people of faith who because of that, they're closed minded, or they're doing things that we would disagree with, or they're being confrontational; we don't tend to hear stories - at least I don't, growing up and going to Yale and so on and so forth - to hear stories of folks like Wilberforce and Bonhoeffer, and part of the reason that I decided to write these two books is because I said, these are so inspiring, I mean there are so many people who would - their lives would be changed by encountering Wilberforce - Wilberforce is - you almost can't believe that he lived the life that he did, and I did the research so I know it's true, and I feel like these stories are just outrageously inspiring. We need to know about them.


Miller: Is he right that there is not enough attention?


Douthat: Oh yes, absolutely -


Miller: Not to these individuals, Ross, in a larger sense?


Douthat: I think that it is very easy, and I'm a journalist, I have the same incentives. But the incentive in journalism is to find the story of scandal, and the story of controversy. And a big part of the story of religion in America, and in the past too, and Eric is absolutely right, is just a story of people doing incredible work in small ways across communities that doesn't get a lot of attention and deserves to get attention. So I would second his point, absolutely, and shall I add one of my own?
Miller: Go ahead.


Douthat: I think the other thing that I would like - that I urge my colleagues in the media, is just to take theological ideas seriously as things that have consequences for everyday life. And I think so much of the debate about religion in America focusses on politics and it focuses on sex, right, it focuses on controversies about homosexuality and so on and those are obviously very important areas, but one of the points I try and make in the book is that there is this - I try to take a book like Eat Pray Love seriously as theology, and talk about what is the impact of this theology on people who believe it? I try to take the prosperity gospel, which people often snicker at and say it's so ridiculous, how can anyone believe that God wants you to be rich, and I try to unpack - what is the core of its theological appeal? And if there is one controlling theme from my book as a whole that I would like people in the media to pay attention to, it is that theology has consequences, and maybe bigger consequences than some of our more simplistic understandings of religion lead people to expect.


Miller: Ross Douthat, thank you. Good to have you here.


Douthat: Thank you so much. It's a pleasure.