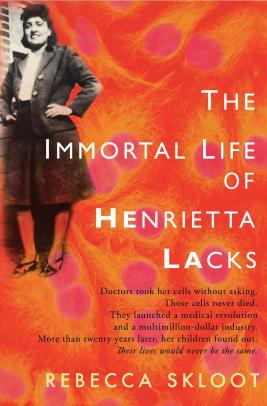 On the radio
Rebecca Skloot: Award-winning science writer and author of "The Immortal Life of Henrietta Lacks."
Resources and Links
Kerri Miller spoke with author Rebecca Skloot April 18 in Duluth about her book "The Immortal Life of Henrietta Lacks." The College of St. Scholastica selected this book as common reading for students and teachers in Dignitas, the college's year-long seminar for first-year students.
"The Immortal Life of Henrietta Lacks" is the story of a poor tobacco farmer and how her cells have been used in experiments since the 1950s to study disease. The book is an exploration of medical and journalistic ethics, African-American history, social justice and the leaps forward in scientific knowledge that came from HeLa cells.
We'll run a large portion of Miller's interview Monday on The Daily Circuit.
comments powered by
The Daily Circuit from April 23, 2012
Transcript
Miller: The college of St Scholastica turned a hundred years old this year, and to celebrate they led a community-wide reading effort around the best-selling book, The Immortal life of Henrietta Lacks. So last week I went up to Duluth to interview the author, Rebecca Skloot, we had a full house at the deck, and a great conversation, and here it is.


Miller: There's a photograph at the center of Rebecca's book that I thought really captured what I think of as the melancholy spirit of the story, it's a picture of the gravestone of Henrietta Lacks' mother, and the caption says Henrietta's mother, Eliza Pleasant, died when Henrietta was four. Henrietta is buried somewhere in the clearing beside her mother's tombstone in an unmarked grave. There are so many compelling facets of identity in the story that Rebecca has told here. As you know, since many of you have read the book, the deliberate and the accidental misidentification of Henrietta Lacks' name and history, the scientists who used her cells to do important research but never really thought in some cases about the woman who had possessed those cells, the battle that her children and her grandchildren had to see that Henrietta was thought of as a person, and that that wasn't lost in all of this, and then - and I find this very interesting - there's the identity of Rebecca herself in the story. She becomes an essential character in how this unfolds, and I'm interested in how she wrestled with that as a journalist. The book is titled The Immortal Life of Henrietta Lacks, and Rebecca Skloot is here and welcome. It's a pleasure to have you here.


Skloot: Thank you, it's great to be here.


Miller: So I saw a photograph somewhere of a bed, with dozens and dozens of index cards spread across it, and I understand you did that as you wrestled with how to tell such a complicated story. Is that true?
Skloot: Yes. Yeah, that bed belonged to - it was in a house in the middle of nowhere in west Virginia where I used to go and write, a friend of mine had this house and she just gave me the key and said go hide and figure out how to do this book, because I was really struggling with how to put it together and how to make it all work, because there are so many different stories in the story. And I knew pretty quickly that - when I first set out to write the book, I thought I was writing a book about Henrietta and her cells; I sort of envisioned it as a biography of a woman and her cells. Which isn't what the book ends up being at all. It's really about her family, and the impact all of this had on them, and as I started to learn about their story I pretty quickly realized that I wanted to tell them at the same time; I wanted to tell the story of the cells and the story of Henrietta, which takes place from the 1920s until, well today really, but I knew that there was one story line which was a historic story, and then there was this story of her family today, and what they've been through, and I knew that if you learned about just the cells by themselves, it's a very different story than if you learn about them at the same time you're learning about her family. And one of the things about this story are there are no clear good guys and bad guys and it's a very complicated story, and I wanted it to be very balanced, I wanted it to challenge your ideas of what was going on in every moment. So I had this idea that if I structured going back and forth between the two stories, you know you'd read the story of the cells and go - yay science, science is awesome, science has done all this amazing stuff with these cells; and then you'd flip to the next chapter and read something that happened to her family related to the cells and you'd sort of go - oh boo science, that was kind of bad; but then you'd go back and go yay science, boo science, yay science - and you wouldn't have that experience if you had read one story - you know if you'd read just the family's story, it would be pretty easy to have that be a negative story about science, but that isn't what the story is. So I did that, I knew I wanted to do that as a way of balancing the story, to really show how complicated it was. But yeah, it turned out to be a very challenging thing to do. So I mapped out - there are essentially three different story lines in the book, and I mapped them out on different colored index cards, and I tried to - I actually tried to write it that way first, I tried to just sit down and write the book in a disjointed way, which is a really good way to drive yourself crazy, and an editor friend of mine was just - stop, write one story at a time and then braid them. So I did these index cards and I move them around, I put them up on a big wall and I'd move like one card and sit down and stare at them for an hour and then get up and move another card, and then I started reading a lot of novels that were structured in that way, and basically trying to steal ideas for structures, because I knew I wanted the book to read like a novel, but be true. So I did that, and then eventually ended up - that picture you saw was actually - I had started watching a lot of films, because movies, it turns out, most of them are structured that way. And I started story boarding movies that were structured in the same way as my book.


Miller: Really? Like what?


Skloot: Like Hurricane, about Hurricane Carter the boxer. So that movie, I was sitting there watching it with my boyfriend as a regular person watching a movie, and I was going - wow, this is my book, this is totally the structure of my book, and he was like - stop saying that, let's just watch the movie, and if you really think so, story board it, like take it apart and really see how it's done. He's an actor and director so he knew that that was what I should do. So the next day I sat down and pressed play and pause and play and pause and story boarded the entire movie on the same three colored index card system, laid it on that bed, and then literally just put my book on top of it to see what would happen, just by colors, and then I realized that I had been jumping around in time too slowly, and that the reason why it works with movies is that you move around really fast and you never have time to forget what the other stories were. And so then I moved things around logically. But really that was the time when I realized what the structure was going to be and how it was going to work was from Hurricane Carter.


Miller: Yeah, but when I think about the complexity of the architecture of the story, I mean with film, the visual is such a powerful part of remember this. You didn't have that, and you had three stories, including the one that I think of as your own story being mixed in, right? I mean, you are one of the -


Skloot: One of the story lines.


Miller: One of the parts of the braid in this, aren't you?


Skloot: Yes. Much to my chagrin, yes, I was. And you do - to answer the structure part of the question - so much of the actual final architecture of the book had to do with these moments of - my boyfriend called them the da-dah moments at the end of the chapters. If you go through and read the last lines of every chapter, you can kind of hear that kind of da-dah, like something was going to happen. So there are these cliffhangers that I tried to find in the narrative, where I could stop, and then turn to another section. Because yeah, you don't have the same kind of visuals, and in the end, the way the book is really structured is that there's one chronologic narrative, and that's the story of me and Deborah, Henrietta's daughter, and there's a quest to find Henrietta, essentially, and for Deborah to come to terms with what happened to these cells. And I did not have any intention of having that be in the book, I didn't -


Miller: You resisted the idea that you had to put that in?


Skloot: I was the last person to finally - to sort of give in to the fact that that needed to be there. And part of it was, you know I was doing a lot of journalism, I teach journalism, I often harp students saying - stop inserting yourself in other people's stories, this is not your story. Because it tends to - it's something that journalists do sometimes, especially young journalists, in some ways because it's easier to write in the first person, it's easier to say I saw this, and I saw that, rather than actually putting yourself - putting the reader in a scene. And I just had this very firm belief that this was their story, and it didn't have anything to do with me. And then as I would go out and do research on the book, for those who haven't read it, it took me about a year and half to even convince Henrietta's daughter Deborah to talk to me, and she had been through something, and at that point I didn't know what it was, but she was terrified and didn't know who to trust, and worried that I was going to steal her cells, and there was something in that that I had a friend of mine, who is a fiction writer, said to me, it was his mantra; he said when you find their resistance to you, you'll find the story. Their resistance to you is really - tells you what they've been through. And so that really drove me, trying to figure out why they were so afraid. And it turned out they had been used in research without their consent, you know no-one told them about the cells until Henrietta had been dead for 25 years, and then scientists came back to do research on her kids, to learn more about the cells, without explaining any of it to them, and it was terrifying for them. So their whole lives had been tied up in this really scary world that they didn't understand. So as I started doing research and spending time with the family, I eventually won Deborah's trust in part by saying you can come with me when I do my research. She really wanted to learn who her mother was. So she did, she eventually would travel with me. I would come home with these stories of things that would happen on the road, and my friends would say that has to be in the book, like she would have these moments where she would just, you know, really freak out, and just stop trusting me because I smiled at the wrong time, or she would panic and think that someone had sent me to steal her cells, or maybe take her into a dark alley and you know, kill her and take her body somewhere. And it sounded crazy and paranoid out of context, but within the context of this family's story it wasn't actually a crazy paranoid thing. But I was like no no, that's not my story, I don't belong in there, and it went along like that for a very long time, and then -


Miller: You're stubborn, you told me backstage, right?


Skloot: I'm very stubborn, yes. And including - and Deborah was also saying I needed to be in the book, she would say over and over again, don't you make me be in this book by myself, because she really believed that I was a character in the story. And I said no, this is your story, and so there is this moment in the book that is sort of a climactic moment where we're traveling and we go to learn some information about her sister, who died at 15 in an institution that had been called the home for crazy negroes, and Deborah had always wanted to know what had happened to her sister, she didn't know what it was, and we ended up there, and what we found was so much more horrendous than either of us had ever imagined we might find, and it turned out to be much more dangerous for her than either of us could have thought, I mean she really came close to having a stroke because of some of the information we found. Her sister was used in some pretty brutal research that had nothing to do with Henrietta's cells, also without the family's consent, and that moment she just started spiraling, and it led to pretty soon a moment where we were in her cousin's house and she was really close - she was spiraling toward a stroke and he recognized that something was happening and did this sort of faith healing, laid his hands on her and he was singing and praying and saying Lord, you've got to take the burden of these cells from this woman, and then he turns to me and says you've got to give them to her, and he puts his hands on either side of my head, and I'm just sort of sitting there, this young graduate student who's hoping that this is going to turn into a book some day, and that was the moment where I realized I really had no choice but to be in the book, and that was sort of - Deborah referred to that as the moment Henrietta hit me over the head with a frying pan, because she always believed that Henrietta was sort of out there guiding this whole process. And a lot of what I realized in that moment, watching her and how dangerous all this turned out to be, was that, you know, the book is about a lot of things, it's about the ethics of science, and race and medicine; it's also about ethics in journalism, and I had put her in this situation because I wanted to tell her story. She wanted to learn the information we were finding, but she wouldn't have been there if I hadn't come along. And in the course of the book I was telling the stories of all the other journalists who came along, and the impact they had on her - you know, at one point a journalist published her family's medical records without their permission, and things like that had happened. And so I realized, it was actually mandatory, almost as disclosure, for me to put myself in the book, because if I had written this book - look at what happened when all these journalists came along, and then here I come 10 years, which is far more than any other journalist was around, potentially having a much bigger and more dangerous impact on them, and then I would have been like hmm, I'm not in the book, but all the other journalists are, it would have been pretty dishonest at that point. And so to me it became part of - I realized that yes, I was a character and it was essential to keep all of that in the story.


Miller: You know the other thing that I wondered about is you're years into this - let's go back to that point - and, I mean, your quest is to tell a very important story, but you are doing some things that you know are being propelled by the quest to tell the story - you know what I - you're getting deeply involved in the family's life, you're agreeing to take Deborah along on some of these things when you know her health - I mean you're doing it for all the right reasons, and yet I can tell deeper into the book, that you've got the bit in your teeth, and nothing is really going to stop this quest. And I guess I wondered if there were times you stepped back and said, how am I pursuing this, and how do I feel about the way I'm pursuing this?

Skloot: Oh yes, and actually Deborah and I talked about this a lot, and the funny thing is she had the bit probably more firmly in her teeth at that point than I did, and some of this isn't in the book, and in some ways there are some moments where I think, well maybe there are a few little things I could have put in there to show that, that Deborah was in some ways one of my greatest obstacles, we would have these moments where she would get scared and push me away, and then she would immediately turn around, sometimes a few hours later, sometimes the next day, and say, alright, this was not about you, my fear isn't of you, this is part of the story of what happened to me because of these cells, I can't trust people, you have to put this in the book, we have to keep going. And she would do this every time, and she would say to me over and over again, no matter what I do, no matter how I react in any situation, don't let me scare you away from writing this book. And so a lot of people, one of the questions I get most often is why did you keep going; what made you keep going? And that was definitely part of it, was watching her rebound and her determination to learn this information and to get the story out there. So we would talk about it a lot, and at times I would say that I don't that it's such a great idea for you to come with me on this thing, let me go find this information, I'll bring it to you, and she was - I could not have stopped her.


Miller: But there was no question though that you were going to keep going?


Skloot: Yeah, never, there was a never a question about stopping. And I think part of it was because of this - Deborah's - these rebound moments. Anytime anything would happen that would seem to slow things down, that she would immediately come back. And that really kept me going. And also the more I found in the story, the more I realized it was a really important story to tell, not just for historic reasons, but also because of today, that it's relevant to a lot of things that go on in the world today. So yeah, it was never - there were times when I thought I was going to be 90 before I was done with it, but I never thought about stopping, and I think if I had Deborah would have just torn me to pieces. Because at that point she really - once she trusted me and realized, and sort of said that she wanted me to tell the story, she wanted me to keep going. So yeah, I never - but we did talk about it, we talked about the impact of it, we had a lot of - you know, it's a book about informed consent in a lot of ways, and the informed consent process of writing about it was long and detailed and you know, we would have conversations where I would say, we're going to go and do all this stuff, we may not find anything, we may find really bad stuff that you don't want to know, you know, we would talk about how to deal with that, we would talk about do you want to read it when it's done, you know, the last thing she wanted to do was relive the moment when her mother died, so we talked about - you know, I'll read her parts, skip parts; we did a lot of talking about the emotional impact of the book itself on her, and then also just what might happen when it came out. And I talked about this with - we would have these big meetings where we'd call the whole Lacks clan together and sit down -


Miller: And there are a lot of them.


Skloot: There are a lot of them. And talk about - you know, they all read, dozens of them read the book before it came out, and - or sent dozens of copies, not dozens of them read it, maybe a dozen. And we would sit down and talk about, ok, this is going to come out, and I think for a while they thought the book was just never going to happen. I mean they were like, you know ten years of me hanging out with them, they were just - you just like to hang out with us, you're just some weird person who - you know - but then when it was finally coming out we would have these meetings where we would talk about, ok, it may come out and no-one reads it. And it may come out, and everyone will want to read it.


Miller: Which is what happened.


Skloot: Which is what happened.


Miller: Because there might be six Americans who have not read this book by now.


Skloot: And you know we talked about that. So then what does that mean, do you want to have your phone number listed, because a lot of those people might want to call you and some of them might be a little crazy and they might tell you that they saw Henrietta's clone walking down the street, which happens, or you will get flooded with phone calls or emails from people who say, you know, your mother's cells saved my life, do you want that, do you want to be available to the public? We talked about how do you hide, how do you protect your privacy when you're a public figure. So we had this whole system worked out before the book came out where they as a family decided they wanted a web page, with an email address, so people could email them, and they could decide whether they checked it or not, but their personal information wasn't out there, and this started several years before the book came out so that we had time to actually get their information out of the public domain. And I think they thought I was being a little crazy at that point, because just talking about this they were like oh, people aren't going to want to call us; they do. But they love those, so they hear about people all the time through this website, they get these emails that mean the world to them, they read them all, and they are often stories from parents whose kids are alive because of a drug made using HeLa cells, or kids whose parents are alive because of a drug, or just the number of ways that HeLa cells have impacted really everyone's life is amazing and people realize it and then they want to thank them. And scientists will send them emails saying do you want to come to my lab? I'll tell you what I do with the cells, because it's clear through the book that the family just wants information and now scientists in droves want to give it to them, and that I think has been really therapeutic for them.


[News]


Miller: I asked Rebecca to describe just how scientists discovered that Henrietta Lacks' cells were so unique.


Skloot: HeLa cells, which is what they're called, and the name is spelled HeLa, which is an abbreviation for Henrietta's name, it's He for Henrietta, and La for Lacks; they were the first immortal human cells ever grown in culture. So in the 50s, Henrietta, who was a poor black tobacco farmer, was diagnosed with cervical cancer, and when she went in for treatment, without telling her, her doctor just cut a little piece of her tumor and put it in a dish. And at the point scientists had been trying to grow cells outside the human body for decades and it had never worked, and at that point we didn't know what DNA was, we didn't know what the difference between a normal cell and a cancer cell was, there was so much information that scientists needed to know from living cells that they hadn't been able to get yet. So there was this huge effort to grow cells, and it's still a bit of a mystery as to why Henrietta grew when nobody else's did, but they just took off in the lab, and they started doubling their numbers every 24 hours within just a day of her leaving the hospital. And they really did become one of the most important things to happen in medicine. They were used to help develop the polio vaccine, they went up in the first space mission to see what would happen to human cells in zero gravity, hers were the first cells ever cloned, her genes were the first ever mapped, they were used to create our most important cancer medications like vincristine and tamoxifen, and I'd be willing to bet we have a lot of people in this room who've either taken one of those or know someone who has; HPV vaccine, in vitro fertilization, the list of advances that we have that are somehow tied to HeLa cells just goes on and on. And she never knew that the cells were taken. They also were the first human biological materials ever commercialized, so we have a multi-billion dollar industry now, based on buying and selling cells and tissues, and patenting genes, and it all started with a company that started selling HeLa cells. And they were mass produced, assembly line style, to the tune of about six trillion cells a week, starting back in the 50s.


Miller: Six trillion?


Skloot: Six trillion cells a week. So now, one scientist estimated that if you could have saved all the cells that grew from this one sample, that by now they'd weigh more than 50 million metric tons. Which is more than 150 Empire State buildings. And cells weigh nothing, they're just these little microscopic things, so the volume of HeLa cells out there and the number of advances made using them; you could just fill volumes of books just with the studies, with the research done on them.


Miller: To this day, do they still not know why the cells behave the way they do?
Skloot: They know some things. So she had HPV, the virus that causes cervical cancer, and she had multiple copies of it, so there was something about the way the virus interacted with her cells that caused her cancer, and it was a very aggressive cancer, part of what made it so useful in the lab was that these cells grew very intensely, and they did the same thing in her body. So they spread to almost every organ in her body, and she died just after her 31st birthday, less than six months after she was diagnosed. So they were intense - they were not your normal cervical cancer cells. Part of that is also that she had syphilis, which can weaken your immune system and cause cells to grow more rapidly, but a lot of people in the 50s had syphilis and HPV and their cells didn't just grow, so there was something about her cells, her DNA, her cancer, that combined with the syphilis and the HPV and created these incredible cells and that's what we don't know. And really, it's funny, I talk in front of groups of scientists all the time and they'll often be like - we don't know that? Why don't we know that? We know everything else about HeLa cells. And I think it's just because scientists had been waiting for cells for so long that when they finally got them, they didn't say well let's look at why they grew, they were like polio vaccine, and so - and then later generations came along, and HeLa cells were just everywhere, and nobody even questioned what they were, where they came from, who they came from, and so now there actually some groups of scientists who are trying to get me a better answer to that question.


Miller: You know, there's just one scene in the book that - I don't know why this is vivid in my mind, but I think at one point you write that the cells could drift through the air and contaminate the other work in the laboratories.


Skloot: Yeah, so this is something - today, if you do cell culture, you work under a giant hood, which is like a big vacuum hoods that sucks all the air out and cells and anything, because cells can ride on dust particles in the air. If you touch a dish of cells and don't wash your hands and touch another dish you can transfer cells from one to the other. And HeLa cells are so hardy that if they land in a dish, even just a couple of them, they'll just take over and essentially outgrow the other cells that are there and kill them. And you can't tell, when you look at a dish, what kind of cell is growing, you just see a dish. So people didn't know this was happening and this caused an enormous controversy, millions of wasted research dollars, and this is actually what eventually led scientists to track down her kids, was to settle this debate about whether HeLa cells had contaminated everything, because they figured they could treat it like a crime scene. If they got DNA from her kids, they could see if it matched all those cells out there, and if they were in fact HeLa cells, their DNA would match her kids cells. So that's where their story started, really, was with the contamination.


Miller: Which was a frightening experience for them and that is a whole other story. I wondered if you thought twice about using the word immortal in the title, because it turns out to be a really loaded word. I mean, the family misunderstands what that means, and the power for so many years of her immortal contribution is unrecognized. How do you think about that?
Skloot: I definitely never thought of not using it; I thought it was essential. That title was actually on my very first sketches of what I was going to do with the book; I always knew that was what I wanted the title to be, because I imagined the story was - to me the immortal life of Henrietta Lacks was everything that happened after her death, whether it was her cells and what they contributed to science, or all of the sort of problematic things that happened with her family, their struggle with questions of faith, and was she - you know they very much believe that she was chosen as an angel, and brought back to life as the Lord's first immortal being to take care of people, which actually was a helpful thing for them. That really let them be open to learning about the science more and seeing them as a positive thing. And the word immortal, it's the technical term for what her cells are is immortal human cell line, that's the scientific technical name, and it means that they're a line of cells that all descended from one sample that will live on forever, essentially for as long as you feed them and keep them warm. So it's a technical science term. So for me all of that was essential in the title.


Miller: But when I say it's a loaded term, you know what I mean.


Skloot: Sure, right.


Miller: The misunderstanding that went on around - for the family, especially, about what they were doing with the cells.


Skloot: Absolutely, yeah. And you know there's a scene in the book where one member of her family actually sits me down with the bible, and takes me to the bible and shows me this is all the explanation you need - you know, this illustrates why her cells are alive, how she - the way that she was chosen as an immortal being, so for them you can't remove the word immortality from Henrietta's cells.


Miller: Right, right. I mean, they believe that she is a very real presence in their lives, right?


Skloot: Yeah, and mine.


Miller: And yours?


Skloot: Yeah. Yeah, everyone's, yeah.


Miller: How do they think of her connection, her presence to you?


Skloot: Well, initially, well once the family came to trust me and was talking to me for the book, Deborah came to really believe that Henrietta had sort of picked me at an early age, and had been basically working me like a puppet my whole life, and like - you know, go over here and study science, and I learned about the HeLa cells when I was 16 in a basic biology class, my teacher happened to know her real name, which was very unusual at the time, and for Deborah, she's like uh-huh, how do you think you knew that? And then I went and studied writing at the University of Pittsburgh, which just happened to be where George Guy went to school, who was the scientist who grew the cells, and I had access to all of these archives and things. So all of this for Deborah was part of the larger story. And then anything that would happen along the way, you know. And a lot of it, we would sort of joke about it. She'd be like oh, the weather is good, Henrietta's got your back for this trip, or whatever, some of it was very light. You know, I was, in the course of the ten years of writing this book I was married, at which point she said this is good, Henrietta wanted somebody to watch out for you, and then we got divorced, she was like, he was getting in the way of the book, and so Henrietta got rid of him. And at one point - things just happened, and they got sort of stranger and stranger, to the point where I, very much a non-religious, non-supernatural person, got to the point where I couldn't really argue with her about some of it. Including, there was one point where, in the publishing process, that an editor - the publishing story is a very long one but at one point in the process, when an editor wanted me to take the family out of the book, and we got in a bit of a battle over that, he said just write the book about the cells, and keep the family out of it, and then I wanted to take my book away from that publishing house, he wouldn't let me, it was this long back and forth, back and forth, and then he was in a mysterious accident. And it happened to be on a day that he and I had talked, and continued to disagree about this, and you know he had a piece of paper on his desk that was essentially my name, the day we talked, and no notes. And he just was gone. And he's fine, he recovered, I would feel very bad telling the story otherwise, he actually ended up losing his memory in certain places and one of the things he forgot was what happened that day during our conversation. And so I used this to my advantage and called the publishing house and said, so now I'm getting out of my contract, and they said, well, we don't know what you guys talked about, and I said, well we finally agreed that I'm going to go and...


Miller: Oh, my gosh...


Skloot: You know you do what you got to do. So I called Deborah and I told her about this, and she said you know, that's what happens, you try to take Henrietta's family out of the book, you know. And she was like, but you know she didn't want to hurt him too bad, so he's ok because Henrietta was also watching out for him, she just wanted to get his attention. So things like that would happen all the time. So Henrietta was very much a presence through the entire course of writing the book. And in a way that we often - we played with, it was fun for us, but also there was very much an underlying - Deborah very much believed Henrietta was out there. And that contamination problem that happened, Deborah say that as Henrietta getting mad at the scientists for not telling her family things that they needed to know, so she saw that as Henrietta getting back at them. She would say that's what you get for making Henrietta mad.


Miller: There's so much misunderstanding, some of it educational, some of it, it is just complex science for the family. But gradually, you can see them starting to understand it. So how did their faith play a role in that?
Skloot: Well I think, especially for Deborah, her faith played a role in that it made it less scary for her. Science had always been a pretty scary thing for her because for her, what she learned about her mother's cells what they had been cloned, and she really thought that meant her mother had been cloned, and she might run into clones of her mother on the street, and that was terrifying to her. She would read these little newspaper articles about the hybrids that were created when they fused HeLa cells with mouse cells, and made these mouse-HeLa hybrids, and for her that was like this image of this thing that was part her mother, part mouse, it was all very Jurassic Park seeming and scary, but it was all actually true. So a lot of it was just very frightening, and then for her the feeling that this was - you know, that Henrietta was chosen for this, this is what God wanted, that made her say it can't be bad. How is this good? She looked for the good in it, because she believed these cells were sort of a miracle. And it also gave her the strength to keep going with her - even though she was afraid, she would say I know you want me to keep going with this, and so I'm going to do that. So I think it opened her up in that way, and probably in many others as well.


Miller: I was hoping you'd read the part of the story where Deborah finally - and you - had you seen the cells before? I guess you had.


Skloot: Yes, I had, I'd done research on them when I was an undergrad, and in grad - working in a laboratory.


Miller: Right. Deborah had not.


Skloot: No.


Miller: And if you'll read that part of the book, she takes another family member with her. And the scientist who shows them the cells is wonderful. This is kind of a moment that's meant to be, too.


Skloot: Yes, Henrietta, at work.


Miller: Absolutely.


Skloot: And you know this is one of the things about writing non- fiction, the story keeps going, and you don't know where it's going to go all the time, and in this case I had been working on the book a long time when this scientist came along, his name's Cristoph, and he really - I don't know what the book would have been without him. He just came out of nowhere and was such an important character in the book, but I didn't know that going in, and he really did change a lot for the family. So he had read this short article that I had written in a magazine that was just a sort of basic overview of the cells, the family story, and their reaction to the cells, and the fact that they were taken without consent. And he had the reaction that a lot of scientists have, which is essentially, oh my god, I had no idea, and he sent me this email saying I did my dissertation on these cells, I've spent almost every day in the lab working on them, I feel like I owe a lot of my professional life to them, and I never stopped to ask where they came from or whether she gave permission, or whether she might have a family who cared. And he was really upset by that; he really wanted to reach out to the family and do something. And so I said one of the things that they really want is to just understand what's going on, and to see these cells and learn about them. And so it took about six months to convince Deborah and her brother Zachariah, who was with us, to go into his lab, because to them voluntarily walking through the doors of Hopkins was terrifying. You know, they'd grown up hearing you don't go out at night because Hopkins will snatch you off the street and take you in the basement and do research on you, and you'll never come out, which is something which is very much alive in Baltimore to this day. And so for them just going there was terrifying. But you know, what he did, you're talking about the faith sort of opening them up, that was a lot of what gave Deborah the strength to go here, to go into the lab. The first stop we made at Hopkins, before going to the lab, was at this giant Jesus statue, where she prayed and sort of talked to Jesus about giving her the strength to actually do this, and letting it be a good thing. And she walked into this lab where I think she learned more in this moment with him than she had ever learned in her life.


Miller: That's the impression I got, right.


Skoot: And he just very clearly explained what a cell - you know, what DNA is, what is - that they're cancer cells that we're growing and not normal cells. I mean he answered so many questions that she had had for decades, and she was like really, that's it? Somebody could have answered it that fast? That was easy. So we're in Cristoph's lab, and Deborah's brother Zachariah is with us. Cristoph walked toward us through the lobby of his building, smiling, hand outstretched. He was in his mid 30s, with perfectly worn denim jeans, a blue plaid shirt, and shaggy light brown hair. He shook my hand and Deborah's, then reached for Zachariah's, but Zachariah didn't move. 'Ok', Cristoph said, looking at Deborah. 'It must be pretty hard for you to come into a lab at Hopkins after what you've been through. I'm really glad to see you here'. Cristoph threw open the door to his lab with a sweeping ta-da motion and waved us inside. 'This is where we keep all the cells', he yelled over a deafening mechanical hum that made Deborah's and Zachariah's hearing aids squeal. Zachariah's hand shot up and tore his from his ear. Deborah adjusted the volume on hers, then walked past Cristoph into a room filled wall to wall with white freezers, stacked one on top of the other, rumbling like a sea of washing machines in an industrial laundromat. She shot me a wide-eyed, terrified look. Cristoph pulled the handle of a white, floor to ceiling freezer, and it opened with a hiss, releasing a cloud of steam into the room. Deborah screamed and jumped behind Zachariah, who stood expressionless, hands in his pockets. 'Don't worry', Cristoph yelled, 'it's not dangerous, it's just cold. They're not minus 20 like your freezers at home, they're minus 80. That's why when I open them smoke comes out'. He motioned for Deborah to come closer. 'It's all full of her cells', he said. Deborah loosened her grip on Zachariah and inched forward until the icy breeze hit her face, and she stood staring at thousands of inch-tall plastic vials, filled with red liquid. 'Oh God', she gasped, 'I can't believe all that's my mother'. Cristoph reached into the freezer, took out a vial, and pointed to the letters HeLa written on its side. 'There are millions and millions of her cells in there', he said, 'maybe billions'. She stood stunned for a moment, staring into his outstretched hand, then grabbed the vial, and began rubbing it fast between her palms, like she was warming herself in winter. 'She's cold', Deborah said, cupping her hands and blowing onto the vial. Cristoph motioned for us to follow him to the incubator where he warmed the cells, but Deborah didn't move. As Zachariah and Cristoph walked away, she raised the vial, and touched it to her lips. 'You're' famous', she whispered. 'Just nobody knows it'.


Miller: It's author Rebecca Skloot reading from her book The Immortal Life of Henrietta Lacks. I think we need to talk for a moment about the motives of the scientists, because obviously there is a lot of suspicion on the part of the family. Is this the right impression? I came away from the book thinking most, if not all of those scientists, had the right motives; the method was the thing that worried the family and - so you're saying you don't know.


Skloot: Yeah, no, absolutely, the motives - I mean this is a story about very well-intentioned scientists, doing very good science, but science moving faster than the regulations that govern it, or even our understanding of what it is. And you know in the 50s when scientists took Henrietta's cells without telling her, we didn't even have the term informed consent. It was completely standard practice to take samples from people to do research on them; it was standard to do a lot other things that we would be horrified by today; I mean this was the era of the human radiation experiments, when people were being irradiated without their knowledge to see what would happen if a bomb dropped. So this was a very different time in terms of ethics in science and our understanding of it. And so what was - them taking Henrietta's cells was absolutely standard practice, and they couldn't have possibly imagined that anything bad could come of it; to them this was just garbage, you know, it's a bit of cells, she's not going to be using them, which a lot of people feel is the case now with cells. But we didn't know what DNA was, we didn't know that they could someday look in those cells and learn very private information about her, and her kids, and her grandkids, they didn't know they would someday be worth money. They had no idea the questions that would later come up.