Tuesday, December 1, 2015
wavLength: August 23, 2007 Archive
---
Posted at 8:24 AM on August 23, 2007 by Jon Gordon (0 Comments)
Before he became a Caldecott-winning author of children's books such as Anansi the Spider, Gerald McDermott made short animated 16 mm films. His 1968 film Sun Flight retells the myth, in animation and music, of Daedulus and Icharus, who flew too close to the sun. Long out of print, Sun Flight is now available for viewing on the Internet Archive thanks to a new project by the Academic Film Archive of North America (AFANA) to give new life to endangered films.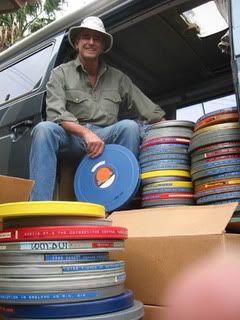 AFANA's Geoff Alexander
What is "academic film?" According to the AFANA,

Of the over 100,000 educational films made in North America between the early 1900s and approximately 1985, many of the best were in the subject fields of art, history, social science, literature, and science. These we refer to as academic film, as opposed to those made in health, safety, civics, and other non-academic educational subject areas. Further definition of the academic film genre can be found here.

Why is academic film important? With the launching of Sputnik in late 1957, millions of dollars in federal funds soon became available to academic film companies, as government and education officials desperately raced to bring American students to an academic level above that of their Soviet counterparts. Federal funds flowing to academic filmmakers via film companies represented the greatest governmental largesse ever bestowed on makers of non-feature films. In a capitalist country, it was very nearly socialist.

Many of the films are exceptional cinema, made by filmmakers who, primarily for financial reasons, elected to make 16mm academic films, rather chancing the vicissitudes of Hollywood. This is truly the hidden corner of North American cinema, and you've arrived at the only website dedicated to the history and preservation of these films, and the biographies and filmographies of their director/producers.
The AFANA collects and preserves the educational films that were once show in schools and other settings. The group screens a limited number of films -- mostly in its home base of San Jose, California and St. Louis. Now it's seeking donations from the public to help digitize the films and post them to the 'Net.
AFANA's "Save a Film" project is the subject of today's Future Tense (RealAudio - MP3 - iTunes).

August 2007

SU

MO

TU

WE

TH

FR

SA

1

2

3

4

5

6

7

8

9

10

11

12

13
14
15
16

17

18

19

20
21

22

23

24

25

26

27

28

29

30

31
Recent Entries