Posted at 2:00 PM on February 22, 2011 by Luke Taylor
Filed under: Arts 101, Music
If you're a musician, do you scrape, bang or blow? And if you're a fan of classical music, what are your thoughts about Rocky II?
Today we continue our series explaining unusual words and phrases in the arts by looking at the insider language of classical musicians.
Sam Bergman, a violist with the Minnesota Orchestra, isn't certain he and his colleagues in the classical music world use a lot of jargon. "We don't really have slang because we have Italian," he insists, but a recent conversation with the affable violist revealed a few examples to the contrary.

Minnesota Orchestra violist Sam Bergman.
scrape, bang and blow
Bergman credits the late Canadian singer and comedienne Anna Russell with nicknaming the string, percussion and horn sections of an orchestra scrape, bang and blow, respectively.

The BBC Symphony Orchestra (photo by Lara Platman).
Rock / Proke / Shosty
Because their names are long and frequently appear in the orchestra's repertoire, Bergman says it's typical to clip the names of Eastern European and Russian composers. Therefore, Dmitri Shostakovich is Shosty, Sergei Rachmaninoff is Rock, and Sergei Prokofiev is Proke.
Pieces of music can get nicknames, too. "Rachmaninoff's Rhapsody on a Theme of Paganini is usually just called Rock Pag," Bergman says. "If we're doing Rachmaninoff's Symphony No. 2, it's Rocky II."

"Yo, Sergei." (Sylvester Stallone photo by Alan Light, used with permission)
fixed chair
Some of the on-stage furniture at Orchestra Hall has likely been repaired over time, but that's not what "fixed chair" means. According to Bergman, a fixed chair is a musician with a title in front of his or her name, e.g. principal, assistant principal. The fixed chair in a section has a leadership role that Bergman likens to a team captain in sports. The remaining section members do not have a hierarchy. "In the Minnesota Orchestra, we revolve within the section, so every couple of weeks, we'll switch seats," Bergman explains. "The titled players, the fixed chairs, do not. They stay where they are."
bones
Osmo Vänskä isn't among them, but some conductors like to call the trombones in an orchestra simply bones. Bergman doesn't recommend this. "I think it's a macho thing," he says. "One of our other violists today was saying, 'Really, conductors who say 'bones' should just be banned.'"
"the Marylou Strad"
Many people know that Strad is the shortened name for a Stradivarius, a violin made in the late 17th or early 18th centuries by renowned Italian luthier Antonio Stradivari. But here's a lesser-known part: Because the violins have been around for so many years and only a few hundred exist, each violin tends to take on the name of a previous user or owner.
For example, when Sam Bergman was a youngster, one of his teachers was Marylou Speaker Churchill, the late New England Conservatory instructor and member of the Boston Symphony. Her violin is now known as the Marylou Strad.
The violin played by Joshua Bell is currently known as the Gibson Strad, named for a prominent 19th-century English violinist who once played it. Bergman believes one day this instrument will be known as Josh Bell's Strad. To read the full story of this fascinating instrument -- there's intrigue, feuds and two thefts -- visit this page on Joshua Bell's official website.

Joshua Bell plays the 1713 Gibson Strad in the Maud Moon Weyerhaeuser Studio during a 2005 visit to Minnesota Public Radio (MPR photo/Vaughn Ormseth).
As for Bergman's instrument? "I play a Canadian viola that was made in 1992," he says, "so I'm the only owner it's ever had."
cane source
Double-reed players -- the oboists and bassoonists -- care about this deeply. A cane source is the person who provides the raw material double-reed players use to make their delicate mouthpieces. Because double-reed players spend hours each week scraping cane to fashion their reeds, finding a good cane source is vital.
Bergman playfully lowers his voice and shifts his eyes as if he's selling "used" (ahem) stereo equipment out the back of a van. "When double-reed players find somebody who they consider to be a good cane source," he jokily imparts, "they want that person to always supply them ... and they probably want to limit the people who know about that."
best hair
Bergman admits string players have their own obsessions, one of which involves having their bows rehaired several times a year. "We're forever discussing who seems to have the best hair in town," he says. "We're always exchanging information on that."

Finn Meyer of Minneapolis makes violins and violas, and he rehairs bows. The hair in his right hand is used for bows; it is clipped from horses' tails, then cleaned and dressed. Meyer says good bow hair can cost as much as $700 per pound.
Bravo Man
This one is peculiar to the Minnesota Orchestra. Bravo Man is the name the orchestra members have for the person heard enthusiastically shouting "Bravo!" into the still-silent Orchestra Hall at the end of a piece. Bergman reveals that Bravo Man is a local artist whose real name is Egil. "He knows he's Bravo Man and he actually calls himself that," Bergman chuckles.
"He's a nice guy, he's very considerate," Bergman continues. "He's usually in the third tier and if there's somebody in front of him, he'll always cup his hands to his mouth and point his face to the ceiling so he's not yelling directly into their head."
Next Tuesday, visit State of the Arts for lingo from the world of book publishing.

Posted at 10:56 AM on February 22, 2011 by Marianne Combs
Filed under: News and reviews
Art
Digital technology inspires two art shows at Soo Visual Arts Center
The digital age is shaking up the art world. With easy access to tools, artists have an entirely new palate to work with.
- Coco Mault, City Pages
Walk like an Egyptian: Tut at the Science Museum; 'An Idiot Abroad'
- Max Sparber, MinnPost.com
Books
A quick look at recent releases
"Every Bitter Thing," and "And Furthermore"
- Star Tribune
Coy joins men reading to Head Start class
Award-winning Minneapolis children's author John Coy will join 20 Twin Cities men who will read Jan Brett's "The Mitten" to a Head Start class Wednesday.
- Mary Ann Grossman
Fasion
'Distortion' Fashion Show features student designers stretching boundaries
The crowd was treated to everything from the elegant to the extreme, with the 18 senior designers presenting their unique take on menswear, lingerie, twisted couture, and more.
- Patrick Strait, City Pages

Music
(Pssst - Golden Smog is coming to the Fine Line April 15 and 16. There, that saves me from posting two articles...)
Randy Newman at the Guthrie Theater, 2/21/11
Newman is a man of a thousand voices, yet he is one man, and he is at peace with all of his songs, even as they war with one another.
- David Hansen, City Pages
Pete Yorn talks about working with Frank Black
Released in September of 2010 and produced by Frank Black of the Pixies, Pete Yorn was recorded spur-of-the-moment over the course of five days back in 2008.
- Cindal Lee Heart, City Pages
Lady Gaga changes Target's political donation policies
- Andrea Swensson, City Pages
Radiohead's 'King of Limbs': Love it and hate it
Brilliant, disappointing, theory-based, soulful, lovely, ugly Radiohead.
- Andrew Flanagan, City Pages
Old 97's and Those Darlins storm First Avenue
Their songs are like a well-made pair of boots: you can wear them through good times and bad, and they never wear out.
- Jay Gabler, TC Daily Planet
Tennis at the 7th Street Entry: 20-something love
Demure, stoic, almost sheepish; the band slinked on stage with their heads down and their gazes averted towards the floor.
- Sarah Heuer, TC Daily Planet
Stage
Latte Da explores 'theater with music' in 'Song of Extinction'
"Music steps in when words fail to capture an emotion, an idea, the power of the human spirit. We have approached the entire production as though it were a symphony; a visual, emotional and visceral composition with the final movement culminating in Max's 'Song of Extinction,'" says Director Peter Rothstein.
- Ed Huyck, City Pages
'Agnes Under the Big Top' Complex characters and plotting never quite come together
Over the course of her play, Aditi Kapil introduces us to a half-dozen interesting characters from across the globe in a story about immigration, assimilation and freedom of various kinds.
- Dominic P. Papatola, Pioneer Press
Potent characters wait at the station
A new play at Mixed Blood puts immigrant characters in motion on a set that includes a railway station and a train car.
- Star Tribune
Sandbox Theatre revisits the Coens' "Fargo"
Sandbox's Fargo is a quick little cabaret, a non-linear set of pieces inspired by the now-classic film.
- Jay Gabler, TC Daily Planet
Warm spirit carries 'On Golden Pond'
REVIEW: As directed by Don Stolz, a sentimental, clunky play has a dry wit and admirable performances.
By WILLIAM RANDALL BEARD, Star Tribune
'Superstar' still rocks as an opera
Andrew Lloyd Webber's songs and score sound great in Chanhassen's production. The story, which once seemed controversial in how it was told, feels tame.
- Graydon Royce, Star Tribune
Why parties are so important in Minnesota
Max goes to an opera party.
By Max Sparber, MinnPost.com

Posted at 6:12 PM on February 22, 2011 by Euan Kerr
Filed under: Funding, Printmaking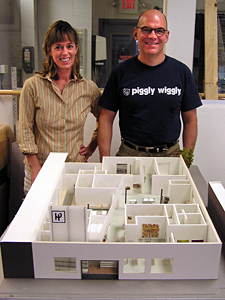 The Highpoint Center for Printmaking announced it has completed its $3.5 million capital campaign to pay for its new building on Lake Street in Minneapolis.
The HP2 campaign as it was know was launched in May 2008, with the new building renovated and opening celebrated by October 2009.
The actual fund-raising was completed in late December, but Highpoint directors Carla Magrath and Cole Rogers (shown left with an early model for the Center) released the news today.
The new facility, planned by James Dayton Design is triple the size of the Center's former home, and features much improved facilities including space for Highpoints artist cooperative, a studio for visiting artists to work with a Master Printer galleries, and a dedicated classroom for younger students.
Even though the new Center has only been doing classes since June 2009, it has already served over 10,000 people. Now with the campaign complete the Highpoint leaders promise continuation of its community focus, while having the ability and focus to "move in new directions."