Posted at 12:30 PM on February 21, 2011 by Euan Kerr (2 Comments)
Filed under: People, Public Art, Sculpture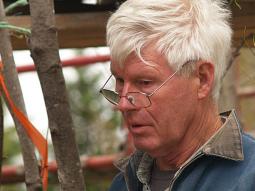 It's been almost a year since Patrick Dougherty (right) visited the Minnesota Landscape Arboretum to build a huge site-specific sculpture out of sticks and twigs he collected nearby.
The Arboretum's Manager of Interpretation & Public Programs Sandy Tanck admits staff were worried that what Dougherty named the "Uff Da Palace" might not do well in with the season's heavy snowfall.
"We weren't sure, but it managed to weather all of our snow this winter beautifully," she said when I visited last week.
It has changed however. Now, 10 months after work finished this is how it looks.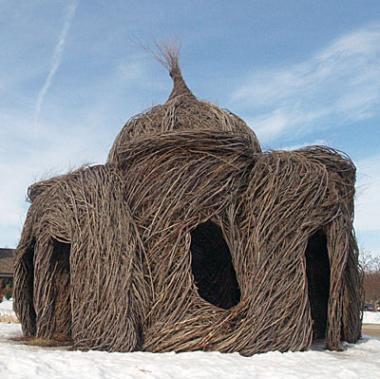 Tanck says every day she sees people stop to stare, and even to clamber inside to check out the intricately woven interior, and the views out of the various windows and doors.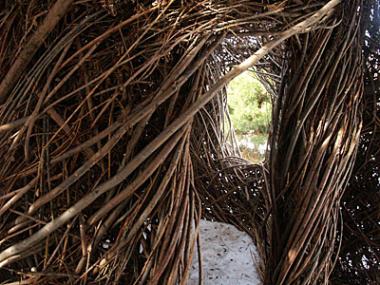 "It seems to be limitless in its ability to inspire wonder and just serve as a magnet to draw people right into it," she said. This is even though the recent thaw freeze cycle has coated the floor with a bed of ice, which leaves some people clutching at their companions as they slip and slide through.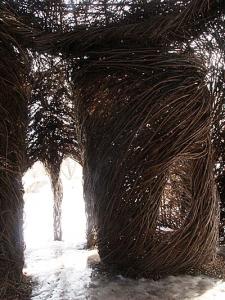 Dougherty tells the places where he builds to expect one excellent year from one of his works, and then one good year. He generally suggests taking them down after that as the elements take their toll.
Tanck says the Palace has become a fixture, and this summer's sculptural exhibit of Steve Tobin's Steel Roots series was designed with the interplay between the new show and Dougherty's work in mind.
"That one is a remarkable piece in that it's got this playful aspect that kind of suggests forts and I have overheard children say "Dad we've got to build one of these in our back yard. All the adults walking by are just mesmerized by it too."
"It's been a very interesting experience for the Arboretum to explore using art to connect people with plants," Tanck continued, "because there are these artists working in this arena who are creating amazing works."
The Steel Roots exhibit doesn't open until April, but many of the pieces are already in place because riggers wanted to take advantage of the frozen ground to get the heavier pieces in place. Things didn't entirely go to plan, but more of that later.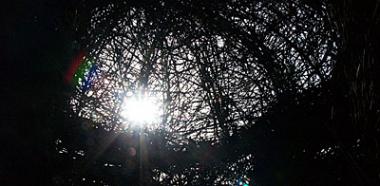 (
2 Comments
)
Posted at 9:22 AM on February 21, 2011 by Marianne Combs
Filed under: News and reviews
Books
Madison husband-and-wife team has become a force in the children's book world
Kevin Henkes, 50, and Laura Dronzek, 49, have been collaborating in life and art for more than 25 years, managing to maintain a prodigious presence in the book world from their home in Madison.
- Jeanne Kolker, Wisconsin State Journal
Music
Sweet, sad songs perfect on snowy eve
REVIEW: Lucinda Williams was suitably intimate at her solo gig at the Dakota Jazz Club.
- JON BREAM, Star Tribune
Lucinda Williams at Dakota Jazz Club, 2/20/11
Snowstorms be damned. While over a foot of snow came wafting down from the clouds last night, the Dakota Jazz Club was dry and packed for the first of three sold-out solo performances by Lucinda Williams.
- Andrea Swensson, City Pages
Morcheeba and its singer, together again
Skye Edwards brings her sensual voice back to the band after a breakup that lasted seven years.
- ANDREW PENKALSKI, Star Tribune
Gipsy Kings, Broussard concerts postponed due to weather
Two Sunday night concerts were postponed due to weather: the Gipsy Kings at the State Theatre and Marc Broussard at the Varsity Theater.
- Star Tribune
Alisa Weilerstein and Bach; Gabriel Kahane and Craigslist
On Saturday evening at the Southern Theater in Minneapolis, two young music talents presented a program that combined the nearly 300-year-old Cello Suites of Bach and songs based on messages from the website Craigslist.
- Claude Peck, Star Tribune
Television
Gunning for success St. Paul native had to learn to handle a gun and handcuffs for cop drama 'Chicago Code'
On 'The Chicago Code,' Devin Kelley plays a rookie cop following in her dad's, grandfather's and uncle's footsteps. In real life, St. Paul-born Kelley had never shot a gun until she was cast as Vonda Wysocki on the Fox drama.
- Amy Carlson Gustafson, Pioneer Press

Posted at 3:10 PM on February 21, 2011 by Marianne Combs
Filed under: Minnesota Poets, Poetry
Richard Eberhart was born in Austin, MN in 1904 and lived for 101 years. During that time he held many jobs but he was first and foremost a poet, serving as the Library of Congress' "Consultant in Poetry" (the earlier title for National Poet Laureate) from 1959-61.
Perhaps it was his mother's early death that gave him such a zest for life; he attended the University of Minnesota to be with her until she died, then transferred to Dartmouth. after graduating from Dartmouth he traveled the world - working on a tramp steamer - and pursued a second degree at Cambridge University. He served as a naval officer in World War II, worked for his wife's family at the Butcher Polish Company for several years, and taught at a number of universities, including his alma mater. He died in 2005 at his home in New Hampshire.
21st Century Man
Finally, he decided there was too much pain,
The hurt of everything.
In youth it was not knowing,
In middle age it was knowing,
In age it was not knowing.
He couldn't figure it out.
Would 21st century man do better
Or 21st century woman do better either?
The tides were always going in or out,
But what was the meaning of the ocean?
People were either growing up or growing down.
He decided to live for sensual reality,
Pure feeling. After this failed
He decided to espouse pure intelligence.
This never told him why he had to die.
He then decided to go to the Church
But after the supreme fiction of Christ
He thought Buddha and Mohamet had something to say.
Neither sense, intellect, nor religion
Told him why he was born or had to die
So he began to pay attention to poetry.
Non-suicidal, he desired to make something.
He decided the greatest thing was a perfect poem.
If he could make it he would be glad to live.
The brutal fact, dear reader, as you
Might suspect, is that he did not make it.
Somebody else made his perfect poem imperfect.
- "21st Century Man" by Richard Eberhart, as it appears in The Poets Laureate Anthology, edited by Elizabeth Hun Schmidt, and published by W.W. Norton. Reprinted here with permission from the publisher.