Posted at 10:04 AM on February 18, 2011 by Marianne Combs
Filed under: News and reviews

Art
Take a trip inside Tut's tomb
A new show brings ancient Egyptian history to life at the Science Museum of Minnesota.
- MARY ABBE, Star Tribune
Introducing George Washington, who we bet you don't know
Many of the things we "know" about George Washington aren't true. He never chopped down a cherry tree as a child, and he didn't wear false wood teeth. In fact, the military leader of the Revolutionary War and our nation's first president is an enigma.
- Maja Beckstrom, Pioneer Press
Kinji 101
Artist Kevin Byrne offers an engaging, philosophically-minded primer-cum-tribute to his longtime friend and colleague at Minneapolis College of Art and Design, acclaimed designer and educator Kinji Akagawa.
- mnartists.org
The View from Here
Camille LeFevre reflects on two photography shows with distinct views on place-making, both at the Mpls Photo Center through February 21 - "Jonathon Wells: Earth Revealed" and the group show, "Urban View - Rural Sight."
- mnartists.org
Margit Schmitt and Kim Tschida Petters explore 'The Memory of Architecture'
Artists Margit Schmitt and Kim Tschida Petters have stories to tell, many of which are inspired by their memories of architecture.
- Coco Mault, City Pages
Movies
Where pathos and comedy meet
From the TV news truck to film school, "Cedar Rapids" writer Phil Johnston has focused on finding the funny in the everyday.
- COLIN COVERT, Star Tribune
Review: Characters uplifted; plot just lifted
There's nothing fresh about "Cedar Rapids." It's made from pieced-together parts of "The 40 Year Old Virgin" and Jonathan Demme's classic "Something Wild," and it's too willing to indulge in random jokes.
- Chris Hewitt, Pioneer Press
Getting wild (and wiser) in 'Cedar Rapids'
For Ed Helms as the comedy's wide-eyed hero, a convention offers a new outlook on life.
- COLIN COVERT, Star Tribune
Review: Full of hidden meaning, creepy chiller a revealing study of sly storytellingIn between its jaw-dropping opening and its jaw-dropping ending, "The Housemaid" has a lot more good stuff.
- Chris Hewitt, Pioneer Press
"The Housemaid"
A Korean suspense tale.
- COLIN COVERT, Star Tribune
"Twilight" with aliens
The high school hottie may look like a model, but he's a space-war refugee. Beware the Mogadorians.
- COLIN COVERT, Star Tribune
Review: Kid with superpowers has to save the world, yadda, yadda, yadda"I Am Number Four" feels less like a movie than a marketing plan.
- Chris Hewitt, Pioneer Press
Identity crisis
In a tense Euro-thriller, Liam Neeson's character fights to discover his identity after an accident.
- COLIN COVERT, Star Tribune
Review: At last! A suspense drama that's dramatic and suspenseful
Much like last year's "Taken," "Unknown" features Liam Neeson as an average American who single-handedly takes on the criminal underworld of a vaguely hostile-to-the-U.S. European nation. Unlike "Taken," "Unknown" is good.
- Chris Hewitt, Pioneer Press
Review: It takes a mighty big actor to wrestle so many subplots into submission
The movie "The Chaperone" is a whole multiplex full of movies.
- Chris Hewitt, Pioneer Press
Music
Lucinda Williams: Happily hitched, but riding solo here
To preview her new "Blessed" CD, the Americana queen is playing three rare solo shows at the Dakota.
- JON BREAM, Star Tribune
Dawn Upshaw in fine form navigating new, disparate works with St. Paul Chamber Orchestra
Dawn Upshaw has clearly revised her view of what she sees as her life's work. The soprano still is an international opera star, but she's evolved into a passionate advocate for new music.
- Rob Hubbard, Pioneer Press
Now it's Sims' turn
The Doomtree crew member's latest, "Bad Time Zoo," might be a hit with (or at) NPR listeners.
- CHRIS RIEMENSCHNEIDER, Star Tribune
Every movement was heavy on the movement
Minnesota Orchestra conductor Osmo Vanska has a formidable challenger for the audience's attention at this weekend's concerts in Swedish clarinetist Martin Frost, who's every bit the conductor's equal as a master of movement.
- Rob Hubbard, Pioneer Press
Chooglin' head abroad for a two-week tour of France
It's a time of much traction for the 8-piece band.
- Danny Sigelman, City Pages
Blue Sky Blackout release 'John Hughes' EP tonight at Cause
Between them, Hunt and Erickson have decades of experience in the local music scene, although their sound -- stylish and sophisticated, much like the surroundings -- is deeply rooted in that of a very specific time period: the shoegaze and Britpop of the 1980s and early '90s.
- Jeff Gage, City Pages
Interview with Thomas KiviThomas Kivi celebrated the release of his CD Crying Child recently at the Fine Line cafe
- Michelle Los, Examiner.com
Stage
Demystifying the immigrant experience
Aditi Brennan Kapil goes beyond the romantic notions of starting over.
- ROHAN PRESTON, Star Tribune
Bad luck blues: Penumbra's 'Ma Rainey's Black Bottom' at the Guthrie
While there is great humanity in his plays, and great sympathy for his characters, Wilson was unafraid to show how racism can warp and twist both its perpetrators and its victims.
- Max Sparber, MinnPost.com
Score one for the ladies 'Girls Only: The Secret Comedy of Women' achieves its goal -- laughs
For the past 20 weeks, I spent Sunday afternoons watching men compete in the rough, sweaty game of football. With the NFL season finally finished, I spent this past Sunday afternoon at Hennepin Stages watching the lively "Girls Only: The Secret Comedy of Women." The two have more in common than you'd expect.
- Amy Nelson, Pioneer Press
Staging 'Jesus Christ Superstar' is theater director's idea of a miracle
For Michael Brindisi, bringing "Jesus Christ Superstar" to the Chanhassen Dinner Theatres main stage has been, well, a religious experience.
- Kathy Berdan, Pioneer Press
'Ring Round the Moon' at Theatre in the Round
​If the new love story performed by computer-animated gnomes has got you hankering to see a live-yet-classic romantic comedy played out in the theater, get over to Theatre in the Round for their latest production, Ring Round the Moon.
- Shelby Meyers, City Pages
Dykes Do Drag celebrates 12 years
Dykes Do Drag, the sexy cabaret that incorporates music, modern dance, film, and visual art is celebrating 12 years at Bryant-Lake Bowl this weekend with a romping evening of drag acts, burlesque, and "boy-lesque" performances.
- Sheila Regan, City Pages

Posted at 12:10 PM on February 18, 2011 by Marianne Combs
Filed under: Television
Didn't have time to tune in to last night's edition of MN Original? Here's what you missed:
Yugoslavian-born Zoran Mojsilov makes large-scale sculptures out of stone, steel and wood.
Lisa Nankivil builds intricate layers of color and texture to create her luminous oil paintings.
Plus: Heart of the Beast artistic director Sandy Spieler and music from Machinery Hill.

Posted at 3:00 PM on February 18, 2011 by Euan Kerr
Filed under: Music, People
Even as I write Chris Roberts is putting together a great piece deconstructing one of the tracks on Sims' new "Bad Time Zoo" album. Sims and his Doomtree collaborator Lazerbeak will mark the albums release with a party tomorrow night at the Fine Line in Minneapolis, with Dessa, POS, Cecil Otter, and Mike Mictlan all lending a hand. You can hear Chris grill Sims and Lazerbeak on Monday morning, but in the meantime here's a cracking video they put together with the folks at MPLS.TV, featuring the album's title track.
City of Music: SIMS from MPLS.TV on Vimeo.
Posted at 4:54 PM on February 18, 2011 by Euan Kerr (1 Comments)
Filed under: Media, Museums, Music
Downbeat Magazine, the must-read publication for jazz fans just published its list of the 150 best jazz rooms in the world, and named three in Minnesota: The Artists Quarter in St Paul, the Dakota Jazz Club and Restaurant in Minneapolis, and, perhaps most unexpectedly, the Walker Art Center.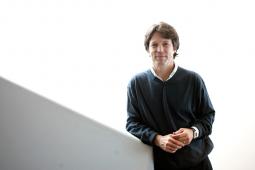 The Walker's Performing Arts Curator Phillip Bither says the listing came completely out of the blue, but he knows it carries weight. He says it's a recognition of the growing reputation of the Maguire Theater.
"The world is taking notice of what an exquisite concert venue and performing arts space it is, and I think musicians are spreading the word that it is a fantastic place to play music and to be heard" Bither said this afternoon.
"They cover dozens of countries and the Midwest only had a handful of sites so it's an acknowledgement that Minneapolis is a great center for great music and great jazz," he continued. "I think the correspondents for Downbeat really know what's going on in jazz all over the country and I'm sure they feed in what their favorite spots are."
The article points out the key aspects of each of the three venues: the intimacy of the Artists Quarter, the upscale nature of the Dakota, and the Walker's "original and daring live programming."
Bither believes it will make a difference because it "puts the word out to people who regularly travel that if you are going to be in Minneapolis, here are the places that you need to check out."
He believes not only will it build international recognition, it will build tourist traffic.
(
1 Comments
)