Posted at 12:35 PM on January 3, 2011 by Marianne Combs
Filed under: Minnesota Poets, Poetry
James Cihlar is the author of the poetry book Undoing (Little Pear Press) and chapbook Metaphysical Bailout (Pudding House Press). The Poetry Editor for Referential Magazine and the Books Review Editor for American Poetry Journal, he has also published reviews in the Minneapolis Star Tribune and on the poetry site Coldfront. The recipient of a Minnesota State Arts Board Fellowship for Poetry and a Glenna Luschei Award from Prairie Schooner, Cihlar lives in St Paul.

Last Year
What we do not know about fate
Harms us less than what we think we know.
We think we know the rate of exchange,
As if we can trade off years of estrangement
With deathbed forgiveness,
A life of sinning
With one true repentance,
But we cannot. Fate will catch up.
Fate does not tell time with clocks.
It does not enter with the creak of the stair
We hear from our bed alone
In a house wrapped in dark,
As we count the muffled footsteps in the hallway,
Measuring the shrinking distance from our pillow.
It will never come at a time
That allows us to anticipate arrival.
It would sooner show up the moment before
We bury our face in sleep
Exhaling the last worry of day.
Fate moves with the staccato bounce
Of an alley cat on winter ice.
It visits us as a car accident en route
To a job interview
The day after we were fired from the previous job -
Bestowing one blow
On the heels of another -
As if to say, you thought you had me figured out,
You thought you were safe.

- "Last Year," by James Cihlar, as it appears in the collection The Wind Blows, The Ice Breaks: Poems of Loss and Renewal by Minnesota Poets, published by Nodin Press. Reprinted here with permission from the editor.
Posted at 10:40 AM on January 3, 2011 by Marianne Combs
Filed under: News and reviews

Happy New Year! Reporters are back from vacation and things are beginning to hum once again...read on for the latest news of the Twin Cities arts world.
Art
Ricardo Levins Morales on creating art for communities
After running the Northland Poster Collective for 30 years, Puerto Rican-born graphic artist Ricardo Levins Morales opened his own studio in the fall of 2009, and has since continued working as an artist to create social change.
- Sheila Regan, City Pages
Books
Jill Bernard's 'Small Cute Book of Improv'
Teaching improv has been Bernard's primary gig since 2009.
- Coco Mault, City Pages
General
Two club closings and two new British films: 'Nowhere Boy' and 'The King's Speech'
We're at a slow time of year for the arts, to the extent that anything new is performed, or debuted.
- Max Sparber, MinnPost.com

Music
Turf Club closed until January 11, changing management
Just a few hours before the doors were scheduled to open on Saturday night, the Turf Club called off its gig with Marijuana Deathsquads, turned out the lights, and hung signs on the front doors that read "Closed for repair."
- Andrea Swensson, City Pages
Turf Club New Year's Eve cover night, 12/31/10
It seems New Year's Eve revelers broke the Turf Club on Friday night.
- Nikki Miller, City Pages
Vikings punter and bassist Chris Kluwe talks about balancing music and football
Though Chris Kluwe played violin as a child, his primary influence for picking up a bass guitar was the video game Guitar Hero.
- Loren Green, City Pages
Mark Mallman's New Year's Eve stunt: The 'Keyborg'
Mark Mallman has made a tradition out of returning to the Varsity each New Year's Eve for an extravagant show, and for his 5th annual NYE bash he pulled out all the stops.
- Andrea Swensson, City Pages
Dessa's New Year's Eve show at the Aster, 12/31/10
Sometimes, you stumble across an artist that makes you stand up straight, abandon your drink, forget the conversation, and listen completely. Once in a while, you find an artist so good that you will want to stop listening to music entirely--there can be nothing else, after all. Dessa is one such artist.
- Natalie Gallagher, CIty Pages
Track down these soundtracks: Like movies? Like music? It's time to go beyond Williams and Mancini.
As a movie fan and a music fan, I've discovered a new way to spend money.
- Chris Hewitt, Pioneer Press

Theater
Theatre Unbound's 24 Hour Play Project: You choose the secret ingredients
Less than a week from now, Theatre Unbound will be mounting seven brand new little plays - written, rehearsed and performed all within the span of a single day - the latest 24 Hour Play Project.
- Matthew A. Everett, TC Daily Planet
Posted at 3:13 PM on January 3, 2011 by Euan Kerr (1 Comments)
Filed under: Arts management, Music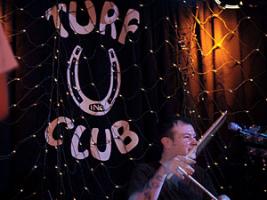 Josh James squeezed us into a tight schedule today. He's had a busy time of it since St Paul's Turf Club closed its doors on New Year's Eve "for construction" and he emerged as the new general manager. He knows people want some answers as to what's going on.
"Oh man, I got a meeting coming in ... " he said over the phone, "So I got just a few minutes, so hit me. Hit me as hard as you can."
It's not every day you get an offer like that, but of course it's clarity and information St. Paul rock fans want. The Turf has long been the go-to club in St Paul for its mix of cutting edge bands and local heroes.
A nervous ripple passed through many of the Turf Club faithful when news broke that owner Tom Scanlon let go long-time manager Dave Wiegardt. He's credited as a major guiding force at the club for a decade and a half.
It's a truism of the indie rock fan that while s/he likes to be constantly riding the wave of what's up-to-the-minute and shiny and new, there can be a deep conservatism where it comes to changes in venerated venues.
As someone who has worked behind the bar at the Turf Club for five years James knows this.
"I understand the club," he said. "And I understand what my capabilities are within it, and what I'm not great at. One of the things I'm not great at would be the booking side of the business which is a huge part of this business obviously, it being a club."
James says the first thing he did on Saturday was have lunch with Ryan O'Rourke, one of the Turf's bookers, to rehire him. He's also working on contacting booker Christie Hunt about a job too. He said they'll be given pretty much a free hand to do bookings through the next couple of months.
"It's a lot of little changes that'll add up to big changes right away," James said. "I have some ideas about what the bar needs to do to really make money right away."
One of the first things will be hours of opening. He anticipates meeting a projected re-opening date of January 11, but under the new set-up the club will be closed on Sundays and Mondays.
"And Tuesdays through Saturday the bar will open at 5 or 6, I haven't decided yet," he said. He says this is the plan in the short term and the bar may well open on Sundays and Mondays if he can work it out in a way that makes sense.
"It's in essence a rock and roll club," James said. "And it needs to stay that way. It has to be fun and bring people out and have a party."
He said the Turf Club's eclecticism has always been great appeal of working there.
"Sometimes you'll have a noise-rock band, plus a hip-hop band, plus an indie-rock band, plus an alt-country band, all on one bill all on one night, and I love that diversity. It's a blast."
So why is the change in management necessary?
"The change was coming," he said, choosing his words carefully. "The bar was going to close. I can't really comment on all of that. I don't really know all the ins and outs of it. I can tell you that I run a, as a manager, a really lean and tight crew of people who are really dedicated to service and quality and that's what I am focusing on for the first six months."
Josh James predicts patrons will see few physical changes to the Turf Club when it re-opens.
"It'll feel very familiar," he said. He says there will be some change in staff, but not much, and he has been touched by the way the music community in the Twin Cities has reached out to welcome him in his new role in the last couple of days.
"It's been very humbling, to be honest with you," he said. He says he's grateful for the response. "Even down to the people who worked here and who were unceremoniously let go, everyone has been so positive that it's been fantastic."
And then he went off to that next meeting.

(
1 Comments
)