Posted at 12:17 PM on November 1, 2010 by Marianne Combs
Filed under: Arts management, Education
Humphrey Institute's Professor Ann Markusen may be in Scotland on a Fulbright scholarship, but that's not stopping her from continuing to make waves state-side on issues surround the arts and economic development.
On Friday, Markusen presented a white-paper - via satellite - to the National Endowment for the Arts. The white paper is for the Mayors' Institute on City Design, which is dedicated to transforming communities through smart design.
The main thrust of the paper is that creating spaces that foster creativity - say, through the use of public art, or by converting empty warehouses into artist studios - fosters economic development by both reinvesting residents' money locally at a higher rate, and by attracting non-arts-related businesses and skills to the community.
You can read Markusen's full report here.
Posted at 10:19 AM on November 1, 2010 by Marianne Combs (2 Comments)
Filed under: Minnesota Poets, Poetry

Part of a series of pictures depicting Frances Densmore at the Smithsonian Institution in 1916 during a recording session with Blackfoot chief Mountain Chief for the Bureau of American Ethnology.
For the past ten months I've been featuring a poem a week by a Minnesota poet. I realized recently that I was drawing exclusively from modern poetry, without looking back on our rich literary history.
To fix that, I picked up my copy of "Where One Voice Ends Another Begins: 150 Years of Minnesota Poetry," published by MHS Press. As it turns out, this region's poetry goes back much further than 150 years; Frances Densmore, with assistance from Robert Higheagle, translated song-poems of the Sioux and Chippewa.
Here's a particularly sweet love poem:
In Her Canoe
In her canoe I see her,
Maiden of my delighted eyes.
I see in the rippling of the water
The trailing light slipped from her paddle blade.
A signal sent to me.
Ah, maiden of my desire,
Give me a place in thy canoe;
Give me the paddle blade,
And you shall steer us away
Wherever you would go!
- "In Her Canoe," a Chippewa song-poem translated by Frances Densmore, with assistance from Robert Higheagle, as it appears in "Where One Voice Ends Another Begins: 150 Years of Minnesota Poetry," published by MHS Press. Reprinted here with permission from the publisher.
(
2 Comments
)
Posted at 8:10 AM on November 1, 2010 by Marianne Combs
Filed under: News and reviews
Here's a look at the arts and culture stories making the headlines this morning...
Ten Thousand Things' 'Life's a Dream' is good, not just good for you
By Dominic P. Papatola, Pioneer Press
You're forgiven if you sit down to a play like "Life's a Dream" and some small part of you dreads you've volunteered for two hours of Brussels-sprout theater: not that tasty, but -- hey -- it's good for you.
'In Search of Asia' at St. Anthony Main - John Ervin, City Pages
For 11 days, Minnesota Film Arts will "search" for the world's most populous continent through 40 movies from 12 countries in a brand-new festival.
Library association added gay and lesbian award to annual list of children's prizes
By Hillel Italie , Associated Press
An award for gay and lesbian literature will be included in the American Library Association's annual announcement of children's prizes, a list which features the prestigious and influential Caldecott and Newbery medals.
Opera's 'Cinderella' could be more fun - Rob Hubbard, Pioneer Press
The music of Gioachino Rossini can sound like opera on espresso. His stage works are filled with insistent pieces of musical patter, machine-gun staccato notes racing up and down the scale.
Mumford & Sons at First Avenue: British invasion - Jay Gabler, TC Daily Planet
Indie-folk strummers Mumford & Sons seem like unlikely rock club idols--until you actually see them play a rock club. Then, you understand that they're totally likely.
Close your eyes to Minnesota Orchestra's 'Psycho' -- to really hear Herrmann
- David Hawley, Pioneer Press
Skreet! Skreet! Skreet! Skreet! One of most famous shower scenes in film-score history elicited nervous titters Saturday during the Minnesota Orchestra's Halloween-eve screening of Alfred Hitchcock's "Psycho" above an Orchestra Hall platform peopled by the orchestra's string players.
Owl City goes back to school for Halloween - Chris Riemenschneider, Star Tribune
Owatonna lit up with excitement for Adam Young, who performed his first hometown concert since becoming a No. 1 hit-making singer.
'Spring Awakening' returns for weekend run - Ed Huyck, City Pages
Spring Awakening, the thundering rock musical about adolescent angst in 19th-century Germany, returns for a quick two-day run over the weekend at the Orpheum Theatre.
Posted at 4:08 PM on November 1, 2010 by Euan Kerr
Filed under: Dance, Galleries

Eiko and Koma perform at the Walker art Center (Images courtesy WAC)
The Walker Art Center staff lifted the veil slightly today to talk about the challenges of putting "Naked," the latest performance by movement artists Eiko and Koma, into one of the WAC's galleries. The duo have a three decade relationship with the Walker, but most of their pieces have been performed in a theatrical setting.
"Naked" is quite different. The piece is set in a corner of the "Event Horizon" show, cordoned off by canvas screens flecked with feathers and scorchmarks. Beginning tomorrow Eiko and Koma will perform for six hours a day on what they call 'the island.' It's a mound of feathers and what appears to be foliage set on a dirt floor.
As the title suggests Eiko and Koma will perform without clothes, lying on the island, and moving constantly, but slowly. The lighting also keeps changing to match the movements, and the only sound will be of water dripping from the ceiling. Eiko says the idea is to create something beautiful, but also to depict a sense of being feeble.
Audience members can enter through gaps in the canvas, or even peer through the holes. There are seats inside and people can come and go as they wish.
Putting on the show has been a challenge for the Walker - and not just because there are naked people rolling around on the floor.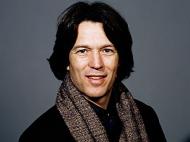 "We are learning a lot as we go," says Performing Arts Curator Phillip Bither. "I mean the culture and practice of visual art curators installing art into space is extremely different than performing art producers mounting a live production."
In other words what's normal in a theater doesn't always wash in a gallery filled with very valuable artworks.
"Even something as simple as how do you have enough power and have enough connection points to have theater lighting in a gallery space," Bither continues. And that's before you get to the dirt.
"We are used to on-stage dumping two tons of dirt in a relatively small square foot area," Bither says.
Dirt can be a very effective stage prop. But it can also be an effective vehicle for rotting organic material (leaves for example, or worse smellier things,) and insects.
Bither says smells and creepy-crawlies are rarely a concern on stage.
"It (smell) goes away soon enough, and bugs aren't really a concern, but in gallery spaces we had to literally fumigate the two tons of dirt before it went in, and that was new to Eiko and Koma as well."
Bither says there have been other lessons too, like how to convey performance context though the signage on the walls. He thinks this kind of collaboration will have an impact outside the Walker as the lessons learned are passed around the museum and gallery world.
"That's what is the great adventure," he says.