Museum news you can use - extended hours and free tickets for teens
Posted at 2:30 PM on October 14, 2010 by Euan Kerr
Filed under: Arts management, Museums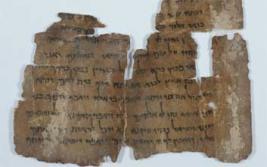 There are just 10 days left of the Science Museum of Minnesota's Dead Sea Scrolls show, and the SMM is expanding its hours to offer last minute patrons as much opportunity as possible to take in the exhibit.. Starting today the SMM will be open from 9.30 am to 9.30 pm until the Dead Sea scrolls closes on October 24th.
The SMM's Sarah Imholte says it's a standard practice for big shows at the museum. As the Body Worlds show came to an end the museum stayed open 24 hours a day.
"And we did have some people come through at 2 am," she recalls.
The Dead Sea Scrolls won't get that treatment, but people who come in at 9.30 will have an hour to go through the exhibit.
In other museum news, today is the launch of the Walker Art Center's new free tickets for teens initiative. Starting at this evening's Student Open House, visitors 18 and under will get in free. The Walker's Ryan French says this is an expansion of the WAC's committment to teens. Some 84,000 teens come through the Walker's doors each year, about 14 percent of overall attendance.
Podcasts
Services