State of the Arts: October 25, 2010 Archive
Posted at 8:47 AM on October 25, 2010 by Marianne Combs
Filed under: News and reviews
A look at what arts reporters are writing this morning...click on the headlines to read the articles...
In Minnesota...
At the Dakota, Jimmy Webb confirmed his reputation as a tunesmith and a singer of limited voice. - Jon Bream, Star Tribune
Chained to a 'dream': Ten Thousand Things richly fills out the redemptive outlines of a classic story about fate and self-determination. - Graydon Royce, Star Tribune
Bill Burr: human Molotov cocktail - Nate Patrin, City Pages
First mural unveiled for Native American Cultural Corridor - Toni Randolph, Minnesota Public Radio News
Halloween, Alaska get lost in the Haunted Basement maze - by Lindsey Thomas, A.V. Club

Elsewhere...
Battle Over 'The Hobbit' Spurs Rally in New Zealand - Dave Itzkoff, New York Times
Gabriel Byrne analyzes HBO's 'In Treatment' as Season 3 begins - by Melissa Maerz, Los Angeles Times
Die Antwoord prompts a big question: The rave-rap trio including Ninja and Yo-Landi Vi$$er has fast-growing popularity. But some wonder if it's punking the world à la Ali G?
- By Chris Lee, Los Angeles Times
Posted at 10:15 AM on October 25, 2010 by Marianne Combs
Filed under: Minnesota Poets, Poetry
J.P. White spent his childhood summers sailing on Lake Erie. In the early 1980s, he worked delivering sailboats up and down the Eastern seabord, to the Bahamas and the Caribbean. He is the author of five books of poems, including "All Good Water" published by Holy Cow! Press. White currently sails a Cape Dory 25D out of St. Louis Bay on Lake Minnetonka, near Minneapolis, Minnesota.

Open or Closed
Your hands are always open or closed.
They are not encumbered
with any other choices
that weight and worry the rest of you.
The bright wet fist of the infant
tells us trust comes slowly.
The outstretched fingers of the prisoner
remind us trouble finds us quickly.
How alone a person lives with memories,
dreams and pain more tangled
than the great hoop of the Sargasso Sea.
But your two hands, that old married couple,
puttering along after decades,
are still charming to watch,
one holding the screen door
while the other fishes for the key.
Mostly they are courteous, gentle and tolerant
of one another even when everything
knots your shadow and the door remains locked.
See them there by your side,
keeping you company after everyone else
has left for good,
touching each other
for reassurance as if to say,
How's the weather over there?
When should we break bread?
Will this be a day to open or close?

- "Open or Closed" by J.P. White, from the collection "All Good Water" published by Holy Cow! Press. Reprinted here with permission from the publisher.
Posted at 12:24 PM on October 25, 2010 by Marianne Combs
Filed under: Criticism
Comedian Jon Stewart may be a demigod in the United States, but popular political satirists don't have it so easy in other countries.
Foreign Policy has put out a list of what it calls "The World's Jon Stewarts," featuring satirists from Brazil to Israel. The upshot? Challenging the government in power may get you Facebook fans, but it can also get you imprisoned, or shot.
Stewart is planning a "Rally to Restore Sanity" on the National Mall in Washington, D.C. this Saturday. But will he be able to match Italian satirist Beppe Grillo, who drew 300,000 to the streets back in 2007 to curse the government on what he dubbed "F--k Off Day?"
Posted at 1:28 PM on October 25, 2010 by Marianne Combs
Filed under: Education
Frank Lee had a nice piece in the St. Cloud Times this weekend on how art therapy is being used as a tool for dealing with the roller-coaster ride of cancer. Patients at the Coborn Cancer Center are encouraged to channel their emotions into paintings, clay models, plaster masks and collages. I found patient Sally Thayer's explanation of the value of art therapy particularly pointed and compelling:

"My husband, my church and my friends were very supportive, but as supportive as they were, they couldn't possibly understand [what I was going through], and that's where art therapy comes in."
You can read the full article here. In addition, St. Cloud Times writer Amy Bowen shared a similar story a couple of weeks ago... this time it was teenager Kate Stewart who was able to face her Leukemia through art and poetry.
Posted at 2:44 PM on October 25, 2010 by Marianne Combs
Filed under: Media, Theater

A portrait of Minnesota Playlist (based on what it said this past year) in the form of a word cloud
Tonight MinnesotaPlaylist.com, the website devoted to "information and inspiration for Minnesota's performing arts" is celebrating its 2nd birthday with a party at Joe's Garage in Minneapolis.
The website, which is the brainchild of husband-and-wife-team Leah Cooper (freelance director, head of Minnesota Theater Alliance) and Alan Berks (playwright, show promoter), was concieved as a trade magazine for theater professionals, i.e. a place to put your resume, post auditions, etc. The site has quickly become a hub for discussions around theater and the performing arts in general.
In honor of the birthday, I sent Minnesota Playlist a few questions - here's what Alan Berks had to say in response:

1. How has MN Playlist changed since you first went live? Have any of the changes surprised you?
The look has changed three times, and we've experimented with different "content types" like blogs and twitter and columns and video over time. Though we didn't anticipate any of it, I don't think we were surprised that these changes were necessary. What does surprise us about the website is that conventional wisdom about web content doesn't seem to apply to this particular publication. If we post SHORT videos, people don't really watch them. They're much more likely to watch the LONG interviews (re: Dominique and Joel Sass and Bain and Ali Salim and Rob Perez). They read the "articles," i.e. the longer, more thoughtful pieces, more than they read the blogs. Also, some general audience members have told me they enjoy the "process" articles we publish when, as a freelance writer, I was always told by editors that general audiences hated that stuff.
2. When you started out, how confident were you that you'd make it to celebrate a 2nd birthday?
Leah and I both have such a fear of commitment that I don't think we ever plan to be doing the same thing two years from now that we're doing right now. So, I think we really didn't think about it. We thought it was a "great idea, what the hell, let's do it!" So, considering that, I know I'm pretty darn surprised that we're still going strong.
3. How does MN Playlist differ from other arts/news websites?
We consider ourselves a trade publication, so we're focused on our niche--which is performing artists, people who want to be performing artists. . . and the people that love them. Many of our articles are practical, like "how to write a press release," or trade specific issues like board management, etc. Beyond that, we also solicit articles from many different kinds of artists to talk about the art in the way that they care about it-- so we'll have articles about what new plays should be about or what's the best rehearsal process or why we do what we do. Yes, I've discovered that general audience members who read our site do seem to enjoy these insights into the creative mind, but, unlike you and the Strib and City Pages, we don't have to pitch our articles to these general people. So, we can avoid consumer reports-like reviews or advance features on artists in upcoming shows and focus instead on what makes us love art and artists and creativity, what inspires creativity, why its worth it, what pisses us off, what people should do next, etc. . . As you can tell, this makes me very happy.
4. What's your favorite story from the website's first two years?
Do you mean story ABOUT the site or story ON the site?

If you mean story on the site, then it depends on the day because almost anything Marya Hornbacher and John Middleton write for us is great. Tom Poole, who wrote one article about new play development and a series of blog posts about Minnesota Style, is hysterical and brilliant. The entire issue on Minnesota Style (Jan 2010) and the ones on Audience and Process (Dec. and Nov, 2008) and the one on the Press (Feb 2009), taken as as a whole, I think are pretty well done. There are other issues I like too. I was able to write some 3-part essays, with research on the rehearsal process in Nov 2008 and outstate theater in May 2009, that are the kinds of articles I wish I could publish more of. For a while we were publishing specific rants that we called "The Vom" that I always enjoyed too.

But today, my favorite article is Dominic Orlando's "Forgetting Taboos" -- I like what it says. I like how he says it. I think its the type of article you really could not find anywhere else, and it sparked at least two conversations "offline," that I remember enjoying, with artists I didn't know that well until after we talked.

If you mean story about the site, then I guess, briefly, when people started to talk to us about the website--and email us strange, angry letters--as though MinnesotaPlaylist.com were an cultural institution in town who we worked for rather than a website Leah Cooper, Alan Berks, and [former colleague and web designer] Matthew Foster created after a lot of all-nighters simply because we had an idea we thought would be cool to try.

5. What does success look like for you?
People use the website. We provide resources that help them like classifieds and talent profiles and performance listings (with links to reviews) that they find useful and return to. And the website continues to grow. Also, they read the articles and those articles spark discussion. Finally, after all this happens, we make enough money from it to keep providing this service and to justify the work that we've put in. . . I think the biggest surprise to me after two years is that by our own defition of success, we've been stunningly successful. How often does that happen?
Posted at 4:30 PM on October 25, 2010 by Euan Kerr
Filed under: Photography, Public Art
"Everything that Public Art St Paul and I wanted to do, we did!" Wing Young Huie told me the other day.
But the Minneapolis-based photographer admits the full impact of "The University Avenue Project," his display of hundreds of photographs along University Avenue in St Paul, is still swirling around in his head.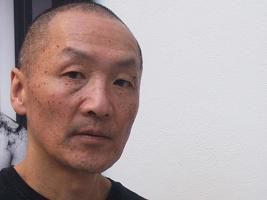 "It's not easy to step back and see it, and think about all the reactions," he said. "So many things have happened, so many interactions, so many comments. You really can't qualify and quantify it."
It's been six months since Huie and his staff of volunteers began placing the pictures along University. The show will wrap up next Sunday, on Halloween, but there will be a number of events between now and then to allow people a last chance to take it in.
While the photographs stretch out along several miles of University Avenue, from the State Capitol in the East to the Minneapolis border in the west, much of Huie's attention in recent weeks has focused on the so-called "Project(ion) Site" near University and Hamline, where there have been screenings five nights a week of the photographs set to the music of local bands.
"We've probably had 6000 people who have been in that site. All different kinds of weather. Sometimes it's just a handful of people. A lot of couples - a great place to take a date, especially younger couples," Huie laughed.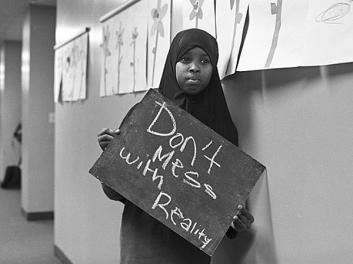 Huie says he has seen many interactions he believes wouldn't have happened without the projection site. He says while he tried not to have expectations about what would happen there, he was concerned about the potential for vandalism, and what he called "other incidences" as people gathered. However none of his fears were realized.
"It's really been a peaceful place," he said. "People from all walks of life come to the space. People from outside the neighborhood. People from inside the neighborhood - people who come on a regular basis."
It's been a place for people to come and talk about the photographs, which are displayed along University with no signage or explanation except at the projection site. Huie heard how some neighbors came to learn about the place where they live, others brought relatives and friends who were scared to come into what they believed was a bad neighborhood.
As well as the screenings the site hosted "Wednesdays with Wing" where people could come and talk about the show and what it made them think about. He also hosted a monthly cabaret which featured live performances again from local artists.
A few weeks back a couple of hundred people turned up at the Wednesday night show including about a hundred students from the nearby Hubbs Center which was where Huie took some of the first photos for the project. Several people who are in photographs in the show turned up that night.
"And I invited people to come up to the microphone just to talk a little about yourself," Huie said. "And there were several students, one who had only been learning English for a couple of months. And she stood up and talked about what it was like for her to be in St Paul and learn English and her hopes for the future. And it was just beautiful."
While things are wrapping up, that doesn't mean Huie is slowing down. There will be a last Wednesday with Wing in a couple of days, a final cabaret starting at 5pm on Saturday night, and then the final night on Sunday.
"We will have closing ceremony on Halloween," Huie said. "I think it will be very simple. We will invite people just to view the projection one last time and maybe share thoughts about the project, how they interacted or were impacted by the project."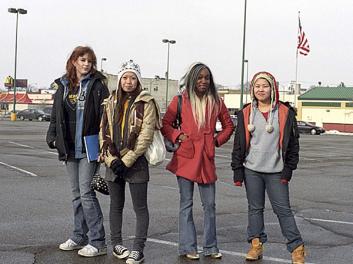 The pictures will come down from the windows along the Avenue soon after although some of the larger installations will stay up indefinitely. There will also be an auction in December to raise funds to help cover the costs of the project.
Meanwhile Huie is working on several travelling shows.
One which combines work from several of his exhibits over the years is about to go to China. It will start in Beijing, then go to four other cities.
He is also looking at ways of creating a travelling version of the University Avenue project, or maybe even several different versions which would be available on a sliding scale for different communities. He's even considering a portable projection site with an inflatable screen, hooked up to generators to power the projectors so communities could recreate the slideshow experience.
Huie is also on final negotiations with the Weisman Art Museum at the University of Minnesota for a new project photographing the cultures, and subcultures of the U and surrounding neighborhoods. He expects to start work in November, and is looking to keep working with some of the ideas from the University project, including the chalk boards he used to display responses to questions he asked, or sometimes his subjects asked one another.
"One of the things I am interested in is this idea of 'the Other.' Everybody has a different idea of who 'the Other' is," he says.
But that's next month. He still has to finish October, and the University Avenue Project itself.
Overall Wing Young Huie is happy.
"Just to pull it off and get everything up," he said. "For a small non-profit to take on such a big project as this, it was exhilarating."
Posted at 3:15 PM on October 25, 2010 by Marianne Combs
Filed under: Theater
It's said the finest form of flattery is plagiarism.
In the theater world, it's more along the lines of "would you come show us how you do what you do?"
Michelle Hensley, artistic director of Ten Thousand Things - the Minnesota theater company known for bringing theater classics to homeless shelters, drug rehab centers and prisons - will be directing Shakespeare's Measure for Measure for The Public Theater in New York in the coming weeks. As with a typical TTT production, the show will tour men's and women's prisons, a center for battered women, an inner-city high school and a center for the elderly.
The Public Theater is calling its new program "The Mobile Unit." The New York theater already has a strong commitment to bringing Shakespeare to the masses for free through its "Shakespeare in the Park" series.