Guthrie announces small surplus - but fewer people in seats
Posted at 6:30 PM on July 19, 2010 by Euan Kerr
Filed under: Arts management, Theater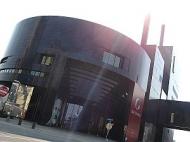 It could have been much, much worse, given the economy. The Guthrie released its annual report for fiscal year 2009-2010 this evening and while attendance dropped slightly the Minneapolis company finished the year with a slight surplus.
The Guthrie began the year with the much anticipated and critically acclaimed Tony Kushner Festival, rolling out a total of 21 theatrical productions, plus a couple of WorldStage shows, including the successful "Brief Encounter."
The Guthrie filled almost 436,000 seats during the fiscal year, a drop of about 27-and -a-half thousand over the previous year. When all concerts, training and other events are included it did mount more productions - 45 compared to 41 the year before. The Guthrie ended up with a surplus of $134,000 on a $23.5 million budget.
Guthrie Artistic Director Joe Dowling is expected to announce plans for his own future at the Guthrie's annual meeting this evening.

Podcasts
Services