Posted at 10:06 AM on June 28, 2010 by Marianne Combs (2 Comments)
Filed under: People, Sculpture

Emerson's Parlor, 2005 by Siah Armajani
Image courtesy of maxprotetch.com
The McKnight Foundation has named Minnesota-based sculptor Siah Armajani as the 2010 McKnight Distinguished Artist.
The award, which includes $50,000, recognizes individual Minnesota artists who have made significant contributions to the quality of the state's cultural life.
Locally, Armajani is best known for the bridge he designed joining the Walker Art Center's sculpture garden to Loring Park.

The Irene Hixon Whitney Bridge, built by Siah Armajani in 1988
Image courtesy of the Walker Art Center
Inspired by architecture and democratic ideals, Armajani has created footbridges, benches, reading rooms and gazebos which serve the public worldwide. Many of them are imprinted with text.
Born in Tehran in 1939, Armajani moved to the United States in 1969, and graduated from Macalester College in 1963. He lives and works in Minneapolis. Armajani is notoriously shy, refraining from interviews with the media, and public appearances
"Siah Armajani is one of Minnesota's great assets, an ambassador to the world," says Kate Wolford, president of The McKnight Foundation, "One fundamental role of great art is to help us interpret and understand our world. Never shying away from reality as he sees it, Siah shines a spotlight on life's challenges and inequities. He unites humankind's hardest truths with the optimism that we can do better, if we acknowledge and understand the bridges that brought us here."
While we agree that Siah Armajani is a high profile international artist based in Minnesota, the arts and culture unit at Minnesota Public Radio is scratching its collective head over the McKnight Award. Has Armajani made a "significant contribution to the quality of the state's cultural life?"
What do you think?

(
2 Comments
)
Posted at 1:32 PM on June 28, 2010 by Marianne Combs
Filed under: Minnesota Poets, Poetry
Richard Solly has authored/coauthored three books, and his poetry has received numerous awards, including fellowships from the Bush Foundation and the Minnesota State Arts Board. Solly currently works as a senior acquisitions editor for Hazelden Publishing, teaches creative writing at The Loft Literary Center, and does community service work in the areas of hospice and arts-in-health care. He lives in St. Paul, Minnesota.

The Body Reproaches the Soul
And if the body were not the Soul, what is the Soul?

- Walt Whitman
Have you forgotten? I gave birth to you,
bound your wings to my shoulders. My flesh
created desire, the word More, your quest.
Inside muscles and neurons, you reside
not as prisoner, but as strength, energy.
On evenings, when my legs raced down corn rows,
pumped a swing into the crisp air, you named
the sensations - sweat, heart beating, taste of salt
on lips - heavenly. Then, you forgot. For years.
And imagined God bodiless and everywhere.
Now you seek to fly above the earth's density,
leave behind toenails, stubble, teeth, and escape
through some aperture in the sky. Why?
Here, we taste strawberries, mangoes, plums,
see orioles, smell peonies, dahlias, fuchsia.
Have you forgotten which came first:
the iris or beauty? The kiss or love?
My blood flows through your abstractions;
bones shelter them. Even in the afterlife,
the body's not excluded. It doesn't turn to ash
but reassembles, cell by cell. Then it stands
on tiptoe, picks peaches from a branch.
Don't panic. I'll carry you on my shoulders
into a garden; everyone we have loved will follow,
wearing the familiar flannel shirts, jeans,
lace collar. Dogs will bark, leaves will fall.
It will be a good day like any other.

- "The Body Reproaches the Soul" by Richard Solly, as printed in his collection From Where The Rivers Come, published by Holy Cow! Press.
Posted at 4:30 PM on June 28, 2010 by Euan Kerr
Filed under: Music, Writing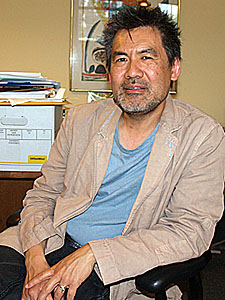 After you finish Chris Roberts' excellent piece about Prince's relationship with his hometown, you might want to spend a little time with David Henry Hwang's wonderful post about the joys (and challenges) of working with his purple idol.
Hwang, (right) a playwright who has his own deep-seated relationship with the Twin Cities, and in particular Theater Mu, became a Prince fan upon hearing "Dirty Mind" in the early 80's.
He was overjoyed when he learned Prince had gone to see a productions of his play "M. Butterfly" on Broadway, but he was not prepared for being approached about collaborating on a musical.
It didn't work out quite as he had expected, but it's a fascinating tale of how talents can, if not merge, at least ricochet in intriguing ways.