Posted at 8:15 AM on June 14, 2010 by Marianne Combs
Filed under: Minnesota Poets, Poetry
Louis Alemayehu is a poet, musician and a community elder. He is a founding member of the musical group Ancestor Energy, and recently began working with Environmental Justice Advocates of Minnesota. He also informally counsels youth of all backgrounds, including Latino, Hmong, Native, African American and Euro-American heritage.
In light of the ongoing news of the BP oil spill, it seemed fitting to share Alemayehy's poem "The Holy Land is All the Earth:"

The Holy Land is All the Earth
Some times I hardly know what to say
In this High Tech Dark Age:
"...and one day a Sun will rise with healing in its wings."
And loving dew will sparkle on our bare flesh,
Innocent, naked...
Do you know the way from here to there dear friend?
Through the storm?
Are the rocks still screaming ?
When I am silent, really quiet
I hear voices:
The Holy Land is all the Earth
And all the Earth is holy.
The Earth is our only physical home... Creation,
Yes, all the Earth is holy:
The water - holy,
The air - holy,
The creatures that crawl and the creatures that swim - holy,
The 2-legged and the winged - holy,
Let us touch with kind hands
Blessing all that lives,
All that laments.
Rise! Be robust and brave in the face of dawn.
YOU are the face of Dawn,
Face it!
Integrity of Water, Light and Love can sustain us now.
THIS is the Fire Next Time
NOW, at last real power!
And the new world begins on this breath.
Breathe...
Now is the time, now is the time
Embracing in the silence of our after-weeping,
Resting on the breast
Of Our Mother's Sacred Heart
Beating, beating, beating...

"The Holy Land is All the Earth" Louis Alemayehu, written in 2007. Reprinted here by permission of the author.

Posted at 6:30 PM on June 14, 2010 by Marianne Combs (1 Comments)
Filed under: Funding
It's an exciting night for the Bush Foundation, and for 18 regional artists.
The foundation is presenting its annual Enduring Vision Awards to three, established, mid-career artists, which includes a check for $100,000. The Enduring Vision is the only award of this size and intent in the country.
The goal of the Enduring Vision awards is to support artists at a time in their careers when they're often neglected by funders. The money is intended to carry them through what could be the most productive part of their lives, when they're in their 50's, 60's and beyond.
In addition, the foundation is choosing 15 artists for fellowships that include checks for $50,000.
In total, that's $1,050,000.
While the ceremony is underway at the Minneapolis Central Library, you don't have to be there to find out the winners.
This year's Enduring Vision Awards go to Lakota collage artist Arthur D. Amiotte, Lao weaver Bounxou Chanthraphone. and photographer Paul Shambroom.

Collage art by Arthur D. Amiotte

Arthur D. Amiotte is a Lakota artist and art historian. Born and raised on the Pine Ridge Reservation in South Dakota, Amiotte captures and preserves the history and culture of the Sioux people in his collages, incorporating images and text from his great-grandfather, the artist Standing Bear. Amiotte documents the changes his people had to make to adapt to farming, ranching and the reservation lifestyle. Amiotte has lived and worked at Claude Monet's residence in Giverny, France and has received two previous awards from the Bush Foundation.


Detail of a weaving by Bounxou Chanthraphone
Bounxou Daoheuang Chanthraphone emigrated to the U.S. in 1982 after years of living in a refugee camp. A native of Laos, Chanthraphone learned weaving from her mother and grandmother. But as war tore apart her country in the 1970s, she fled for Thailand. Not just a survivor, she spent her time in Ubon Refugee Camp teaching other women to weave, enabling them to earn a living. She and the other women eventually raised enough money to build a school for refugee children. Here in the United States Chanthraphone has continued to contribute to society, teaching traditional Lao weaving to youth and adults, and helping found a Lao community center in her home of Brooklyn Park.

Photograph by Paul Shambroom
Photographer Paul Shambroom has spent over 20 years documenting democracy, security and power, taking viewers from small-town meeting halls to missile silos to training facilities where First Responders prepare for anticipated terrorist attacks. Shambroom's work often involves letter-writing campaigns to grant him - and his camera - access to places most citizens would never otherwise see. In the process of documenting America's pre-occupation with protecting itself, Shambroom raises questions about fear, safety and liberty. Currently Shambroom is exploring the use of decommissioned military weapons as shrines for those who died in combat.
While the Enduring Vision Awards provide established artists with a certain measure of stability to continue along a path they've created for themselves, Bush fellowships for emerging artists often give them the step up to help figure out where exactly they're headed.
This year's fellows include 15 different artists or artistic teams who focus on visual arts, media arts, and traditional, functional crafts.

Artist Nate Young
Nate Young is a multimedia artist who works with whatever materials seems to fit the occasion, whether it's video, drawing, textiles or a performance piece. Young says getting a fellowship means he'll be able to work for more extended periods of time, not just two to four hour bursts.
It's a little bit of freedom - life is hectic. I'm an artist, I work a day job to support my art, and then I'm a single parent. Having a Bush fellowship means I get to focus more on the art for a while.
Young says he wants to use his newly found "breathing room" to work on making his artistic career more sustainable. That means finding a permanent space to work in, and maybe creating a gallery space/cooperative with other artists.

Mosaic artist and muralist Lori Greene
Lori Greene runs "Mosaic on a Stick" in St. Paul. Working with volunteers she's decorated several large planters along Snelling Avenue with colorful mosaics. She says one of the things she wants to do is to add a non-profit arm onto her business, to enable her to do more community projects on a larger scale.
I've already created a community space here, but I'd really like to be able to offer it to everybody at every income level and maybe create some kind of training system so people can develop a skill they don't have that provides more work or a new opportunity.
Greene is inspired by places like the Village of Arts and Humanities in Philadelphia and Project Row Houses in Houston. Both are "art villages" that combine arts activiities, social services and housing to create community through an active celebration of art and culture.
It should be noted that while the Bush Foundation is giving away more than a million dollars to individual artists this year, it has cut its Regional Arts Development Program, which has given close to $20 million to mid-size arts organizations since it was created in 1996.
(
1 Comments
)
Posted at 2:46 PM on June 14, 2010 by Euan Kerr
Filed under: Arts management, Music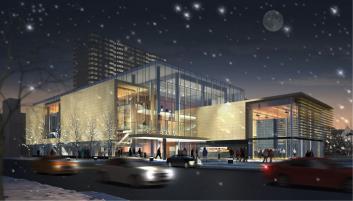 Architects rendering of the proposed expansion of Orchestra Hall in Minneapolis (Image courtesy Minnesota Orchestra)
The Minnesota Orchestra announced today that a $5 million donation from Target Corporation means it now has enough to fund the $40 million dollar expansion and renovation of Orchestra Hall in Minneapolis.
"It quite clearly shows that we have an exciting viable project that is very clearly going ahead," Orchestra President and CEO Michael Henson said today.
The State of Minnesota contributed $14 million in bonding money, and the Orchestra has raised another $29 million in private funds.
The fundraising will continue as the Orchestra works to complete its larger $100 million capital campaign. It's already pulled in $82 million towards that goal.
Henson says the Orchestra and the architects are still working on a myriad of details, so they have not announced a groundbreaking date yet, but he says the project is on track to re-open in June of 2013.
Orchestra Hall will have to close for a year while the work is done, and one of the challenges facing the organization is maintaining a full subscription series for the hometown audience in other halls around the Twin Cities.
Incidently Target now has naming rights on the new lobby and the expanded terraces outside the renovated hall.
Posted at 3:40 PM on June 14, 2010 by Euan Kerr
Filed under: Music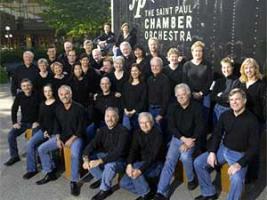 For the second year in a row musicians at the Saint Paul Chamber Orchestra have agreed to a pay cut as a result of the poor economy. Last year the musicians took a 12 percent cut. This year it'll be 11.3 percent.
In a release this afternoon SPCO officials say management approached the musicians in February about helping with meeting the current financial challenges, and after numerous meetings the players agreed to the reduction on June 8th.
The salary reductions come on the heels of the announcement that senior management will continue to take a 10 percent pay reduction through the 2010-2011 season, and will not receive retirement account contributions.