Posted at 11:31 AM on April 15, 2010 by Marianne Combs
Filed under: Theater

Images from some of the 20 different plays on stage as part of Bedlam's 10-minute play festival.
Even after 17 years, it's hard not to think of Bedlam Theater as "the new kids." The energy, idealism and creativity the company brings to its work seems more typical of a teenager than an established non-profit. Their venue, located right on a lightrail stop in the Cedar-Riverside neighborhood of Minneapolis, is part theater, part community-center, and part social lounge.
This year that energy and idealism won the theater a Sally Award. But the company shows no signs of sitting back and relaxing now that it's earned some accolades. This Friday marks the opening of its annual ten-minute play festival, and the line-up looks more diverse than ever.
I met with Co-artistic Director Maren Ward to talk about the festival, and how it fits in to Bedlam's overarching goals of fostering new talent and connecting with the local neighborhood. She says the festival started out, and continues to serve, as a sort of in-depth general audition - it's how the staff meets a lot of its actors.
It's also a community builder in that connections are made across genres and disciplines and many people form relationships that they continue outside of the festival. That sounds like its a big hook up session. It is! Artistic hookups.
Over the years the range of people participating in the festival has continued to expand. Ward says she's particularly proud of the inclusion of a play written by participants in Bedlam's CRAZY program (Cedar-Riverside Art Zone for Youth). In addition, one third of the pieces in this year's festival are created or directed by artists who identify as queer. And another addition: Bedlam is collaborating with the Playwrights' Center, bringing in new writing talent. Last but not least, Tru Ruts is presenting an evening of ten minute Hip Hop theater pieces; it's a teaser for their Hip Hop Theater Festival coming to Bedlam in the fall.
Playwright Reggie Edmund, who has a show described as a "hip-hop monologue" in this year's festival, says he loves the diverse voices Bedlam brings together.
This event recharges me, as an emerging artists of color in an industry where there is often a sense of powerlessness, Bedlam gives that power back to the writers and the creators and that is truly an amazing thing to be a part of.
Edmund says through the festival production process he's learning to trust his voice. And he enjoys the structure and challenge of the ten-minute play.
The difficulty with the ten minute structure is similar to that of an artist painting a picture, you have to trust yourself that you don't need huge sweeping moments with the brush upon the canvas to make it into a masterpiece, but rather small delicate details are what truly make your art beautiful.
Still, with so many shows, and so many people involved, doesn't the play take a toll on the energy and enthusiasm of the staff? After all, they aren't "the new kids" anymore.
Co-Artistic Director Maren Ward says it's quite the opposite.
The pay off is in the numbers of people, artists, audience, volunteers who come through the doors to make this happen and who in one form or another keep coming back. The creativity that fills every crevice during the rehearsal period continues to feed us throughout the year.
After seventeen years, that's saying something.


Posted at 4:15 PM on April 15, 2010 by Marianne Combs (1 Comments)
Filed under: Galleries

Stilts, Sulfur Mine Island, Daniel Kariko
Take a look at a group of paintings by Van Gogh, and when you come across his still life of sunflowers you're likely to think "aah, sunflowers." But take a look at twenty different paintings of sunflowers first, and upon seeing this same painting you're more likely to think "aah, Van Gogh."
So it is when two different artists approach the same topic, you learn as much about the artists as you do the subject.
It's this juxtaposition that drew Karen and Stephen Sugarman of Gallery 13 to assemble the exhibition "Terra Absentis," featuring the artwork of Daniel Kariko and Michael Eble.
Both artists are captivated by and concerned with the destruction of natural wetlands in Louisiana.
Kariko approaches his subject on foot, with a camera; Eble comes at the wetlands with a paintbrush, from the air.

Frontland, Michael Eble

Reflection, Trinity
Daniel Kariko
Stephen Sugarman says pairing the two artists work gives us a double-perspective. He akins it to looking at a beautiful color map, with photographs taking us to places on the map
Eble gives you this expansive view while, Koriko gives you a close-up of what's on the ground. I like the contrast between black-and-white polaroids and these paintings. Painting and photography have an interesting relationship to one another that doesn't get highlighted very often. Photography is seen now as more technical, more real, while painting is considered more of an abstraction. But that's not true. They're both abstractions, both artists choose how much to show you, and how they frame the image
Sugarman says the two artists' work have more in common than just their subject. Eble starts with a digital camera when he's flying over the wetlands. And Koriko, Sugarman insists, is "painting with light" when he uses his barebones pinhole camera.
Kariko creates a nostalgic feel with his raw polaroid framing and stark lighting. If one didn't know better they might think his photos were from the WPA project in the 1930s, documenting the depression. But no, this is today. In an artist statement, Kariko writes:
These pinhole photographs were taken ...in the aftermath of recent hurricanes. Louisiana is experiencing the highest rate of coastal erosion in America, losing about one hundred yards of land every thirty minutes. That is a size of a football field every half-hour.


The barrier islands of Southeast Louisiana are some of the youngest and most unstable landforms on earth. These Islands represent the "First Line of Defense" against such hurricanes. Our, often adversarial relationship with the world outside ultimately reveals our inability to adapt to the natural process. We stop the flooding of rivers by building levees, yet that destroys the wetlands that protect us from storm surges. These photographs set out to illustrate the results of such failed relations.

Parallel Passage, Michael Eble
Eble's images also draw in the viewer, but his paintings do it with lush colors rather than nostalgic black and white. From a distance the paintings look like they could be photographs, but upon closer inspection they reveal rough, jagged strokes that speak to the violence with which the land has been broken up by man-made waterways. He writes:
I found that the images taken from the air to be the most compelling. From the air, I could fully comprehend the vast scale of the problem and see the delicate relationship between land and water.
Both artists are obviously inspired not just by their medium, but the message as well. Using different tools and different palettes, they call our attention to the same piece of land that's slowly slipping away.
Stephen Sugarman says it's the role of the artist to bring our focus in gentle ways to issues such as the environment.
People somehow think that the ecological movement is underway and we can all be optimistic about the future, but I think it's way too soon for that. I hope as a result of this exhibition they'll think more about another part of the country which has problems. Katrina was a wake-up call - but we fell back asleep a year later.
"Terra Absentis: Louisiana's Disappearing Landscape" opens tomorrow night and runs through May 9.

(
1 Comments
)
Posted at 8:25 AM on April 15, 2010 by Chris Roberts
Filed under: Art Hounds, Music, Public Art, Theater
Art-O-Mat at the Meridien Chambers Hotel in Minneapolis.
The hounds tell us about swapping art the size of a cigarette pack, a Richard Strauss opera about the woman who falls in love with a biblical figure's severed head and a pair of intrepid, sibling sleuths who were a big hit at the Fringe.
(Want to be an art hound? Sign up!)


Satoko Muratake is a big believer in Art-O-Mat, a North Carolina-based project which converts cigarette vending machines into dispensers of original art the size of a pack of Marlboros. Satoko, who is arts project coordinator for Juxtaposition Arts in Minneapolis, reports that Art-O-Mat founder Clark Whittington will be at the Meridien Chambers Hotel (which is home to one of these Art-O-Mats) in Minneapolis on Saturday, April 17th from 1-4:30pm, to facilitate an Art-O-Mat 'Swap Meet.' Local artists are invited to view, trade and discuss their work.


Scandalous? Of course. Erotic? Check. Gruesome? Yep. "Salome" is an opera of biblical proportions with all the ingredients to keep Twin Cities improv artist Jill Bernard glued to her seat. Jill is excited to see how the Minnesota Opera interprets Strauss' classic work, which is on stage at the Ordway April 15th, 18th, 20th and 24th.


Jen Scott is an actress and improvisor in Minneapolis/St. Paul who teaches improv theater at Brave New Workshop and Childrens' Theater Company. Jen couldn't be happier that the number one hit from last year's Minnesota Fringe Festival, "The Harty Boys in the Case of the Limping Platypus," is returning to the stage at Bryant Lake Bowl in Minneapolis this weekend and next. She says it's family friendly with a stupendous cast including Ari Hauptman, Leslie Ball and Andy Kraft.
Posted at 6:33 PM on April 15, 2010 by Euan Kerr (1 Comments)
Filed under: Arts management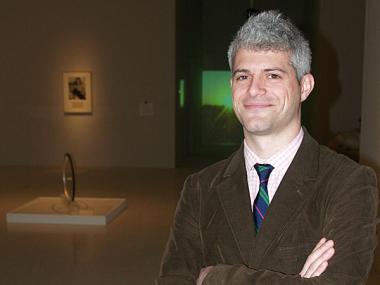 The Walker Art Center says Visual Arts Curator Peter Eleey is leaving to become Curator of P.S.1 Contemporary Art Center, an affiliate of The Museum of Modern Art, in New York. He starts his new job in July.
Eleey joined the Walker in March 2007 and he oversaw the Walker's major exhibit on conceptual art called "The Quick and the Dead."
Eleey follows the Walker's former Chief Curator Phillipe Vergne to the Big Apple. Vergne left to head up the Dia Art Foundation in the middle of 2008 and in 2009 he hired away Associate Curator Yasmil Raymond.
The Museum of Modern Art also created a position of Associate Director specially for former Walker Art Center Director Kathy Halbreich.
(
1 Comments
)