Posted at 6:45 AM on February 18, 2010 by Chris Roberts (1 Comments)
Filed under: Art Hounds
This week, the hounds lead you to theatrical presentations of a Dutch master's masterpieces, a funky childrens' film series, and a band in touch with its urban and rural roots.
(Have an event for Art Hounds? Tell us here!)

Laura Borgendale is a musician and songwriter from Montevideo. Laura loves the folky, funky stylings of the Field of Medicine Band, which features musicians from Montevideo and Minneapolis. The group performs Saturday night at the restored art deco Hollywood Theater in Montevideo. It's part of a benefit for the non-profit, Clean Up the River Environment.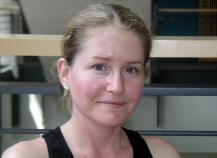 Britt Aamodt is an arts journalist who lives in Elk River. Britt can't wait to see Commedia Beauregard's production of "Master Works: The Rembrandt Plays." It features 6 playlets from different local playwrights who translated Rembrant paintings for the stage. Commedia Beauregard is already held in high regard by Twin Cities' "trekkies" for its holiday show, "A Klingon Christmas." "Master Works" is on stage Feb. 19th and 26th at the Bryant Lake Bowl.

Malia Cole is communications manager for Childrens Theatre Company. As a parent who wants to help her daughter escape the wasteland that is Saturday morning T.V., Malia was overjoyed to discover "Childish Films." It's a series of high quality educational and fictional childrens' films screened every third Saturday of the month at 10:30am at the Minneapolis Central Library. The installment for this Saturday, Feb. 20th is "Playmation." It's a program of experimental animation curated by Walker Art Center staff.
(
1 Comments
)
Posted at 5:38 PM on February 18, 2010 by Chris Roberts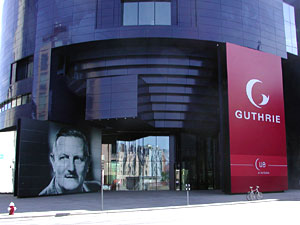 The American Recovery and Reinvestment Act has left a sizeable imprint on the Minnesota arts scene. Last year, the program allocated 50-million dollars to the National Endowment for the Arts to preserve and sustain arts-related jobs that were hemorrhaging across the country.
Two government agencies, the N.E.A. and the Minnesota State Arts Board, and one Minneapolis-based philanthropic organization, Midwest Arts, distributed the funds in Minnesota.
The N.E.A. gave out 1,025,000-dollars to 26 Minnesota arts groups, including the Guthrie Theater (above), The Eastside Arts Council in St. Paul and Coffeehouse Press. Midwest Arts issued three grants totaling 45-thousand dollars, and the State Arts Board awarded 361,200-dollars in grants to 18 recipients across the state.
If our addition is correct, Minnesota's share of the stimulus pie in grant form adds up to 1,386,200-dollars.
State Arts Board Executive Director Sue Gens says the money was geared toward preserving arts jobs that had been eliminated or were in danger of being eliminated--all except fundraising jobs.
"So it might have been a marketing position," Jens said. "It might have been an artistic director. It might have been the education manager, who plans all the residencies. In some cases, it was the actual artists."
Taken together, Jens says the grants have saved dozens of jobs.
"We believe 180 jobs in the arts that would have been either eliminated or perhaps downsized are still there now, or have come back," she said. "In some cases we had requests from organizations that had already laid off a staff person and wanted to bring that person back."
Jens says Minnesota has done very well in securing stimulus money for the arts, especially compared to other states. She sees it as part of a hard won recognition by Washington of the importance of the state's billion dollar arts economy. When you add the two million dollars in stimulus money the city of Minneapolis bequeathed to the Shubert Theater restoration, you're up to well over three million in American Recovery and Reinvestment largesse for Minnesota. Not bad for a flyover state.