Posted at 8:40 AM on February 1, 2010 by Marianne Combs
Filed under: Minnesota Poets, Poetry
Greg Hewett teaches American literature and creative writing at Carleton College. He has written three four books of poetry: To Collect the Flesh, Red Suburb , The Eros Conspiracy and darkacre. His poem "Modern Living" is one of several published in Red Suburb that turn a sardonic eye on the era of his youth and the initial idealism of the suburbs.

Modern Living
It was all so modern then
when everything was so
modern. Low-slung homes
arranged in neighborhoods of
cul-de-sacs, endless front
lawns, shrubs cut like onyx.
With the whoosh of sliding
glass we came pouring out
from family rooms as big as ships
to shoot up high
into the stratosphere
bright balsa-wood rockets
we hoped would land
in a blue-eye
swimming pool with
a triumphant splash.
Now these patios and pools are pitted
and cracked. Hunks of concrete
lie in yards of crabgrass.
The perfect yews have winter burn,
have taken on gothic shapes.
They tower above the split-
levels like shadows with lives
of their own. They threaten
picture windows as if
everyone has simply grown tired
of the perfect view.

-- "Modern Living" by Greg Hewett, as it appears in Red Suburb, published by Coffee House Press.
Posted at 10:42 AM on February 1, 2010 by Euan Kerr (1 Comments)
Filed under: Culture, Media, Music, People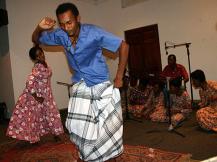 In December we ran a feature on a long ignored group of musicians in Sri Lanka.
The Kaffirs are descendents of Africans brought over by Portuguese colonists hundreds of years before. Producer Jesse Hardman who told us the story, also left a pile of CD's of the show he arranged for the group in Colombo for us to give away.
All but five have now gone. If you would like one please email me. First come, first served.
(
1 Comments
)
Posted at 12:14 PM on February 1, 2010 by Marianne Combs (1 Comments)
Filed under: Events

P.O.S. performs at First Ave as part of The Current's 5th birthday party. Photo by Kyle Matteson.
Some weekends go by without a second thought... others deserve further reflection. This was one of those.
First off, the weekend got started with what, by all accounts, was a rockin' good party. The Current's fifth birthday was marked by not just a great line-up (Solid Gold, Mason Jennings, P.O.S...) but also by appearances by both Twin Cities' mayors AND the purple one himself, Prince.
Saturday, the Minnesota Book Awards Finalists were announced. Some of the more standout names: Kevin Kling (for his memoir Holiday Inn), N.M. Kelby (for her novel A Travel Guide for Restless Hearts), Dara Moskowitz-Grumdahl (for her guide to wine Drink This: Wine Made Simple), mystery writer John Sandford (for his thriller Rough Country), and Kate DiCamillo (for her novel for young readers, The Magician's Elephant)...not to mention poets Dobby Gibson, Ray Gonzalez, Joanna Rawson and Jude Nutter.
Then Sunday was Grammy night, which brought some of its own Minnesotan delights. First off, Minneapolis born Sharon Isbin took home a Grammy for Best Instrumental Soloist Performance for her CD Journey to the New World. Then there was the t-shirt sighting. Twitter was all... well, atwitter with the news that Ringo (yes, THAT Ringo) was spotted wearing a t-shirt from local record store Electric Fetus. Evidently it was a gift from his nephew.
All of this creative and cultural activity over the course of a single weekend got me to thinking once again about this past month's debate (hosted by MinnesotaPlaylist and MNArtists.org) about "the Minnesota style." How to quantify something so diverse, and so healthy? Is it because, as Andy Sturdevant suggests, we are a cultural "outpost?"
And at this morning's arts and culture confab, in response to the Ringo-t-shirt news, colleague Chris Roberts wondered "when are we (as a community) going to accept the fact that we're cool? Why are we still so surprised when we get national attention? Why do we still need outside approval?"
Thoughts?
(
1 Comments
)