Free CDs of a unique moment in music
Posted at 11:51 AM on December 31, 2009 by Euan Kerr (14 Comments)
Filed under: Culture, Dance, Music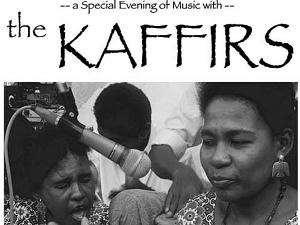 Poster produced for the concert recorded in the Sri Lankan capital of Colombo (Image courtesy Jesse Hardman)

Last night on the local broadcast of All Things Considered you may have heard an interview with Minnesotan journalist Jesse Hardman. He told the story of how, while working in Sri Lanka, he came across a small enclave of people who are descendents of soldiers and laborers brought from African in the 1500s.
Despite six centuries of disconnection from their roots, they have maintained their cultural identity, including a musical tradition of singing in a Portuguese creole. The music which sounds distinctly African is played on simple homemade instruments. Each song mounts in a crescendo which culminates in some of the singers leaping to their feet and dancing.
Jesse Hardman and his news team recorded one of the concerts by the group which calls itself the Kaffirs. He produced a CD called "Kaffir Manja," and shipped most of them to Sri Lanka where they are now available at concerts.
However he did leave some at MPR to give away. So I have 17 copies of the disc available. The first 17 commenters on this post who indicate they want a copy, will get one free of charge.
Comment away!
---
Comments (14)
The story was very thought provoking and I loved the music. I'd love a free CD if still available. I'm a member so my address should be in your database if you need it. Thanks. Happy New Year!
---
great story, I would like to get a cd!

---
Very cool. I would love a CD! Thanks!
---
Oh, I would love a copy! Thank you!
---
I would like a copy if there are still any available! Thank you!
---
I'll take a CD. :)
---
I'd love a copy
---
I am very excited to get a CD. I found myself on the side of the road ( I had to pull over becuase I was so intersted in the story of the writer's friend who met the musicians for the first time and how thier encounter left him speechless) I have been looking around on the internet for his story and more information, being able to have a CD and experience the Kaffiers musical culture would be amazing!
---
thank you for the offer. if there are CD's left i would like one. if not would you tell me where i might purchase one? thank you.
---
I'd be fascinated to hear this and perhaps share it with my grand nephew who is a musician. Would love the CD if still available.
Thanks!
---
I'd love a copy of the cd....thank you for the offer!
---
How interesting! I'd enjoy the CD if any remain.
---
I see that there are only 12 comments, so I'm hoping that there is a CD or two left. Six centuries of keeping a tradition - mind boggling! Thank you for the glimpse into a rare culture.
---
Please send latest free CD offer to:
Marianne Baumgarten
4336 Buckingham Ct.
Vadnais Hts. MN.55127
Thank you!
---