State of the Arts: December 31, 2009 Archive
Posted at 8:08 AM on December 31, 2009 by Chris Roberts
Filed under: Art Hounds
This week, our Art Hounds look back at their visual art and music highlights of the year.
(Want to be an Art Hound? Sign up!)

Marya Hart, Minneapolis
Heiner Goebbel's "Songs of War I Have Seen,"
performed in Saint Paul last January by the London Sinfonietta and the Orchestra of the Age of Enlightenment as part of SPCO's magnificent chamber orchestra festival. This piece, which uses spoken text from Gertrude Stein's "Wars I Have Seen" was marvelously performed and staged beautifully on a dark set lit with table lamps and dotted with the primary colors of the musicians' clothing. "Songs of War I Have Seen" is a moving, intellectually challenging and masterful reflection on the impact of war on civilians.

Matt Peiken, Minneapolis
Beyond the major open studio tours in Minneapolis and St. Paul, visual
artists here took control of their own destinies
and presented their work like never before. Many banded into collectives to throw single-evening events (Traffic Zone and the Grain Belt's VD09 in Minneapolis, the Dow Building in St. Paul). Others formed new co-op galleries (Sellout, Art of This). Even businesses got in on the act (Fox Tax and Conduit Gallery in the office of Dr. Sam). These and other examples kept the local visual arts scene vibrant from the ground up.

John Grider, Minneapolis
Save Canvas was public, free, and utilized vacant spaces that would have otherwise remained useless. Also impressive in that it was organized by people under 30.
Bill Simenson, St. Paul
Dafnis Prieto at the Walker Art Center was a stellar performance by an incredible musician who also happens to be an amazing drummer. A blend of traditional and modern Afro-Cuban music with jazz. A remarkable concert.
Dawn Mikkelson, Stillwater
Bobby McFerrin is incredible in his own right, but then directing an improvisational piece with the amazing musicians of Cantus was just too amazing. Then McFerrin directed the packed Orchestra Hall in 5+ part harmony singing Ave Maria and random other songs that we had no idea we all knew. Beautiful genius.
Lucy Yogerst, Minneapolis
Paul Metsa's contributions to the music of our times, with his network of gifted musicians, was enthusiastically appreciated by a sold-out house at his 30th anniversary concert. His unique blend of artistry, poetry, collaboration and showmanship kept the crowd jumpin' past 1:30a.m.
Drew Christopherson, Minneapolis
When Minneapolis's finest, Skoal Kodiak, played on the University foot bridge over the Mississippi in September. With the downtown skyline behind them and the blue glow of the 35W bridge above them, it really felt wonderful to be a resident here. About 75 people, all dancing, shared this wonderful experience with each other with huge smiles of joy.
Sarah Lovan, Minneapolis
13th annual arts and artist celebration at Franconia Sculpture Park had it all: Great sculpture, music, food, dancing, and people. And, a beautiful day...what could have been better?

Lin Nelson-Mayson, Golden Valley
The Goldstein Museum of Design exhibition "Good Design: Stories of Herman Miller." This all-encompassing exhibition told the inside story of the influential and innovative furniture company. It featured the people behind the classic designs and the overarching philosophy that created a people-centered business. The exhibition was a colorful, interactive history bursting with good design!
What were your arts and culture highlights of the year? Tell us in the comments!
Posted at 8:24 AM on December 31, 2009 by Marianne Combs
Filed under: Events

Sauce Spirits and Soundbar is one of the many venues offering up entertainment for your New Year's Eve celebration
I admit - I will be spending New Year's Eve at a neighbor's house, within easy walking distance of home, enjoying good food, some wine, and maybe a game of Trivial Pursuit. But if you dare venture a little further out into the night, there are more than a few things to choose from...
Sauce Spirits and Soundbar presents a full line-up of music, including Mystery Palace, Lookbook, Estate and Beatrix Jar. Cover is $10 (which includes a drink ticket) and there's free champagne at midnight.
For the 18+ crowd, First Avenue hosts "New Year's Eve 2010 - Deep Space Danceteria," featuring Total Eclipse at Midnight, a Champagne Toast, and a Moonwalk Contest. All this hosted by TV's "Drinking With Ian."

Bryant Lake Bowl offers two performances to choose from on New Year's Eve. At 7pm and again 11pm you can catch "The Scrimshaw Brother's New Year's Eve Comedy Workout" during which they'll try to make up for all the exercise they didn't do the other 364 days out of the year.
Starting at 9pm, Bedlam Theater presents a New Year's Eve Masquerade Ball, featuring the Mahadrin Klezmer Ensemble, DJ Asylum Soundsystem and Dreamland Faces. Prizes will be awarded for the best mask.
For those with cash to burn, the Dakota Jazz Club has a full line-up for the evening, starting at 5:30pm with Paris Strother on piano. Then, while the dinner-set dines on a four-course creation by "Chef Jack," Jevetta and Jearlyn Steele are joined on stage by Sanford Moore. Finally, at 10:30pm, Irvin Mayfield takes the stage with his quintet for some lively horn playing. (FYI - Mayfield's performance will be broadcast live as part of NPR's Toast of the Nation). The whole evening's entertainment - including dinner - will set you back $200... per person.
Current DJ Steve Seel has a few other items to add to the list...
The New Standards will perform at Hotel Minneapolis's New Year's celebration, which features a "Mad Men" theme.
Lee's Liquor Lounge is putting on a "Rockstravaganza" with Current DJ Jill Riley, Lucy Michelle and the Velvet Lapelles, and E.L.nO. providing an all-star E.L.O. tribute.
Varsity Theater presents the always energetic Mark Mallman, along with White Light Riot, First Communion After Party and Koo Koo Kangaroo.
Solid Gold heads the line-up for "2010: The Year We Make Contact" at the Marriot City Center Grand Ballroom. It's a party you can feel good about, as it benefits the music programs at Edison High School in Minneapolis.
Got other plans for New Year's Eve? Let us know!
Posted at 11:51 AM on December 31, 2009 by Euan Kerr (14 Comments)
Filed under: Culture, Dance, Music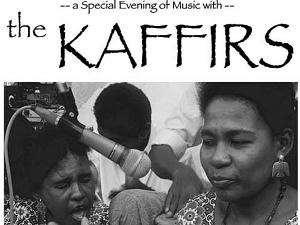 Poster produced for the concert recorded in the Sri Lankan capital of Colombo (Image courtesy Jesse Hardman)

Last night on the local broadcast of All Things Considered you may have heard an interview with Minnesotan journalist Jesse Hardman. He told the story of how, while working in Sri Lanka, he came across a small enclave of people who are descendents of soldiers and laborers brought from African in the 1500s.
Despite six centuries of disconnection from their roots, they have maintained their cultural identity, including a musical tradition of singing in a Portuguese creole. The music which sounds distinctly African is played on simple homemade instruments. Each song mounts in a crescendo which culminates in some of the singers leaping to their feet and dancing.
Jesse Hardman and his news team recorded one of the concerts by the group which calls itself the Kaffirs. He produced a CD called "Kaffir Manja," and shipped most of them to Sri Lanka where they are now available at concerts.
However he did leave some at MPR to give away. So I have 17 copies of the disc available. The first 17 commenters on this post who indicate they want a copy, will get one free of charge.
Comment away!
(
14 Comments
)
Posted at 2:00 PM on December 31, 2009 by Marianne Combs
Filed under: Events
It was a year marked by the economic recession, and one that took its toll on arts organizations both big and small. In addition we lost some local luminaries. But amidst it all there was some good news too. Read on for a recap of the major moments of 2009...
January
St. Paul Chamber Orchestra hosts what's believed to be the first ever International Chamber Orchestra Festival.
Heart of the Beast Mask and Puppet Theater is dark for all of January and half of February, and temporarily lays off its staff in an attempt to trim $200,000 from its budget.
February
Poet, pianist, and essayist Bill Holm dies at the age of 65.
March
The Guthrie Theater, Minnesota Orchestra, Minneapolis Institute of Arts and Walker Art Center all announce significant cuts to their budgets and staff in response to the economic recession.
April
SPCO musicians agree to a pay cut, and the Minnesota Historical Society announces deep cuts to its own budget.
May
Guthrie Theater presents the premiere of Tony Kushner's latest play "An Intelligent Homosexual's Guide to Capitalism and Socialism with a Key to the Scriptures" as part of its Kushner Festival. Last minute changes to the script postpone the opening of the show by a week.
June
Minnesota Orchestra announces $40million expansion.
Jorja Fleezanis retires from her position as concertmaster of the Minnesota Orchestra.
The Vatican declares the St. Paul Cathedral a national shrine.
July
The Legacy Amendment Tax Increase takes effect, which dedicates a steady stream of funding from a sales tax increase for the environment and the arts
Claude Purdy, a founding member of the Penumbra Theatre in St. Paul, dies.
Noted music writer Michael Steinberg dies at the age of 80.
August
Minnesota Orchestra musicians accept a wage freeze, a reduction in pension contributions, and the freezing of open positions to help the orchestra save about $4.2 million over the next three years.
September
Minnesota icon Garrison Keillor gives the world a start when he suffers a minor stroke, just two months after A Prairie Home Companion celebrates its 35th anniversary.
October
Weisman Art Museum expansion gets underway.
An unprecedented exhibition of "masterpieces" from the Louvre Museum in Paris opens at the Minneapolis Institute of Arts.
The Coen brothers' "A Serious Man" opens in cinemas. The film is set in the brothers' native St. Louis Park - the first of their movies set in Minnesota since "Fargo."
November

Longtime Minneapolis music venue Uptown Bar shuts its doors.
The American Craft Council announces it's moving to Minneapolis.
After 10 years of non-stop lobbying and fundraising, the new Minnesota Shubert Center finally breaks ground.
"Give to the Max Day" leads to more than $14 million dollars donated to Minnesota non-profits through the new website GiveMN.org.
St. Paul Pioneer Press announces theater critic Dominic Papatola is leaving the paper, and there are no plans to replace his position. Papatola will continue to write for the paper as a freelancer.
December
Despite the rough year, both the Minnesota Orchestra and the Saint Paul Chamber Orchestra announce they've balanced their budgets, and the SPCO is even lowering its ticket prices.