Posted at 8:20 AM on December 3, 2009 by Marianne Combs (4 Comments)
Filed under: Art Hounds

Tetsuya Yamada
Commuter, 2009
Multimedia installation
Image courtesy of the Minneapolis Institute of Arts
Run free and wild with this week's hounds as they track down an oversized optical illusion at the M.I.A., the Klingon translation of a Christmas classic, and a new music champion who's bringing his internationally renowned quartet to the University of Minnesota.
(Want to be an art hound? Sign up!)


Ruben Nusz is an artist and arts writer from Minneapolis who enthusiastically endorses a new installation by University of Minnesota ceramics professor Tetsuya Yamada at the Minneapolis Institute of Arts. Yamada's
"Commuter,"
on display at the M.I.A.'s Minnesota Artists Exhibition Program gallery through January 24th, is an installation that transforms mundane repetitive movement into an oversized optical illusion.
Heidi Berg is an actor in the Twin Cities. Heidi can think of no better way to celebrate Christmas then to see Commedia Beauregard interpret Dickens the way a Klingon would in "A Klingon Christmas Carol." Don't worry if you're not fluent in Klingon. The dialogue will be translated back into English on a screen. The production is on stage at Mixed Blood Theatre through December 13th.


Jessica Narum is a graduate student in music theory at the University of Minnesota. Jessica says one of new music's best known and adventurous performers will be making a relatively rare visit to the "U" this weekend. British violinist Irvine Arditti specializes in the compositions of today, from composers around the world. Arditti will perform a guest recital on Friday, Dec. 4th at 7:30pm at Ferguson Hall. He's expected to play works from student composers. He'll perform again on Sunday, Dec. 6th at 7:30pm, at Ted Mann Concert Hall, accompanied by pianist and visiting "U" professor Noriko Kawai.
---
Find out more about Art Hounds®
---
(
4 Comments
)
Posted at 5:18 PM on December 3, 2009 by Euan Kerr
Filed under: Film, People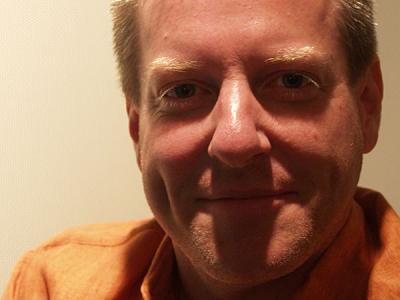 Greg Yolen (above) has a simple programming philosophy for the Minneapolis Underground Film Festival.
"The films just kind of programmed themselves," he says
He put the MUFF's address on the web site and received 45 films from nine countries.
"Everyone else can judge the work," he says. "I just want to show it."
All of them are in the 2009 festival which runs this weekend at the Minneapolis College of Art and Design. Audiences will be asked to vote on the films to decide prizewinners at the event.
He says he learned a lot last year.
"Basically I saw this real interest in films, not only local films, but international underground films, that I didn't know existed," he says.
He also learned about timing, and how an event in August, like the first MUFF has to compete with a lot of other distractions. Thus the new December date.
Yolen says the digital revolution has leveled the movie-making playing field, with people making quality flicks in their homes. He says the problem of independent film has usually been story, or lack of it. However he says this year's entries show film makers are working hard to change that.
He has scored a coup in getting local director John Koch, of Cinema Revolution fame, to present the world premier of his just completed film "The Seducer."
"He took the whole problem of story out of the equation," Yolen says. "He's goy the best writer in history. He shares a writing credit with Fyodor Dostoyevsky. So you've got a great story, just put it in a modern context."

Yolen says he's a huge fan of Koch's film making and the special way he tells stories.
Another of his top picks is "Paddle to Seattle," and adventure documentary made by two friends who built their own kayaks and paddle from Alaska through the inland passage to Seattle.
"It's just beautiful," Yolen says, who also recounts terrifying scenes of suddenly finding themselves in the midst of a school of humpback whales.
The MUFF also offers the opportunity to catch up on some locally made films which you may have missed earlier. Melody Gilbert's "Disconnected" gets a screening, as does "Living Arrangements," about a vegan couple in Minneapolis who find their deep committment to animal rights is tested when they discover a werewolf living in the attic of their new home. There is also a screening of James Vogel's "The City."
The festival is also showing a pile of short films, and some grittier material at its late night screenings.
The full schedule is here, including a number of trailers.
Yolen says he hopes the MUFF will grow and become an important event. He also hopes it will serve as an inspiration for local film makers. He says he's already encouraging people to make piece for the 2010 festival. He sees it all as part of developing and maintaining a thriving film scene.
"I'm just trying to get through this weekend," he laughs. "Then I'll figure it out."