Posted at 2:36 PM on September 25, 2009 by Euan Kerr (12 Comments)
Filed under: People, Sculpture
There is a 12 foot straw camel in Brian Sobaski's yard. The neighbors must be getting used to it. There was a huge horse a couple years back, and an elephant last year.
Sobaski says there's now a regular stream of SUV's and other vehicles past the house as people seek out his Falcon Heights home.
The camel is the result of his artistic training and interest - and the Halloween desires of his young daughter. She wanted to be a Chinese princess a couple years ago, and when they visited the Minneapolis Institute of Arts and saw the terra cotta figures in the Chinese collection.
Sobaski says he thought, "I could do that."
He's got an interest in Bricolage, making art from materials at hand, and he's been making scenery for Hollywood for years. He also likes the idea of green, recyclable sculpture.
So a huge horse soon appeared in his yard made from a wooden armature and straw.
The next year his daughter wanted to be an Indian princess, so an elephant was in order. He admits that the camel this year was his pick. He wanted to make something where he could work to give the animal more of a sense of movement. Another step forward was his discovery that landscaping cloth makes a fine-looking stomach.
Another innovation this year was to send out fliers to orchards, corn mazes and other autumnal businesses offering his services, and suddenly Brian Sobaski is very busy. He's been doing three to four pieces a week: bears, pirates, scarecrows, a woolly mammoth, and even a Buddha. Each takes a day, or a day and a half, to finish.
He's got several more to do in coming weeks and he's having a lot of fun.
"On top of that I get an awesome photograph with my daughter on top," he says. You can see more pictures of his creations at his website

(
12 Comments
)
Posted at 11:22 PM on September 25, 2009 by Euan Kerr (2 Comments)
Filed under: Film, People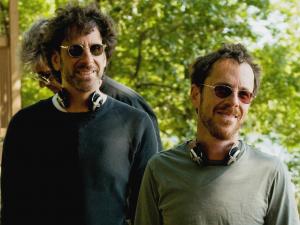 Joel and Ethan Coen on the set of "A Serious Man" (Image courtesy of Walker Art Center)
Oscar-winning Twin Cities natives Joel and Ethan Coen spent almost two and a half hours with Elvis Mitchell and a sold-out theater at the Walker this evening, talking about films, film-making, and where they find inspiration.
It was a fascinating and at times surprising conversation, not least for the Coens themselves. A number of times during the evening they considered the interpretations of their work which Mitchell posed to them, and more often than not they came away agreeing.
The one that seemed to give them biggest pause was his contention all their films have been at their heart chase movies, barring the latest one, "A Serious Man." Ultimately they didn't argue very hard on that one.
More details tomorrow when I have had time to decipher my notes.
(
2 Comments
)