Posted at 10:35 AM on August 7, 2009 by Marianne Combs (1 Comments)
Filed under: Architecture, Dance, Film, Public Art, Technology
JUMP | media facade | urban screening from urbanscreen on Vimeo.
I just discovered the work of Urbanscreen, a group of German video installation artists, and I'm hooked. As you'll see in the piece above, Urbanscreen manages to combine movement, architecture, film and public art into something wholly engaging and fantastic.
Below is a piece titled "How would it be, if a house was dreaming?" which projects an incredibly convincing 3D video onto the building, creating what appears to be a living, breathing structure. The sounds of the bricks sliding in and out of place really just puts it over the top. Enjoy!
555 KUBIK | facade projection | from urbanscreen on Vimeo.
(
1 Comments
)
Posted at 3:24 PM on August 7, 2009 by Euan Kerr
Filed under: Design, Events, People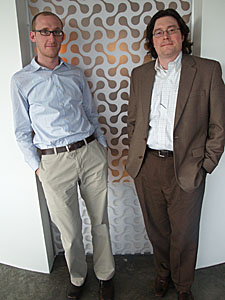 It's been four months, but Jonas Schaefer (left, with colleague Josh Pepper on right) is still pretty pumped about the first Minneapolis St Paul Pecha Kucha Night.
Some 350 people turned up at Intermedia Arts for the first one in April and the event sold out.
"The reception was amazing. People really got into it," Schaefer says. Pecha Kucha is a community event where presenters are allowed to show 20 slides as part of a presentation on whatever topic they want. The twist is each slide is only shown for 20 seconds and then the next one pops up. Presentations can only last for six minutes and 40 seconds total. The original Pecha Kucha was in Japan, but the event has spread like wildfire all over the world.
Schaefer says the first evening had a great variety of presentations ranging from map making, urban photography, bringing youth into the wilderness, film making, bike freedom, architecture, and innovative approaches to problem solving.
Schaefer and his co-producer Josh Pepper needed to do a little problem solving of their own. There were so many people they filled the auditorium and some audience members had to watch over a video link from the gallery next door.
Schaefer says it's clear they needed a bigger venue "We realized that right away," he says. So the next event on Wednesday August 12th will be at the Theater Lab in the Warehouse District of Minneapolis. The fun begins at 7pm.
They have 12 people lined up with presentations on jewelry, theoretical physics, futurism, and soar car racing among other things.
They also learned they could do with some help. "We are just two guys that wanted to do something. So there is a lot we learned." So they have expanded and Megan Baxter and Rachel Rydbeck have been added to the Pecha Kucha Night MSP Team.

They are also already looking for future venues. "The event at its core is about new ideas." And that includes cool locations
"We found a local airport that has a hanger that we thought would be a great place for an event," says Schaefer. It looks like the third Pecha Kucha MSP Night will be held there, although Schaefer says they are always open to suggestions.
"The idea is every time you come, you get something new. You get something different, something interesting, and that it doesn't feel like you have done this before."
Posted at 6:17 PM on August 7, 2009 by Euan Kerr
Filed under: Film
There are a lot of films about food and love opening locally this weekend - although it may surprise you which movie is on which subject.
For example "Julie and Julia" is about love, pure and simple. It's impossible to avoid the subject of food when talking about Julia Child who is magically portrayed by Meryl Streep. Yet the film's stories, for there are two, are each about loving couples working through difficult times.
Streep and Stanley Tucci as Paul Child light up the screen with a love affair fanned by the excitement of being two Americans living in Paris. The luminous days of the Childs in France light up the story of Julie Powell (Amy Adams) who tries to escape the despair she feels in post- 9/11 New York by attempting to cook all of recipes in Child's book on French cooking in one year.
Writer and director Nora Ephron faces her own challenges twining these two tales together, but has created a tale which while showing that life isn't easy, having a goal and a good attitude can take you a long way.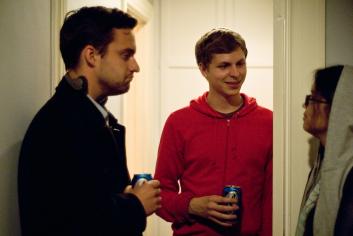 "Paper Heart" (above) is all about love, of course, although there are some moments when Charlyne Yi and Michael Cera dine together which really make you wonder about modern courting rituals.
Deep down "The Cove" and "The End of the Line" are about food. In "The Cove" Louis Psihoyos has made a engaging thriller about the relationship between humans and dolphins. The discussion of the film has centered on the slaughter of dolphins at a small village in Japan, but the movie is really part of a much larger debate over what different societies consider vital to preserve their food supply.
"The End of the Line," Rupert (Unknown White Male) Murray's troubling documentary about the impact of overfishing explores the subject at great length. At one point a researcher in the film points out that most people would be horrified to learn of humans killing endangered land animals, however there is little outcry when equally endanger sea creatures are caught and served at high end restaurants. It's a thought-provoking film.
Here is Kenneth Turan's review of "Julie and Julia"